Earned Income Tax Credit
Last week, I introduced legislation, Senate Bill 1347 (SB 1347), that would require employers to post and provide written notification to employees of their potential eligibility for the federal Earned Income Tax Credit (EITC). The EITC is a federal tax credit for low to moderate income working individuals and families. SB 1347 is aimed at raising awareness of this program so those who are eligible for this tax credit claim and receive it. If you make less than $49,000 annually you should inquire as to your eligibility.
It is important to raise awareness about the EITC as this is the time of year when we begin seeing advertisements for refund anticipation loans. These loans often times charge consumers high interest rates and administrative fees. The EITC can put money back in the hands of families, without having to worry about high interest rates and fees, or going into debt while awaiting your tax return, as individuals who take out refund anticipation loans often times do.
My hope is SB 1347 will be considered in the very near future. In the meantime, it is important that employers provide information about EITC to their employees now to help make a positive difference in the lives of their hard-working employees and their families. Each year, millions of workers risk not receiving the credits they've earned because they don't know they have to file and claim the credit to receive it.
Many people will qualify for EITC for the first time this year because their income declined, their marital status changed, or they added children to their families. In Allegheny County, the Money in Your Pocket Coalition will be assisting eligible working individuals and families with free tax preparation in the coming months. Through their work, $23.8 million in tax refunds have been claimed for Pittsburghers, including $9.2 million in EITC.
For more information about EITC eligibility, and to learn about where to find free tax help, please visit www.pghfreetaxes.org.

Webinar – Saving for College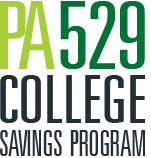 As I mentioned last week, on Monday, December 5th, I will be hosting two webinars on the Pennsylvania 529 College Savings Program. The first will take place from 2:00 p.m. – 3:00 p.m. with the second running from 6:00 p.m. – 7:00 p.m.
Sponsored by the Commonwealth and administered by the Pennsylvania Treasury, the Pennsylvania 529 College Savings Program offers a range of resources specifically designed to assist families in saving for college. These webinars will discuss 529 plan basics, including the tax benefits, financial aid impact, and setting savings goals. Program Specialists will also be able to answer any questions you may have.
Join the webinar – Monday, December 5, 2011 from 2:00 p.m. – 3:00 p.m.
Click here to register!
Join the webinar – Monday, December 5, 2011 from 6:00 p.m. – 7:00 p.m.
Click here to register!

Lung Cancer Awareness

November is Lung Cancer Awareness Month, providing an opportunity to bring awareness to a disease that kills an average of about 430 people a day. To help raise awareness in Pennsylvania, I was proud to co-sponsor Senate Resolution 223 designating November as Lung Cancer Awareness Month in the Commonwealth. According to the Lung Cancer Alliance, about 87% of lung cancer cases are caused by smoking, however smokers aren't the only ones who get lung cancer. People exposed to radon and those who work with asbestos are at an increased risk of lung cancer. Other risk factors include cancer-causing agents in the environment, aging, and lung scarring from some types of pneumonia.

Lung cancer screening is one of the best ways to test for the disease, even if no symptoms are present and there is no personal history of lung cancer. Regular check-ups are an important part of preventing lung disease, especially since it can sometimes go undetected until it becomes serious. There are a number of other things you can do to protect your lungs, such as not smoking and avoiding exposure to pollutants. For more information on disease prevention and awareness, please visit the American Lung Association website.

Upcoming Job Fair
West Penn Allegheny Health System (WPAHS) is hosting a Job Fair on Wednesday, December 7th at West Penn Hospital. The job fair will be held in the Winter Garden at West Penn, from 8:00 a.m. to 6:00 p.m. WPAHS recently announced major renovations to West Penn Hospital, including the re-opening of the Emergency Department in early 2012 and are looking for nurses and supporting clinical staff. Hiring managers will be on hand to discuss available positions and receive resumes from interested individuals. For more information on the WPAHS Job Fair, please call 412-330-2626.

Trail and Riverfront Meeting
Did You Know…
Did you know that Friends of the Riverfront has a program to restore native vegetation to areas along the Three Rivers Heritage Trail? Each year, the Riverfronts Naturally program engages over 1,000 volunteers for three or more hours of work cleaning up the riverfronts.


You can learn more about a trail and riverfront development plan spanning 17 municipalities along the north bank of the Allegheny River by attending a public meeting tomorrow night, November 30th.
The meeting will be held on November 30th at the Harmar Township Municipal Building (701 Freeport Road, Cheswick) at 6 p.m. The plan, called the Allegheny Valley Community Trails Initiative, will provide 26-miles of trails for all to enjoy.
Specifically, the initiative aims to expand the Three Rivers Heritage Trail along the north bank to create connections to communities along the way, and to provide public access to recreational activities along the riverfront. The development plan is a key part of the Allegheny County Riverfronts Project, Erie-to-Pittsburgh Trail, and Pittsburgh-to-Harrisburg Mainline Canal Greenway. Learn more about the Allegheny Valley Community Trails Initiative by clicking here. You can provide input and support the project by attending tomorrow's meeting.


New Crime Stoppers Website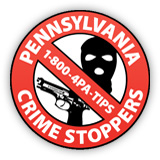 The Pennsylvania State Police and Pennsylvania Crime Stoppers have launched a new website to help social network and mobile device users fight crime more effectively. The website, PACrimeStoppers.org, allows the public to view and share cases on social networks, through email and on mobile devices. Users can sign-up to receive notifications when a new case or news release is posted to the site.
A crime watch mobile app is currently in development and will be released to the public in 2012. The app is scheduled to be released on all mobile platforms and will be available for free. It will allow the public to easily view and submit tips for Crime Stoppers cases. Currently, tips can be submitted by calling 1-800-4PA-TIPS (1-800-472-8477) or by visiting www.tipsubmit.com.

Governor's Residence Open House and Tour Schedule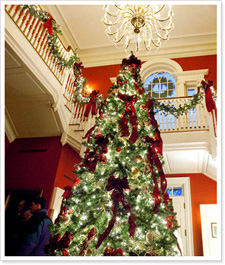 If you're going to be in Central Pennsylvania this holiday season, or passing through the area, you should consider taking the opportunity to visit the Governor's Residence and tour the Capitol in Harrisburg. On Sunday, December 11th the Governor's Residence, located at 2035 North Front Street, will be open to the public for a Holiday Open House. There will be free entertainment for the entire family between the hours of 1:00 and 6:00 p.m., including a bell choir, violinists, choral groups and pianists. If you cannot make it that day, the Governor's Residence will also be open December 5th, 6th, 7th, 12th, 13th, and 14th between the hours of 12:00 and 2:00 p.m. for holiday tours. For tour information, call 717-772-9130.
Additionally, the Capitol is open to the public all year, except New Year's Day, Easter, Thanksgiving, and Christmas. Tours are conducted seven days a week. For more information on Capitol tours or to schedule a tour, please call 1-800-868-7672.

West End Village Holiday Festival
West Pittsburgh Partnership is hosting the first annual West End Village Holiday Festival on Friday, December 2nd. Festivities begin at 6:00 p.m. with a performance by the Pittsburgh Musical Theater at Village Square, 417 S. Main Street. Performers will then lead a caroling effort through the Village Square, prior to the tree lighting ceremony. West End Village businesses will be offering food and beverages throughout the evening. For more information on the evening's festivities, please call 412-922-2740.

Cold Weather Water Tips
Pennsylvania American Water is reminding residents that cold air can cause pipes to freeze and burst, potentially causing severe water damage and flooding. As the temperatures continue to drop, now is the time to take precautions to prevent frozen water pipes and expensive repairs. Pennsylvania American Water has offered a few simple tips to help you with winterizing your home as well as what to do if your pipes do freeze.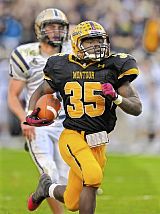 Lake Fong/Post-Gazette
Montour's Julian Durden breaks loose on a 73-yard TD run
Montour Wins WPIAL Class AAA Title!
Congratulations to Montour on winning the WPIAL Class AAA Football Championship! Montour defeated Knoch 42-14 in the championship game, played at Heinz Field, Saturday, November 26th. Dillon Buechel opened the scoring with a 12-yard touchdown pass to Devin Wilson in the first quarter. Julian Durden rushed for three first half touchdowns and Montour led 28-0 at halftime. In the second half, Durden added a 73-yard touchdown run and Aaron Reed scored from a yard out. Buechel finished with 184 yards passing.
Best of luck to Montour in the PIAA Playoffs! Montour will play Grove City in a PIAA Quarterfinal game, Friday, December 2nd at 7:00 p.m. at North Allegheny High School.

Congratulations to Sto-Rox!
Hats off to the Sto-Rox Vikings on a great season! Sto-Rox lost in the WPIAL Class A Championship Game at Heinz Field to unbeaten Clairton. Sto-Rox entered the game 12-0 and completed their first undefeated regular season in school history.

Fontana Fact
The Borough of Rosslyn Farms is one of the smallest communities in Allegheny County, with a population of less than 500 and an area of only 0.6 square miles. The borough was founded in 1902 by the Chartiers Land Company and developed by William Parrish.



Offices of State Senator Wayne D. Fontana