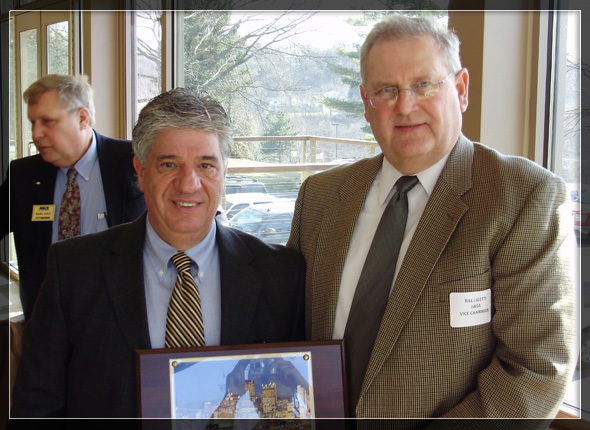 After speaking to the Construction Legislative Council (CLC) last week, Senator Fontana is presented a gift from CLC Vice Chairman Bill Ligetti.

PA Works – Focusing on Small Business
As I announced last week, the Senate Democrats have rolled out a six-point jobs plan called PA Works that is focused on creating jobs, reducing spending and giving businesses incentives to make community investments. The six areas include small business, workforce training, critical state investments, clean and green energy, infrastructure investment, and tax fairness.
One of my priorities as this plan was being developed was to find ways to help small business. Small businesses are the lifeblood of our economy. They represent 99.7 percent of all employer firms, employ half of all private sector employees, pay 45 percent of total U.S. private payroll and have generated 60 to 80 percent of net new jobs annually over the last decade. Quite clearly, they are the key to our recovery.
There are five main components of our plan to put small business first. First, we propose that the Small Business First Fund be retooled to increase maximum loan amounts and repayment periods and decrease maximum interest rates for all loans.
Second, we want to increase access to capital, by loosening the restrictions and refocusing the Second State Loan Guarantee Program with $50 million to be used to spur private banks and other commercial lenders. Eligible small businesses could obtain a guarantee of up to 100% of the principal amount of the loan up to $2 million, to encourage lending in what remains a tight credit market. The plan also expands eligibility to local governmental agencies that make loans and opens the program to all industry sectors.
Third, we would like to empower the Small Business Council. I was honored to be appointed to this Council last year. The members are focused, determined and want to work proactively to make a real impact for small businesses. By revising the law that established the Council, their voice becomes stronger with increased powers and duties. All executive agencies submitting proposed rulemakings would also be required to submit them to the council for review, comment, objection and recommendations as permitted under the Regulatory Review Act. The Council would also have the opportunity to visit with each executive agency at least once every two years to review their policies and regulations and make recommendations.
Fourth, we propose making the Neighborhood Assistance Act tax credits more accessible by providing small businesses and non-profit groups increased access to the program by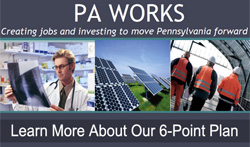 permitting claimants to claim credits against employee payroll taxes.
Finally, the Procurement Code would be modernized to promote small and disadvantaged business participation in government contracting through establishment of a statewide bonding program, a mentor-protégé program, and other targeted initiatives to increase the ability of small businesses to compete for these contracts.
As we continue to develop and tweak this plan and expand on each of these areas, I will share that information with you and hope that you will also feel free to weigh in with your thoughts.

Vice Chairman of PHEAA
I am honored to have been elected Vice Chairman of the PA Higher Education Assistance Agency (PHEAA) Board of Directors by my peers on the Board during last week's meeting in Harrisburg. I am proud of the opportunity the Board has given me and look forward to continuing to work with all Board members in addressing the education issues facing our students and their families.
One of my priorities in my role as Senator is making sure students have the tools they need to find and apply for student assistance. As I receive information that may be helpful to you, I will pass it along in the News & Views. If you haven't already, I encourage you to visit

PHEAA's website for the latest financial aid information, helpful tips and information on upcoming deadlines and free workshops. The website also has useful information on careers and how to find a school that best fits your needs.

IRS Free File Tax Program
Low-to-moderate income taxpayers can once again take advantage of free tax preparation services available through the IRS Free File program. Through the program, eligible taxpayers have free access to popular tax preparation software. The program provides step-by-step help for preparing, completing and filing federal tax returns. Any taxpayer with a 2010 Adjusted Gross Income of $58,000 or less can file for free by visiting the IRS website.

To begin, click on the "Free File" icon on the website. Users will find a list of Free File Alliance member companies and may either choose the one that fits their needs or utilize the "help me find a company" tool. After selecting a company, users will be transferred to that company's website to prepare, complete and electronically file their federal income tax returns. Three of the 19 participating software companies also offer services in Spanish. As a reminder, the deadline to file your taxes this year is April 18th.

Educational Partnership Program Grants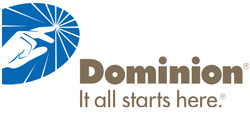 Schools and educational institutions can apply for Dominion Educational Partnership Program grants of up to $10,000 to help students in kindergarten through 12th grade strengthen their science and math skills. Schools should submit proposals in the fields of:
Environmental Education- projects to develop math and/or science skills through the study of the environment; or

Energy- projects designed to increase students' awareness of energy efficiency and conservation, energy sources or other energy-related topics.
Dominion will also award mini-grants of up to $1,000 for projects that enhance the teaching of science and math. The grant program is meant to help educators revitalize math and science programs and improve student achievement. Applications are available on Dominion's website and must be submitted by May 1st. The website has more information on the program and tips for preparing an application. The company will award about $500,000 worth of grants in several states.

Food Bank Fundraiser
The Greater Pittsburgh Community Food Bank is holding its 16th annual Empty Bowls fundraiser this month and there are several ways you can contribute. The Empty Bowls Dinner will take place Sunday, March 6th from 2 p.m. to 6 p.m. at Rodef Shalom Congregation (Fifth and Morewood Avenues in Oakland). The dinner features a variety of soups from restaurants across the region and family-friendly entertainment. Tickets for the dinner are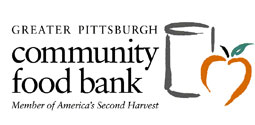 $20 and can be ordered by visiting the Food Bank's website. Tickets include a meal of soup and bread and your choice of a handmade bowl as a reminder of those whose bowls are empty.
There will also be a celebrity bowl auction. Participants can bid on autographed bowls from celebrities such as Sir Paul McCartney, Jackie Evancho, Sidney Crosby, and many more. The Empty Bowls fundraiser benefits the Greater Pittsburgh Community Food Bank and Just Harvest, two organizations that help struggling families put food on the table. For more information visit the Food Bank's website, where you can also make a contribution of your choice to the organization.

Free Nicotine Patches Available
The Pennsylvania Department of Health is offering free nicotine replacement therapy kits to help Pennsylvanians that want to quit smoking. Kits are available through the state's Free Quitline (1-800-QUIT-NOW) through the month of March, or while supplies last. When you call, a "quit coach" will help you set a quit date and ask if you have any medical conditions that would rule out the use of nicotine patches. Callers can then enroll in a series of free counseling sessions. The therapy kits are paid for by funding from the federal stimulus program and a nationwide settlement with the tobacco industry.

According to the Centers for Disease Control and Prevention, nearly one in five deaths nationwide is attributed to smoking. To get more information about quitting tobacco, visit DeterminedToQuit.com.

Around the District
It was a short week last week with President's Day, but there were still many meetings and activities scheduled in that short span. On Tuesday, I met with the Housing Alliance of PA which also brought representatives from the McKees Rocks Community Development Corporation, the Pittsburgh Community Reinvestment Group and a former resident of Beltzhoover.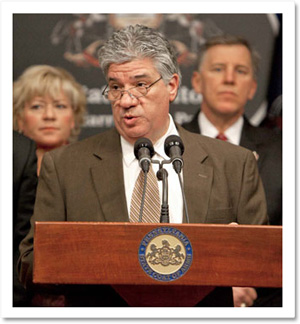 On Wednesday, the Senate Democratic Caucus announced its jobs proposal – PA Works, which I referenced in the article above. The work on this continues with a Southwestern PA announcement being made this Friday in Pittsburgh. Also, on Wednesday, our Policy Committee held a meeting to determine direction for the coming year. I am proud to be part of a leadership team that is far more inclusive and directed than it has been in the past.
On Thursday, as I also noted above, the PHEAA Board Meeting was held at which I was elected Vice Chairman of the Board by my fellow board members. On Friday, I was back in Pittsburgh with meetings with the new Executive Director of Economic Development South and one of their board members.
Yesterday, in addition to a leadership meeting and session, the House and Senate also held a Legislative Symposium on Vouchers at the State Museum.


Fontana Fact
Did you know that bituminous coal was first mined in Pennsylvania on Mount Washington, also known as Coal Hill? Bituminous coal is one of the more common types of coal, and is also referred to as black coal. The coal was extracted from drift mines and transported by canoe. By the 1830's, the City of Pittsburgh consumed more than 400 tons of bituminous coal per day.


Offices of State Senator Wayne D. Fontana