Senator Wayne D. Fontana had the honor of cutting the ribbon marking the grand opening of the South Hills Retirement Residences on July 13th and is surrounded by other officials from the development company as well as residents of the new facility. The re-use of the former South Hills High School was assisted with $1.5 million in capital funds that the Senator was able to secure for the project.

The Transportation Commission Makes Its Recommendations
On July 19th, the Governor's Transportation Funding Advisory Commission unanimously recommended $2.7 billion in new transportation taxes and fees, to be phased in over five years. Although the final report has not been issued (it is expected on August 1st), a great deal of information was reported by the media.
Without a lot of detail on these proposals, it is difficult to respond, but I can tell you that I do have concerns about doubling the county share for mass transit. This recommendation just passes the buck and requires county governments to do the heavy lifting. Quite frankly, it's very similar to what was done in the Republican budget. What's interesting is that many of these options are also ones that the governor has already dismissed.
As reported by the media, the commission report says that a motorist with one car, driving 12,000 miles a year in a car with average fuel efficiency, would pay $36 more annually, not counting higher driving infraction fines. By the fifth year, when the fees are fully implemented, the cost would be $132 a year for that same driver, again, not counting higher driving infraction fines.
Following is a list of the proposals, as reported in the press, including taxes and fees:
Remove the cap from the Oil and Franchise tax to apply that levy to the full cost of the wholesale price of gasoline (Generates $272 million in the first year and $1.36 billion by year five)
Raise the driver's license and vehicle registration fees by the consumer price index from the year they were last raised to 2012, then, 3% a year annually; Vehicle registration would increase from $36 a year to $49 while the registration for tractor-trailers (80,000 pounds) would increase from $1,687 to more than $2,200 (Generates $412 million initially, $574 million by year five)
Cap the $570 million the PA Department of Transportation annually pays for state police and move about half of that sum ($300 million) from the PennDOT budget to the general fund

Restructure Act 44 to move $200 million from highways to mass transit; Increase the local mass transit match to 15% of new money local match to be funded by small games of chance and send 2% of all state sales taxes to transit. (Generates $44 million in year two, $172 million by year five)
Modernization and cost-savings to fund roads, highways and bridges: $10 million in year one; $66 million by year five. Those would include higher fines and fees for various activities. Also nearly $6 million for renewing licenses and registration every two years

The panel also recommended the Legislature enable tolling of all interstates in PA, stressing that without a change in federal law, none of those highways could be tolled; Without the change in state law, even with a change in federal law, tolling could not occur
Extending validity of driver's licenses from four years to eight years
Consolidation of drivers license centers (Also, the commission suggests exploring a fine option instead of suspension for individuals caught driving without insurance)
Under the commission's proposed modernization strategy, some government services will be outsourced to the private sector, including currently free driver's license testing; Under the commission's proposal, an individual would have the option of paying $15 to PennDOT to take a driving skills test or the individual could take the test sooner through a private testing service
Changing all traffic lights in the state to LED lighting, which would improve visibility for drivers and reduce energy costs for local governments
Installing red-light-running cameras as a tool for enforcement
Using alternative fuels for PennDOT's fleet should also be considered, including natural gas, electric and biodiesel

Consolidating traffic management operations into a Statewide Traffic Management Center; This would include combining traffic management operations of the Pennsylvania Emergency Management Agency, the state police, the Pennsylvania Turnpike Commission, and PennDOT
The funding projections are that $481 million could be generated in year one, and $1.7 billion by year five for state highways and bridges; $80 million by year one, $289 million by year five for local highways and bridges; and, $200 million by year one, $404 million by year five for mass transit.
I am hopeful that, unlike the budget debate, the process by which we consider this report and its recommendations is a bipartisan one that determines what the best options are through debate and discussion. No one argues that we have to find more money to maintain and improve our roads, bridges and public transportation systems; the question is going to be whether these proposed options are the best choices.
I can assure you that I, and my colleagues, will be reviewing this report in great detail, discussing it within our own caucus, and also taking the time to talk with local officials to gauge the effect some of these proposals will have on local priorities, particularly mass transit.


SBDC Outreach Day
I invite small business owners to stop by my Kennedy Office (Kenmawr Plaza) next Tuesday, August 2nd to take part in the latest Small Business Development Center (SBDC) Outreach Day event. As you may be aware, SBDC Outreach Days are being held monthly at my office with Client Services Liaison John Dobransky to allow entrepreneurs to receive free assistance starting or running their own business. Although not required, appointments are encouraged by calling John at 412-624-2290. If you need help with your business, John can point you in the right direction and help you take advantage of the resources available to you. If you can't make it next week, another SBDC Outreach Day will be held Tuesday, September 6th.

National Veterans Wheelchair Games

The 31st National Veterans Wheelchair Games will be held in Pittsburgh from August 1st - 6th and volunteers are still needed. This is the largest annual wheelchair sporting event in the world, celebrating the talents of our nation's heroes. More than 500 disabled Veterans compete each year in the event. Activities will be held throughout Pittsburgh, including the David L. Lawrence Convention Center and the University of Pittsburgh. To sign up to volunteer, visit the U.S. Department of Veterans Affairs website. To view the full event schedule click here.

Pittsburgh Citizen's Police Academy
Have you ever wanted to learn more about the roles and responsibilities of members of the Pittsburgh Police Bureau and the type of training involved? If so you should submit an application for the next session of the Pittsburgh Citizen's Police Academy (CPA), a 15 week program that allows members of the community to become familiar with the Police Bureau.
Participants will learn about a variety of activities related to law enforcement, including criminal law, search and seizure, patrol tactics, firearms and more. You will get to meet and talk with police officers, the command staff and training staff in a safe training environment. The goal is to leave students with a greater understanding of the police mission and how our law enforcement professionals courageously serve and protect our city.
The next session begins September 12th with classes being held each Monday evening from 6:00 p.m. to 9:00 p.m. for 15 weeks. Sessions are limited to 30 participants. Anyone interested in joining the program must complete an application and give permission for the Pittsburgh Bureau of Police to conduct a background check to determine if they have a criminal record. An application can be found on the Citizen's Police Academy webpage. For more information you can contact Lieutenant Jennifer Ford at 412-665-3600 or jennifer.ford@city.pittsburgh.pa.us.

Free Fingerprinting for Children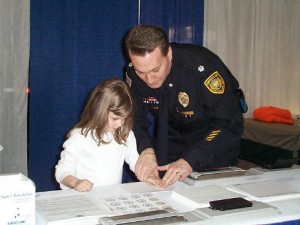 From Thursday, August 18th to Saturday, August 20th the Allegheny County Sheriff's Department is offering free fingerprinting for all children attending the St. Pamphilus Summer Festival (1000 Tropical Avenue, Beechview). The family-friendly event will also feature a variety of American and ethnic foods, a basket raffle, bingo, a flea market, health screenings and a children's game area. The festival is open 7-11 p.m. and fingerprinting is offered from 7-9 p.m. each day. For more information on the event, call 412-341-1000.

Block Watch Programs Work!
Just ask Pittsburgh Police... Last week, Faye Parise of Brookline, a Brookline Block Watch member, saw a man jump through a neighbor's window and called police. When he came out the door, she also took his picture - helping the police catch the man who is also suspected of committing other burglaries in Brookline.

Around the District
Following is a list of just a few of the activities going on in the district this coming week. If you have an event that you'd like to have highlighted, please e-mail the details.
Wednesday, July 27th
Times Vary
Junior Golf Championship
South Park Golf Course
10:00 a.m.
The Children's Theatre Presents Pinocchio
South Park Theatre - $2 Admission
12:00 p.m.
Edible Flowers Luncheon
Hartwood Acres Mansion - $20 Admission
Reservations Required (412-767-9200)
7:00 p.m.
Bellevue Concert in the Park - Rick Purcell and Shari Richards
Sponsored by Allegheny General Hospital Suburban Campus
Bayne Park
7:30 p.m.
BMX Race
South Park BMX Track
Thursday, July 28th
10:00 a.m.
Adult Nature Walk
North Park Ice Skating Rink Parking Lot
2:00 p.m.
Around the World in Eight Movies
Carnegie Library of Pittsburgh, Brookline
8:00 p.m.
The Kitchen Witches
South Park Theatre - $12 Admission
9:00 p.m.
Cinema Under the Stars: "It Happened One Night"
Round Hill Park Visitors Center
Friday, July 29th
6:00 p.m.
Laffs for LifeSpan "Funny Fundraiser"
5151 Park Avenue, Bethel Park - $30 Ticket
Includes Full Pasta Dinner, Dessert Buffet & Show
Tickets Available at LifeSpan Centers or 412-464-1300, x 156
7:30 p.m.
BNY Mellon Jazz Presents the John Patitucci Trio
South Park Amphitheater
8:00 p.m.
The Kitchen Witches
South Park Theatre - $12 Admission
Dusk
Green Tree Movie - "How to Train Your Dragon"
Wilson Pool (No Pool Passes Needed)
10:00 p.m.
Brookline Cultural Trust - First Benefit Show
Club Café (56-58 South 12th Street, Pittsburgh 15203)
Featuring Cool Minors and Recycled Air\
$8 Pre-Sale/$10 At Door
cannoncoffeepgh@gmail.com or 412-563-0202
Saturday, July 30th
10:00 a.m.
Butterflies: Search and Enjoy
South Park Nature Center
1:30 p.m.
Wine & Cheese Tasting Hike with Venture Outdoors
North Park - $25 Members/$33 Non-Members
8:00 p.m.
The Kitchen Witches
South Park Theatre - $12 Admission
Sunday, July 31st
10:00 a.m.
Half Day Hike with Venture Outdoors
Harrison Hills Park - $5 Members/$8 Non-Members
11:00 a.m.
Animal Friends Rabies Clinic
Hook & Ladder Co. in Mt. Oliver - $10 (First Come/First Serve)
2:00 p.m.
The Kitchen Witches
South Park Theatre - $12 Admission
7:30 p.m.
The High Kings (Irish Folk)
Hartwood Acres Amphitheater
Monday, August 1st
9:00 a.m.
Healthy Downtown Free Pedometer
Coraopolis Borough Building
Downtown Business Owners and Employees in the Allegheny Together Program - Supplies are limited, so get yours today!
6:30 p.m.
Children's Theatre Presents Roaring Boring Alice
South Park Theatre - $2 Admission
7:30 p.m.
BMX Practice
South Park BMX Track - $5 Fee

Fontana Fact
The year 1947 was the first season more than one million fans watched the Pirates play in a single season. A total of 1,283,531 fans showed up at Forbes Field that year. The Pirates didn't break the 2 million single-season mark until 1990 at Three Rivers Stadium (2,049,908 fans). That record was shattered again in 2001, which was also the team's first season at PNC Park (2,435,867 fans).



Offices of State Senator Wayne D. Fontana