PA Works = Jobs
Last February, I joined with my Senate Democrat colleagues in unveiling PA Works, a six-point proposal that is aimed at helping businesses create jobs, rebuilding the state's aging infrastructure and energizing Pennsylvania's economy. Our plan will spur the creation of over 28,000 jobs, leverage over $2 billion in new private investment, and will result in more than $150 million in general fund savings. We would accomplish this by focusing on six core areas - Small Business, Workforce Training, Critical State Investments, Clean & Green Energy, Infrastructure Investment and Tax Fairness – eliminating duplications, getting rid of what doesn't work and focusing on what does.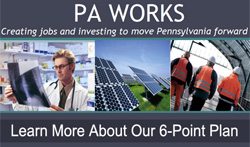 There were a number of bills in the package that can make a real impact on our business economy and our climate, but they were not considered in the budget process this year. That doesn't mean that we're giving up. We worked hard on this package and believe that these proposals can make a real impact that mean JOBS for our region and state.
For instance, I introduced Senate Bill 682 (SB 682) in March which amends existing law that governs the Second Stage Loan Guarantee Program, under the Commonwealth Financing Authority. The Second Stage Loan Guarantee Program was created as part of an economic stimulus package passed by the legislature in 2004. It was intended to provide guarantees for loans to life science, advanced technology and manufacturing projects that were in their 2nd to 7th year of development. While well intentioned, the program is vastly underutilized because of how the program was crafted.
SB 682 proposes that $50 million of the unused funding in the Second Stage Loan Guarantee Program be moved to create a Small Business Investment Guarantee Program. Eligible small businesses (100 employees or less) could obtain a guarantee of up to 100% of the principal amount of a loan (up to $2 million) with the intent that the guarantee would encourage lending in a tight credit market. The bill also extends the program to local government agencies that make loans – and all industry sectors may participate. By loosening the restrictions and refocusing the program, we can ensure that the funding originally allocated is not lying stagnant. A reconstituted $50 million Small Business Investment Guarantee Program would provide a needed catalyst to spur private banks and other commercial lenders to provide access to capital for small business.
It's a proven fact that small businesses drive our economy – providing jobs for over half of the nation's private workforce. Small businesses are also job creators. In every recession over the last three decades, it has been America's small businesses that stepped forward, began hiring and pulled the country out of the mire. There is a clear relationship between small business and the economy in general, especially in the United States, because much of economic growth is fueled by startup business. Small firms make a significant contribution to the economy simply by hiring one or two employees.
SB 682 will give those small businesses the opportunity to access funding, make the improvements and changes that they need to grow, and to continue making an impact on our economy. I hope to have the opportunity to debate and discuss it with my colleagues this fall.

Kids – Be Part of the Scholastic News Press Corps

If your child is between the ages of 10-14, enjoys reading and writing and is interested in becoming a journalist one day, he or she may be a perfect candidate for the Scholastic News Kids Press Corps. Scholastic is now accepting applications for its 2011-2012 news team.
Corps members gain real-life experience as kid reporters, writing articles for classroom magazines and the online Scholastic News. They cover a variety of topics, including current events, sports and entertainment. Scholastic reporters have interviewed everyone from local people making a difference in their community to celebrities and elected officials.
To be considered for the Scholastic News Kids Press Corps, children must complete and produce an application packet. The deadline to apply is October 11, 2011. For more information on the program, including what needs to be submitted in the application packet, visit the Scholastic website. The new team will be announced in early November.

Run (or Walk) Your Rox Off!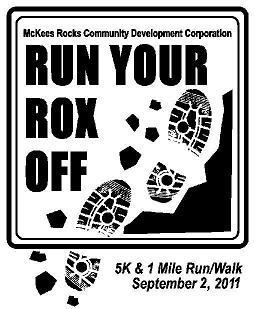 It's not too late to register for the Third Annual Run Your Rox Off 5K and 1 Mile Run/Walk scheduled for this Friday, September 2nd. The event provides a day full of fun and festivities and a chance to give back to the community. Proceeds from the run/walk will benefit the McKees Rocks Community Development Corporation and its mission to revitalize McKees Rocks and provide a greater quality of life for the community. The event will also feature door prizes, food, awards and Rox the Music Kids Fest- a free concert after the race.
The event will be held at the Miles Bryan School on Chartiers and Wayne Avenues in McKees Rocks. For more information or to register, visit the McKees Rocks Borough website or call 412-331-9900. Each participant will receive an official race T-shirt and goodie bag, plus food and drink afterwards. Awards and prizes will be handed out to participants from each age group.

Honoring Employers that Hire Older Adults
The Pennsylvania Department of Aging is seeking nominations for its annual Champions of Older Workers award, which honors employers who understand the value and talents of older workers. Letters seeking nominations have been sent to Area Agencies on Aging, Workforce Investment Boards, and CareerLinks across the state, but nominations are also being accepted from businesses and individuals.
One employer will be awarded for its efforts to hire workers age 55 and older. The company will also be inducted into the Pennsylvania Hall of Fame of Champions of Older Workers, which has been recognizing companies since 1984. You can download a nomination form on the Department of Aging website. All nominations must be received by December 2nd.
Did You Know…
Did you know Pennsylvanians ages 45 to 64 will soon account for 40 percent of the state's labor force? The PA Department of Aging, through its Senior Community Service Employment Program, promotes the benefits of employing older workers and providing training opportunities for income-eligible individuals.



Offices Closed on Labor Day
All Senate offices will be closed on Monday, September 5th in observance of the Labor Day Holiday – and will reopen again on Tuesday, September 6th. The first Labor Day in the United States was observed on September 5, 1882, in Boston. It became a federal holiday in 1894.

Around the District
Following is a list of just a few of the activities going on in the district this coming week. If you have an event that you'd like to have highlighted, please e-mail the details.
Wednesday, August 31st
12:00 p.m.
Stowe Business District Advisory Bd Car Show, Craft Show & Flea Mrkt
Broadway Avenue, between the Primadomma and Valley Street
Free entertainment, admission & Parking
(Benefits Christmas on Broadway & Easter on Broadway Events)
Interested in selling your wares? Reserve your spot now by calling 412-945-0104. Six foot space is $10 – fee payable on event day.

12:15 p.m.

Brewer's Row Free Outdoor Concert – Solar Concert Series
Children's Museum of Pittsburgh

6:00 p.m.
Pittsburgh City-Wide Public Safety Meeting
St. Pamphilus Church, 100 Tropical Avenue, Pittsburgh

7:00 p.m.
Carnegie Arts & Heritage Festival Volunteer Sign-Up & Interest Session
Council Chambers, Carnegie Borough Building
(The 24th Annual Festival will be held September 8-10th!)
Friday, September 2nd
All Day

Pittsburgh Public Market Birthday Celebration
Pittsburgh Public Market, Strip District
Festivities include music, cooking demos, giveaways & more

12:00 p.m.
30 Books in 30 Minutes – A Literary Tour
Pittsburgh Public Market, Strip District
(offered by the Carnegie Library of Pittsburgh)
Saturday, September 3rd
24 Hour

Green Tree Electronic Recycling Collection (Self-Serve Drop Off)
Rear Parking Lot, Green Tree Municipal Center

In cooperation with Pennsylvania Resource Council (PRC), Allegheny County Health Dept. (ACHD) and eLoop llc - Accepting CPUs, Laptops, TVs, Phones, Computer Monitors, Keyboards & Small Appliances

9:00 a.m.

Home Depot Kid's Workshop – ESPN College Game Day Board
4000 Oxford Drive, Bethel Park


9:30 a.m.
Friends of the Carnegie Library of Pittsburgh – Brookline – Meeting
708 Brookline Boulevard, Pittsburgh

10:00 a.m.
Heidelberg Volunteer Fire Department Splash-Battle
Ellsworth Playground (Between 3rd & 4th Streets), Heidelberg
Firefighters Water Battle Tournament, Food & Games
Sunday, September 4th
24 Hour
Green Tree Electronic Recycling Collection (Self-Serve Drop Off)
Rear Parking Lot, Green Tree Municipal Center
In cooperation with Pennsylvania Resource Council (PRC), Allegheny County Health Dept. (ACHD) and eLoop llc - Accepting CPUs, Laptops, TVs, Phones, Computer Monitors, Keyboards & Small Appliances
Monday, September 5th
HAPPY LABOR DAY!
24 Hour
Green Tree Electronic Recycling Collection (Self-Serve Drop Off)
Rear Parking Lot, Green Tree Municipal Center
In cooperation with Pennsylvania Resource Council (PRC), Allegheny County Health Dept. (ACHD) and eLoop llc - Accepting CPUs, Laptops, TVs, Phones, Computer Monitors, Keyboards & Small Appliances

10:00 a.m.

Pittsburgh's Annual Labor Day Parade
Downtown Pittsburgh

4:00 p.m.

3rd Annual Labor Day Doggy Dip
Dormont Park, Dormont Avenue
Advance Registration - $20 per session through September 1st

One dog is allowed per human. If your dog seems out of control or seems to pose a threat, you may be asked to remove your dog from the pool area or asked to leave with no refund. Session times depend on the size of your dog: 4-5 PM: 30 lbs. or less; 5:15-6:30 PM: All Sizes; and 6:45-8 PM: 60 lbs. or over. This is a fundraiser with proceeds split 50/50 between Friends of the Dormont Pool and the Western PA Humane Society.
Tuesday, September 6th
10:00 a.m.

SBDC Outreach Day
Senator Fontana's Kennedy Township Office, Kenmawr Plaza

7:00 p.m.

Sto-Rox Block Watch Meeting
McKees Rocks Municipal Building, 340 Bell Avenue
Reminder: Tomorrow, September 1st is the deadline for applications for the Pittsburgh Citizen's Police Academy. Class size is limited to 30 people so apply today.

Fontana Fact
The Regional Enterprise Tower in downtown Pittsburgh, originally named the Alcoa Building, was the world's first skyscraper to be clad in aluminum. The aluminum walls are 1/8" thick, with a distinctive X design on each spandrel panel. The 30 floor building is considered one of the most famous skyscrapers of the early postwar period thanks to its advanced modern architecture.


Offices of State Senator Wayne D. Fontana