Turnpike News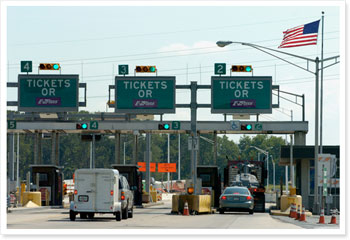 As the Pennsylvania Turnpike enters into its seventh decade of service, this 545-mile-long magnificent highway is a monument to national pride and the spirit of motoring. The Pennsylvania Turnpike Commission (PTC) oversees 64 fare-collection facilities, 17 service plazas, 22 maintenance facilities and five tunnels. The turnpike also employs more than 2,000 individuals and generates about $710 million in annual toll revenue from the approximately 190 million vehicles that pass through each year.
Since December 2000, the Pennsylvania Turnpike has utilized an electronic toll collection system known as E-Z Pass, which allows motorists to pay a toll without stopping thanks to an electronic device placed on their windshield or dashboard. There are more than 850,000 active E-Z Pass accounts in Pennsylvania with about 68 percent of turnpike motorists using this electronic payment system.
A yearlong study by transportation consultants McCormick Taylor Inc. and Wilbur Smith Associates Inc. have concluded that converting the turnpike into an All-Electronic Toll (AET) collection system is a feasible endeavor. The report recommends replacing the existing network of toll plazas with overhead "gantries" that would straddle the travel lanes near existing interchanges along the turnpike. This will allow motorists to maintain highway speeds, eliminating the need to slow down or stop at toll plazas as well as make the process of collecting tolls safer, faster and less harmful to air quality due to the reduction of vehicles idling at tolls. Furthermore, an all-electronic system would reduce travel time and the cost of collecting tolls.
If the recommendations are implemented, motorists would still be able to use the Pennsylvania Turnpike without registering for E-Z Pass. For those without a transponder, the system would photograph the license plate and mail a bill to the owner of the vehicle. E-Z Pass would continue to be the least expensive option for motorists; currently, E-Z Pass customers pay about 17 percent less than those who pay with cash. However, commission officials have stated that motorists not using an E-Z Pass device in an all AET system would pay 76 percent more than motorists using E-Z Pass. The PTC said this drastic difference in pricing is because billing non E-Z Pass motorists is time consuming and expensive.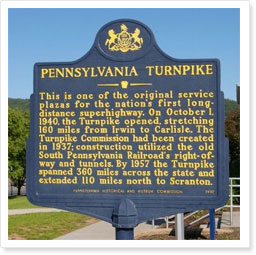 At least nine states have all-electronic tolling systems or are implementing them. The price tag for such a conversion to take place in Pennsylvania is estimated to be $319 million. Because this system would cost about a quarter of what it costs to have a toll collector handling cash payments, an AET system would boost revenue by $5 million in the first year and about $21 million in the 10th year.
The PTC is currently taking steps for the next phase of the process. It will soon begin the process of hiring a program-management firm to oversee the next phase of the study and potentially assist the PTC in a future conversion. In the meantime, the PTC would like to reach a goal of having 70 to 75 percent of turnpike users to utilize the E-Z Pass system before a conversion would take place.
A conversion to an all AET system in Pennsylvania would have to take place all at once, rather than in phases, because of the difficult logistics of having part of the turnpike all-electronic and other sections where cash and tickets are still used.
Just as Pennsylvania has advanced forward with the creation of the turnpike, I believe we must constantly be looking for ways to make this system more efficient. As the PTC goes forward with this process, the consultants will have to look at options for the thousands of toll collectors and toll managers that this conversion may affect. Some options could be reassignment and placement in other areas of the turnpike, attrition through retirements, or retraining programs to help ease the impact on these individuals. Furthermore, a conversion to AET would ultimately stimulate Pennsylvania's economy through job growth for construction related jobs, purchasing of materials, as well as quicker business services from trucking companies travelling through our state.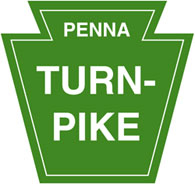 The Pennsylvania Turnpike still remains an important asset for transportation funding for our state. Act 44 was signed in July 2007 that would have allowed the Turnpike Commission to place a toll on Interstate 80. This would have raised millions each year for transportation issues. In order to convert I-80 into a toll road, the plan needed approval from the Federal Highway Administration (FHWA). Although the FHWA rejected three applications to toll I-80, the turnpike is still required to pay the Pennsylvania Department of Transportation (PennDOT) $450 million per year for the next 45 years.
To view the AET feasibility report, please go to the following link: www.paturnpike.com/aet.


Assistance for Job Seekers – Skills for Success: The Fontana Series

As many of you know, last year I was proud to partner with the Carnegie Library of Pittsburgh (CLP) to provide grant funding for a series aimed at building skills as well as creating excellent resumes and applications that aid job seekers in achieving the position they want. In the fall, Skills for Success: The Fontana Series debuted at seven CLP branch locations. I am excited to announce that this series will continue next week, free of charge to attendees.
Recently, it has been brought to my attention how much of a success this initiative has been for many of the past attendees who have been able to secure new positions. Joyce McGuire of Green Tree went to an October session and within a month received two job offers and has accepted a new position with a local company.
"I chose to be open-minded and attend the program for any tips to gain employment and it changed my life," Ms. McGuire said recently. "The program has a lot of tools and helped me prepare and utilize my skills to pursue a future career."
Within a few days of attending Skills for Success last fall, Jerae Palmer of Pittsburgh was able to land a desired position.
"I'm calling to celebrate a success," Ms. Palmer said. "I moved a mountain – a big mountain – in a couple of days because I was so motivated when I left that class!"
Rachel Masilamani and Georgiana Deming will again lead Skills for Success: The Fontana Series, bringing over 10 years combined experience assisting library visitors with job hunting, online applications and resume writing. This series will feature separate workshops: one focused on resumes and cover letters, and the other dedicated to interviews and networking. There will also be a two-hour career lab at each session where attendees can work on online applications and explore library resources. Here, individuals will receive assistance with resumes, interview skills and online application forms. Due to limited space, registration is required for workshops. While registration is encouraged for the career labs, walk-ins are also welcome.
You can register online at www.carnegielibrary.org/skillsforsuccess. Please contact careerworkshops@carnegielibrary.org or call 412-281-7141 ext. 2012 with any questions. If you need help with any aspect of the job searching process or have a friend or relative who does, I hope you consider attending one of these free workshops.
Monday, March 19, 3 – 7 p.m.
CLP – Beechview
1910 Broadway Avenue
Resume & Cover Letter Workshop, 3-5 p.m.
Career Lab, 5 – 7 p.m.

Monday, March 26, 9 a.m. – 1 p.m.
CLP – Downtown
612 Smithfield Street
Resume & Cover Letter Workshop, 9 – 11 a.m.
Career Lab, 11 a.m. – 1 p.m.


Saturday, March 31, 10 a.m. – 2 p.m.
CLP – West End
47 Wabash Avenue
Resume & Cover Letter Workshop, 10 a.m. – 2 p.m.
Career Lab, 2 – 4 p.m.

Saturday, April 7, 11 a.m. – 3 p.m.
CLP – Brookline
708 Brookline Boulevard
Resume & Cover Letter Workshop, 11 a.m. – 1 p.m.
Career Lab, 1 – 3 p.m.

Friday, March 23, 10 a.m. – 2 p.m.
CLP – Allegheny
1230 Federal Street
Interviewing & Networking Workshop, 10 a.m. - noon
Career Lab, noon – 2 p.m.

Friday, March 30, 1 p.m. – 5 p.m.
CLP – Mt. Washington
315 Grandview Avenue
Interviewing & Networking Workshop, 1 – 3 p.m.
Career Lab, 3 – 5 p.m.

Tuesday, April 3, noon – 4 p.m.
CLP – Knoxville
400 Brownsville Road
Interviewing & Networking Workshop, noon – 2 p.m.
Career Lab, 2 – 4 p.m.
Did You Know…
Did you know a recent study released by the Pew Charitable Trust showed the Carnegie Library of Pittsburgh has seen a 16% increase in usage from 2005 to 2011? That increase ranked 5th among the 15 metropolitan library systems from around the country that were studied.



Assessment Update
Court-ordered reassessment notices were sent to the last group of property owners in Allegheny County, those residing in the northern and western suburbs, on March 7th. Property owners in the following neighborhoods have until March 16th to request an informal review of their reassessment.
Bellevue Borough
Coraopolis Borough
Ingram Borough
Kennedy Township
McKees Rocks Borough
Neville Township
Borough of Pennsbury Village
Robinson Township
Stowe Township
Thornburg Borough
To request an informal review, you can call 412-350-4600 between the hours of 8:30 a.m. and 6:30 p.m. or go to http://www.alleghenycounty.us/schedinformal.aspx.
Property owners in all of Allegheny County have until April 2nd to request a formal appeal of their reassessments. To request a formal appeal, you must fill out and submit an Appeal Request Form to the County Office Building, 542 Forbes Avenue, Third Floor, Pittsburgh, 15219. You can call 412-350-4600 to request the mailing of a form, visit one of my district offices to pick up a form or download and print an Appeal Request Form by visiting the Property Assessment Information Page on the County's website. The Property Assessment Information Page on the County's website also contains information on both 2012 base year assessment values and 2013 court-ordered reassessment values and frequently asked questions. You can also view a schedule of town hall meetings taking place throughout Allegheny County.
As I mentioned in last week's News & Views, County Executive Rich Fitzgerald and County Council are holding a series of town hall meetings in all 13 County Council districts to assist homeowners with the 2013 court-ordered reassessment. The meetings will continue throughout the county into April. The town hall meetings will include a presentation that explains the reassessment process, how to file and prepare for informal reviews and formal appeals, and other options for reducing assessed values, as well as a question-and-answer period. In addition, county staff will be on hand to assist property owners with filing various forms. Legal and real estate professionals will also be present to provide free one-on-one advice and assistance. No registration is required, and the sessions are free and open to all. Property owners from any community are welcome to attend town hall meetings throughout the county.


SBDC Outreach Day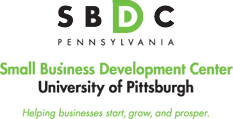 The next Small Business Development Center (SBDC) Outreach Day will be on Thursday, March 22nd. This is a free service that allows entrepreneurs to get help starting a small business or improving an existing business. SBDC Client Services Liaison John Dobransky will once again be at my Kennedy Office (Kenmawr Plaza) to provide assistance between the hours of 10 a.m. and 4 p.m. You may schedule an appointment with John by calling 412-624-2290. Appointments are not required but are encouraged. New and returning clients are welcome.


St. Patrick's Day Parade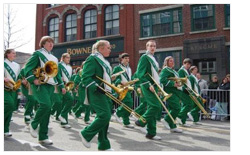 The annual Pittsburgh St. Patrick's Day Parade is scheduled for this Saturday, March 17th. The parade route will begin at the Greyhound Bus Station at the intersection of Liberty Avenue and 11th Street and continue down Grant Street before turning onto the Boulevard of the Allies. The parade ends at the intersection of Boulevard of the Allies and Commonwealth Place.
The event celebrates Pittsburgh's Irish heritage and will feature over 23,000 participants from area marching bands, elected officials and many Irish heritage groups. The parade committee will also be hosting "Irish Fair in the Square" during the parade which will feature music from Celtic Shores, Montour High School Drum Line, River City Brass Band and River City Youth Brass, and McDonald Pipe Band. At the parade's conclusion, the Market Square Merchant's Association will host its own St. Patrick's Day Street Party that continues into the evening.
In conjunction with the parade, the committee and Ancient Order of Hibernians is sponsoring a "Food and Funds Drive" where parade-goers can drop off non-perishable food items or monetary donations. The drop-off locations can be found at three points along the parade route: the Greyhound Bus Station (corner of 11th Street and Liberty Avenue); City-County Building (414 Grant Street); and the Steelworkers Plaza (60 Boulevard of the Allies). For more information about this year's parade and the many events associated with the parade, please visit the Pittsburgh St. Patrick's Day Parade website.

Taste of Brookline
The South Pittsburgh Development Corporation will be hosting "Taste of Brookline" on April 29th from 2 – 6 p.m. The event will be held at the Ritz Banquet Hall at 736 Brookline Boulevard and will showcase local cuisine while helping to raise funds for revitalization efforts in Brookline. Each participating restaurant will offer two to three dishes for attendees to sample. Tickets can be purchased at Kribel's Bakery, Cannon Coffee and ABoss Opticians or by visiting www.tasteofbrookline.com. Restaurant owners interested in participating should contact Stephanie Miller at 412-465-0790 or email spdc.brookline@gmail.com.

Dormont Pool St. Patrick's Day Fundraiser
Friends of Dormont Pool is hosting the 6th Annual St. Patrick's Day Party and Fundraiser on St. Patrick's Day, Saturday, March 17th. The event, open to adults 21 and older, will be held at the Dormont Recreation Center and run from 8 p.m. until midnight. Proceeds from the event will benefit Dormont Pool. Tickets can be purchased by calling 412-561-7692 or by emailing sarann5@verizon.net.

Market on Broadway IGA Update
The Market on Broadway IGA in Beechview is hosting a 3-day Super Sale, Wednesday, March 14th, Thursday, March 15th, and Friday, March 16th. You can visit the IGA's website for more information on the sale and to sign up to receive store newsletters, view recipes and create an online shopping list. The Market on Broadway IGA is located at 1616 Broadway Avenue in Beechview.

Slice on Broadway Voted Pittsburgh's Best Pizza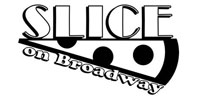 Congratulations to Slice on Broadway for being voted Best Pizza in Pittsburgh in a contest hosted by WPXI-TV. Slice on Broadway is located at 2128 Broadway Avenue in Beechview. WPXI received nearly 2,000 nominations for Pittsburgh's Best Pizza before the station's judges put the Top 10 to a taste test. Each pizzeria was required to submit one cheese pizza and one specialty pizza for the taste test. Overall winners were determined by combining the taste test score with the public voting score. Congratulations to co-owners Joe Ciotti and Rico Lunardi and all the staff at Slice!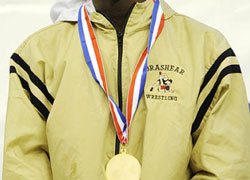 Bradley C. Bower/For the Post-Gazette
Local Athlete Makes History
Last week, Godwin Nyama, a senior at Brashear High School, became the first wrestler from the City League to win a state championship. Godwin defeated Canon-MacMillan's Connor Schram 3-1 in the 120-pound PIAA Championship match and finished the season with a record of 38-2. You can read more about Godwin's accomplishments in an article that appeared in the Pittsburgh Post-Gazette. Congratulations Godwin!

Fontana Fact
The Pittsburgh St. Patrick's Day Parade has a 142-year history in the city with a parade occurring every year since 1950. The annual parade is attended by over 150,000 people making it the second largest St. Patrick's Day Parade in the country behind New York City.

Offices of State Senator Wayne D. Fontana