Priorities for the New Year
According to the state constitution, the new Pennsylvania General Assembly meets on a biennial basis on the first Tuesday in January to swear in the members for the upcoming legislative session. This year, the occasion falls on New Year's Day. This timing provides me with a great opportunity to express my priorities on what issues myself and the Pennsylvania General Assembly will hopefully address during the 2013-14 session. \Since 2005, I have worked hard to craft legislation aimed at helping abused and underprivileged children and families. Last year Governor Corbett signed into law a bill I wrote that creates a homeless children task force that studies the educational needs of children facing homelessness throughout

Pennsylvania. Furthermore, I have fought for and authored legislation that would toughen child abuse reporting requirements for school personnel many years before the Jerry Sandusky scandal. This New Year will be no different. I look forward to working in a bipartisan manner and turning into law my previous bill and many of the recommendations the Pennsylvania Task Force on Child Protection released.
Because of my real estate background, protecting homeowners has been an area I have focused on since becoming a senator. Last year, I successfully led the Senate Democrats when I asked the Pennsylvania Attorney General to allocate designated funding to re-start the Homeowners' Emergency Mortgage Assistance Program (HEMAP) that assists families in preventing foreclosure. But my fight hasn't stopped there. Knowing what a crushing burden property taxes are to working families, I have introduced a series of bills to cut and control local taxes over the past few years and plan to do so again during this upcoming legislative session.
I have also fought to bring new jobs and revitalization to many of the struggling industrial communities I represent. To that end, I have sponsored and co-sponsored a legislative package this year that would invest in statewide job creation and economic development incentives – without raising taxes.
In the coming months, I hope that the Pennsylvania General Assembly can work together to address transportation funding, education, and child abuse reporting reforms to name a few. During this same time period, I too will be developing and focusing on key areas including the priorities I have mentioned as well as easier access for voters, senior and veterans' issues, legislative process reform, and health and environmental protection legislation. And as always, I will continue to advocate for property tax and assessment system reform.
In closing, I wish a very happy and healthy new year for all of my constituents and look forward to serving your needs in the future!

Free Student Financial Aid Seminar

I want to remind everyone that I will be hosting, in conjunction with the Pennsylvania Higher Education Assistance Agency (PHEAA), a PHEAA Financial Aid Education Day. This free seminar is scheduled for Saturday, January 26th and will run from 10 a.m. until noon at the Community College of Allegheny County (CCAC) in the Auditorium, Room S-260, in the Student Service Center Building. Attendees can enter the building from the entrance on Ridge Avenue and parking is available in the Mon Hill parking lot and Student Lot #2. Representatives from PHEAA will explain to students and their families what financial aid opportunities are available and which resources can assist in obtaining them. High school students who plan on attending a post-secondary school, and their parents, should consider attending this informative session.
PHEAA is a national provider of student financial aid services, serving millions of students and thousands of schools through its loan guaranty, loan servicing, financial aid processing, outreach, and other student aid programs. As high school students begin thinking about their plans for college, the PHEAA Financial Aid Education Day will provide an opportunity for both students and parents to receive information on all aspects associated with paying for college.
For more information or to register for the free PHEAA Financial Aid Education Day, please contact Keith Wehner in my office at kwehner@pasenate.com or 412-331-1208.

Free Assistance with Securing a Job

The next installment of Skills for Success: The Fontana Series is moving to the Carnegie Library-downtown branch beginning next week. These free workshops are scheduled for Monday, January 7th, Monday, January 14th and Wednesday, January 23rd, from 9 a.m. – 1 p.m. If you are currently looking for a job or if you need assistance with any aspect of the job searching process, these free workshops will serve as a great resource for you.

I was proud to partner with the Carnegie Library of Pittsburgh (CLP) in 2011, providing grant funding for this free series aimed at building skills and creating excellent resumes and applications that aid job seekers in achieving the positions they desire. Whether you have already built a resume and are looking to fine-tune it, if you are starting from scratch and need help with organizing your work history, need assistance with searching for positions online, or require help in improving your interviewing skills, this free workshop will benefit you. I have heard directly from attendees of past sessions who have been able to find full-time work after putting to practice many of the lessons learned at the workshop.
Competition today for jobs is fierce and job seekers may need tools to improve their chances at securing employment. This series provides those tools by featuring two separate workshops: one focused on resumes and cover letters, and the other dedicated to interviews and networking. This series also features a career lab where attendees can work on online applications and explore library resources. Due to limited space, registration is required for workshops; however, walk-ins are welcome for the career labs.
The schedule for this next installment is listed below. To register for one of these free workshops, please email careerworkshops@carnegielibrary.org or call 412-281-7141, ext. 2012.
CLP – Downtown branch
612 Smithfield Street
Pittsburgh, PA 15222
Monday, January 7th – Resumes & Cover Letters
Monday, January 14th – Interviewing & Networking
Wednesday, January 23rd – Resumes & Cover Letters
Workshops, 9 – 11 a.m./Career Labs, 11 a.m. – 1 p.m.
Did You Know…
Did you know that according to Pittsburgh TODAY, the Pittsburgh region has gained 19,900 nonfarm jobs since November 2007, performing stronger than all benchmark regions? Pittsburgh's job growth rate over the past five years was 1.7%.

Winter Driving Safety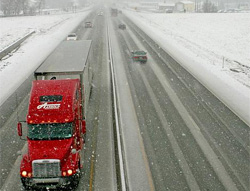 On the heels of our first winter storm, I want to take this opportunity to remind you about the resources made available by the PA Department of Transportation (PennDOT) to help you prepare and keep you safe during the winter months. PennDOT has established a website, www.511PA.com that provides travelers with reliable and current traffic and weather information, including traffic delay warnings, average traffic speeds on urban interstates, access to more than 670 traffic cameras and weather forecasts. 511PA also provides color-coded winter road conditions for all interstates. You may also access 511PA by calling 511.
PennDOT also reminds drivers that winter weather can bring unexpected conditions and encourages drivers to remain safe by preparing vehicles for the snow and ice with the following tips:
Wear your seat belt and reduce your speed, if conditions warrant
Ensure battery, lights, emergency flashers and wiper blades work properly
Check and maintain fluids and ensure your gas tank is full before traveling
Make sure your tires are properly inflated and have adequate tread
Prepare an emergency kit containing a cell phone and car charger, first-aid supplies, small shovel, heavy blanket, gloves, salt or sand, flashlight, water and non-perishable food
Use extra caution on bridges and ramps, and beware of black ice.
For more information on PennDOT's winter preparations and additional winter-driving resources for motorists, please visit the department's "Ready for Winter" website at www.dot.state.pa.us/winter.

Christmas Tree Recycling Program
Allegheny County residents can recycle their Christmas trees now through Saturday, January 19th as part of the County's Annual Christmas Tree Recycling Program. Trees may be dropped off daily, from dawn to dusk, at each of the County's nine regional parks. All decorations, lights and stands must be removed from the trees prior to dropping them off. The trees will be mulched and used in the County's parks. Following are the drop-off locations and the address for each park can be found by clicking on the park's link:
Boyce Park Round Hill
Deer Lakes Settler's Cabin
Harrison Hills South Park
Hartwood Acres White Oak
North Park

Citizen's Police Academy

The Pittsburgh Bureau of Police is accepting applications for the 2013 Pittsburgh Citizen's Police Academy (CPA). Participants in the program receive three hours of training one evening each week for 15 weeks in the many functions of law enforcement and are exposed to the operations of the police bureau. Instructors are law enforcement professionals who teach both veteran officers and recruit police officers. CPA participants leave the program with a greater understanding of the police mission and with an increased ability to see how the police serve the community. They are taught the basics of criminal law, search and seizure, patrol tactics, among many other subjects.
Class size is limited to 30 participants and anyone interested in registering must give permission to the Pittsburgh Bureau of Police to conduct a background check to determine if they have a criminal record. The CPA will begin on February 4th at the Pittsburgh Theological Seminary, located at 616 North Highland Avenue. To learn more about the program and to obtain an application, please visit the Pittsburgh Bureau of Police page on the city's website. You may also contact Lieutenant Jennifer Ford at 412-665-3600 or Jennifer.ford@pittsburghpa.gov for additional information. Applications must be received by the Pittsburgh Police Training Academy by January 25th.

Scott Township Library seeks Board Members
The Scott Township Public Library is seeking three volunteers to serve on its Board of Directors in 2013. The Library Board is responsible for setting the mission, vision and strategic plan for the library and plays a key role in advocating and fundraising for the library. The term is for three years and board meetings are primarily held on the 2nd Monday of each month at the Scott Township Municipal Building. To be eligible for appointment to the Board, you must reside in Scott Township or live in an adjacent community which does not have a library.
If you are interested in serving as a Board Member, please call the library at 412-429-5380 and ask to have a current Board Member return your call. You may also learn more about the Board's responsibilities by visiting www.scottlibrary.org. You may also mail a letter of interest and a short resume to:
Scott Township Public Library Board of Directors
c/o Janet B. Forton, Director
301 Lindsay Road
Scott Township, PA 15106

Fontana Fact
The Armstrong Tunnels were constructed in 1926 and 1927 and opened in 1927, connecting Second Avenue at the South 10th Street Bridge to Forbes Avenue. Today the tunnels run underneath Duquesne University, including Arthur J. Rooney Field. The Armstrong Tunnels were named in honor of Joseph G. Armstrong, who as Director of Public Works was very active in infrastructure improvements and projects that took place between 1910 and 1940.

Offices of State Senator Wayne D. Fontana
Brookline District
932 Brookline Blvd
Pittsburgh, PA 15226
Phone: 412-344-2551
Fax: 412-344-3400
Harrisburg
543 Main Capitol
Box 203042
Harrisburg, PA 17120
Phone: 717-787-5300
Fax: 717-772-5484
Kennedy Township
Kenmawr Plz
524 Pine Hollow Rd
Kennedy Twp, PA 15136
Phone: 412-331-1208
Fax: 412-331-2079
Beechview Satellite
1660 Broadway Ave.
Pittsburgh, PA 15216
Phone: 412-343-2080
Fax: 412-343-2418