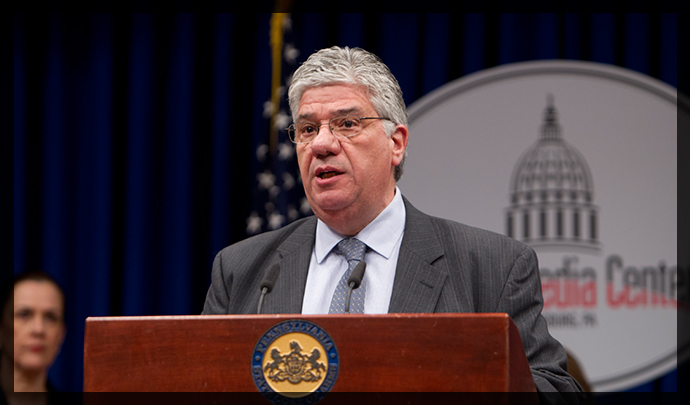 Senator Fontana speaks at a press conference on March 18th, where a bi-partisan group of senators announced a legislative package to overhaul Pennsylvania's child protection laws. Included in this legislative package is Senator Fontana's bill, Senate Bill 31, which would eliminate the separate system for reporting abuse by school employees.

Child Protection Bills
As a response to the Jerry Sandusky and the Archdiocese of Philadelphia child abuse scandals, the Pennsylvania General Assembly created a Task Force on Child Protection in January 2012. The mission of the task force was to review the state's child protection laws and procedures. After months of testimony throughout the state by various advocacy groups and professionals who deal with child abuse on a daily basis, the task force released their recommendations in November 2012.
At a press conference yesterday, a bipartisan package of bills was introduced that provide for sweeping reform by updating Pennsylvania's child protection laws based on recommendations by the taskforce. Please click here for an outline of the complete package of legislation.
My longtime proposal, now Senate Bill 31 (SB 31), was part of the task force's recommendations to update Pennsylvania's child protection laws. This legislation is long overdue and goes a long way to protect the health and safety of our school-age youth.
Currently, if there is a case of suspected child abuse in which the alleged perpetrator is a school employee, there is no requirement to report that abuse unless it rises to the level of a "serious bodily injury." A "serious bodily injury" is equivalent to the loss of a limb or an organ that stops functioning, sexual abuse, or sexual exploitation. SB 31 would require the same reporting of child abuse regardless of whether the perpetrator is a school employee.
Furthermore, under the Child Protection Law, current school employees are only required to report such incidents to their supervisors who then may decide whether it rises to a level of reporting it to ChildLine or to law enforcement. ChildLine is a program within the Pennsylvania Department of Public Welfare that accepts calls from the public which provides information, counseling, and referral services for authorities or victims of abuse.
SB 31 would remove the different reporting requirement for school employees and put them on the same level as other mandated reporters. Mandatory reporters have to report the incident directly to child line or the police. School employees would still report to their supervisors as well but this is for the sole purpose of keeping the school administrator informed of such incidents of child abuse. School employees also include those of institutions of higher education under SB 31.
I have introduced a form of this bill since 2005 and have worked with stakeholders and taken the recommendations of the task force to further improve upon the measure.
Child abuse is a serious issue and the recent incidents throughout Pennsylvania have provided the General Assembly, with the help of the task force, the opportunity to implement comprehensive reform that will improve child protection and initiate investigations of reported abuse more quickly. It's imperative for the General Assembly to quickly pass SB 31 as well as all of the other pieces of legislation introduced under this package of child abuse reform.
Helping Manufacturers
Senator Fontana and Senator Ward (front center) greet representatives of the manufacturing industry on the Senate floor after Senate Resolution 54 was adopted by the Senate, recognizing the Commonwealth's Industrial Resource Centers as part of Industrial Resource Centers Day in Pennsylvania on March 13th.
In Harrisburg last week, I joined with Senator Kim Ward to establish the bipartisan Senate Legislative Manufacturing Caucus. This caucus is needed to help provide research, policy and legislation targeted at assisting Pennsylvania's manufacturing community. It is my aspiration that the new Manufacturing Caucus will be very active and very aggressive in working to strengthen our state's manufacturing base by encouraging expansion and new investment and by working and partnering with manufacturers all across the Commonwealth in an effort to grow jobs.
I, along with Senator Ward, also sponsored Senate Resolution 54 (SR 54) last Wednesday, March 13th, to recognize Industrial Resource Centers (IRC) Day in Pennsylvania. Manufacturing is the largest contributor to the gross state product, employing more than half a million hard working Pennsylvanians today. There are seven Industrial Resource Centers across the Commonwealth, and they deserve a great deal of credit for striving to keep Pennsylvania's manufacturing sector strong. IRC's assist small and medium sized manufacturing enterprises to respond to the changing markets, embrace new technology and better compete globally. Over the past decade, IRC's have helped manufacturers generate over $7 billion in sales, $1.5 billion in new investments and garner nearly $1 billion in cost savings.
It is imperative we create an environment that encourages a strong manufacturing base in Pennsylvania and continues supporting our IRC's. Pennsylvania's manufacturers have a long history of creating jobs and are an important part of our proud economic history. As we continue to emerge from this daunting national recession, bolstering our manufacturing sector needs to be a priority, and will be a priority of the Manufacturing Caucus, so we can position Pennsylvania as a strong global competitor moving forward.
Did You Know…
Did you know that Pennsylvania's IRC's have supported the creation and retention of nearly 60,000 jobs throughout the Commonwealth over the last decade?
Skills for Success Returns to Brookline

I want to remind everyone that Skills for Success: The Fontana Series is returning to the Carnegie Library of Pittsburgh (CLP), Brookline branch, beginning April 3rd. The series will run each Wednesday during April at the CLP-Brookline branch, located at 708 Brookline Boulevard. If you are currently looking for a job, or are interested in boosting your skills that will help you land a desired position, sign up today for one of these free workshops, which will serve as a great resource for you.

I was proud to partner with CLP in 2011, providing grant funding for this free series aimed at building skills and creating excellent resumes and applications that aid job seekers in achieving the positions they desire. Whether you have already built a resume and are looking to fine-tune it, if you are starting from scratch and need help with organizing your work history, need assistance with searching for positions online, or require help in improving your interviewing skills, this free workshop will benefit you.
Rachel Masilamani and Richard Brzustowicz will again lead the Skills for Success: The Fontana Series, bringing over 10 years combined experience assisting library visitors with job hunting, online applications and resume writing. The series features two separate workshops: one focused on resumes and cover letters, and the other dedicated to interviews and networking. The series also contains a career lab where attendees can work on online applications and explore library resources that can assist them in the job searching process.
Job seekers today face fierce competition in securing employment. The Skills for Success: The Fontana Series aims to equip job seekers with the tools they need to improve their chances at landing a desired position. Due to limited space, registration is required for workshops; however, walk-ins are welcome for the career labs. The schedule for the next round of workshops in the Skills for Success: The Fontana Series is listed below. Following Brookline, the series will move to CLP branches in West End and Mt. Washington. To register for a workshop at any of these locations please call 412-281-7141, ext. 2012 or email careerworkshops@carnegielibrary.org.
CLP – Brookline
708 Brookline Blvd.
Pittsburgh, PA 15226
Wednesday, April 3 – Resumes & Cover Letters
Wednesday, April 10 – Interviewing & Networking
Wednesday, April 17 – Resumes & Cover Letters
Wednesday, April 24 – Interviewing & Networking
Workshops: 3-5 p.m., Career Labs: 5–7 p.m.
CLP – West End
47 Wabash Ave.
Pittsburgh, PA 15220
Tuesday, May 7 – Resumes & Cover Letters
Wednesday, May 8 – Interviewing & Networking
Tuesday, May 14 – Interviewing & Networking
Wednesday, May 15 – Resumes & Cover Letters
Workshops: Noon-2 p.m., Career Labs: 2-4 p.m.
CLP – Mt. Washington
315 Grandview Ave.
Pittsburgh, PA 15211
Thursday, May 23 – Resumes & Cover Letters
Thursday, May 30 – Interviewing & Networking
Thursday, June 6 – Resumes & Cover Letters
Thursday, June 13 – Interviewing & Networking
Workshops: 1-3 p.m., Career Labs: 3-5 p.m.
District Office Services
I want to remind all constituents that you may visit or call any of my district offices to receive full service assistance on any state matter. Our services include: helping complete and file property tax/rent rebate applications and unclaimed property forms; applying for senior bus passes; notary services; completing and filing forms with state agencies like PennDOT; and much more.
During the spring months, many seniors and other constituents receive letters and calls from private companies, offering to assist with applications such as the property tax/rent rebate program for a fee. Please know you can visit any of my district offices to receive assistance with obtaining and submitting the necessary paperwork and with filling out this, and other applications, free of charge.
Most importantly, I want everyone to know that I and my staff are always available to assist you. Since my election in 2005, we have always made sure that any constituent who comes to us has their problem solved and if we can't solve the problem directly, we at least provide direction to get a solution. Below is a listing of my district offices, hours of operation, and phone numbers:
Brookline Office
932 Brookline Boulevard
Pittsburgh, PA 15226-2106
Phone: 412-344-2551
Fax: 412-344-3400
Monday-Friday, 9 a.m. – 5 p.m.

Kennedy Office
Kenmawr Plaza
524 Pine Hollow Rd
Kennedy Twp, PA 15136-1661
Phone: 412-331-1208
Fax: 412-331-2079
Monday-Friday, 10 a.m. – 4 p.m.
Beechview Satellite Office
1660 Broadway Avenue
Pittsburgh, PA 15216-3247
Phone: 412-343-2080
Fax: 412-343-2418
Tuesdays & Thursdays, 10 a.m. – 3 p.m.
"In Lincoln's Footsteps"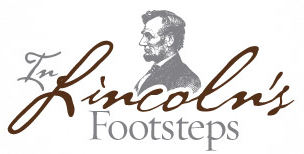 This year marks the 150th anniversary of President Abraham Lincoln's Gettysburg Address. In conjunction with this celebration, high school students who will be in grades 10, 11, or 12 during the 2013-14 academic school year are encouraged to participate in the In Lincoln's Footsteps contest. The contest honors the historical significance of President Lincoln's Gettysburg Address and attempts to recognize and continue the values the address symbolizes while stressing the importance for quality written and oral communication among high school students.
Any student in the above mentioned grades who is enrolled in a public, parochial, private, charter or home school with the Commonwealth of Pennsylvania is eligible to participate. The contest asks students to submit a speech, no more than 270 words, that reflects a contemporary perspective and personal commentary on one or more of the themes Lincoln articulated in the Gettysburg Address. The winner will receive a scholarship worth $5,000, professional speech presentation training, and a trip to Gettysburg for Dedication Day 2013 to deliver the winning speech at the official Dedication Day ceremony. The winning student's school will also be recognized and receive a collection of Gettysburg and Lincoln related books.
The deadline to participate is April 15th. For more information on the contest and to download an application please visit www.inlincolnsfootsteps.com. The contest is sponsored by the Gettysburg Foundation, Martel and Associates and Cotter Brobson Communications and administered by the Pennsylvania Department of Education.
Farm to Table Conference

The 7th Annual Farm to Table Pittsburgh conference is being held this Friday and Saturday, March 21st and 22nd at the David L. Lawrence Convention Center. The Farm to Table conference provides attendees with two days of networking and educational opportunities on healthy lifestyles. Local exhibitors will be on hand providing cooking demonstrations, information on gardening and what local businesses and organizations provide healthy food.
For more information on the Farm to Table conference please visit www.farmtotablepa.com. Farm to Table Pittsburgh is the local food and healthy eating component of American HealthCare's Pathways to SmartCare Wellness Program.
Camp Cadet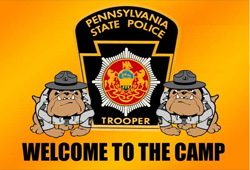 The Allegheny County Police Department is holding Camp Cadet once again this summer for girls and boys, ages 12-14. Camp Cadet will begin on July 21st and will conclude with a graduation ceremony on July 27th.
This youth camp was established in 2004 and is designed to provide a better understanding of law enforcement and other community agencies to youth living in Allegheny County. Camp Cadet is held at Camp Guyasuta, in Sharpsburg, for an entire week. Cadets will participate in activities and events that help build self-esteem and self-discipline while fostering new friendships. Some of the activities include mock crime scenes and mock trials, demonstrations by SWAT/SERT units and the Bomb Squad, and physical training.
Applications from potential cadets are due April 15th. You can download an application from the Allegheny County Camp Cadet website or request an application by emailing info@alleghenycountycampcadet.org. Completed applications can be mailed to:

Allegheny County Camp Cadet
P.O. Box 16364
Pittsburgh, PA 15242
Spring into the Season in the Strip District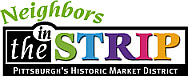 Neighbors in the Strip is hosting a Spring into the Season event on Wednesday, March 27th from 4:30 – 7 p.m. The "Business After Hours" event is being held at Mullaney's Harp & Fiddle at 2329 Penn Avenue in the Strip. Attendees can enjoy a networking gathering and will have an opportunity to discuss issues in the Strip with other business owners, residents and friends. For more information please email Becky Rodgers at rhrodgers@yahoo.com or call 412-201-4774.
Economic Development South Open House
Economic Development South (EDS) is hosting an Open House on March 25th from 6 – 8 p.m. at Carrick High School to discuss with the public the Brownsville Road Commercial Node Strategy and Implementation Plan.
EDS is developing a strategic action and implementation plan for the business districts along Brownsville Road. The plan will identify specific streetscape and public safety improvements, and long-term programs and initiatives EDS is seeking to retain and attract businesses. EDS is a non-profit community development corporation serving Brentwood, Whitehall and Baldwin boroughs and the Carrick and Overbook neighborhoods in the city of Pittsburgh.
High School Sports Update
Four teams within the 42nd Senatorial District remain alive in the P.I.A.A. basketball championships. On the girls' side in Class AA, Bishop Canevin and Seton-LaSalle will meet tonight in a semifinal game at Chartiers Valley High School, with the winner moving to the championship game Friday in Hershey. This will be the fourth meeting this season between Bishop Canevin and Seton-LaSalle. Bishop Canevin defeated General McLane in the 2nd round and Burrell in the quarterfinals to reach the semifinals. Seton-LaSalle defeated Greensburg Central Catholic in the 2nd round and Mohawk in the quarterfinals. In Class AAAA, Chartiers Valley has advanced to the semifinals and will face Cumberland Valley in Altoona this evening. Chartiers Valley defeated Gateway in the 2nd round and Mt. Lebanon in the quarterfinals to reach the semifinals.
On the boys' side in Class AAA, Montour reached the semifinals after defeating Girard in the 2nd round and General McLane in the quarterfinals. They face Archbishop Carroll tonight in a semifinal game in Chambersburg. If they win, they will play in the Class AAA championship game on Friday in Hershey. Chartiers Valley advanced to the quarterfinals where they fell to Archbishop Carroll after defeating Johnstown in the 2nd round.
Congratulations to all the teams and best of luck the rest of the way!
Fontana Fact
Last Saturday, Pittsburgh hosted its annual St. Patrick's Day Parade for the 143rd time. The first St. Patrick's Day Parade in Pittsburgh was held on March 17, 1869 and was reportedly attended by approximately 1,000 people. Today, Pittsburgh's St. Patrick's Day Parade is the largest in the city and is generally recognized as the second largest St. Patrick's Day Parade in the nation with crowds each year estimated between 150,000 and 200,000.
Offices of State Senator Wayne D. Fontana
Brookline District
932 Brookline Blvd.
Pittsburgh, PA 15226
Phone: 412-344-2551
Fax: 412-344-3400
Harrisburg
543 Main Capitol
Box 203042
Harrisburg, PA 17120
Phone: 717-787-5300
Fax: 717-772-5484
Kennedy Township
Kenmawr Plz.
524 Pine Hollow Rd
Kennedy Twp, PA 15136
Phone: 412-331-1208
Fax: 412-331-2079
Beechview Satellite
1660 Broadway Ave.
Pittsburgh, PA 15216
Phone: 412-343-2080
Fax: 412-343-2418