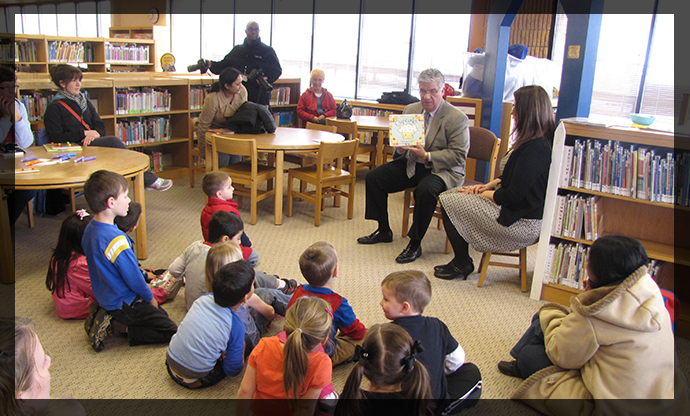 Senator Fontana reads to children at the Green Tree Public Library as part of their Story Time on April 4th. On Saturday, April 13th, Senator Fontana will visit the Carnegie Library-Brookline to read "The Bus for Us" as part of the 2013 One Book Every Young Child program. This program highlights the importance of early literacy development in preschoolers.

National Library Week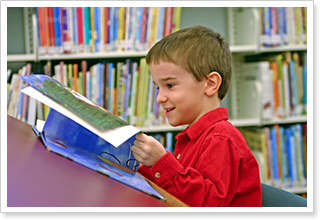 Next week marks National Library Week throughout the country. First debuting in 1958, National Library week is sponsored by the American Library Association and observed by libraries nationwide each April. The kickoff will begin on Sunday, April 14th, where communities across the United States will recognize of the role of libraries, librarians and library workers and the services and resources libraries and library staff provide to the community. Although all libraries within the Commonwealth have a great importance to the state, the 42nd district is very fortunate to have one of state's major library systems as a resource, the Carnegie Library of Pittsburgh (CLP).
To celebrate National Library Week, I will present a resolution in the Pennsylvania Senate to declare the week of April 14-20, 2013, as National Library Week in Pennsylvania. This year's theme of "Communities Matter @ Your Library" illustrates that libraries are often located in the heart of communities and schools and act as a place where individuals and families go to reconnect and engage with one another while at the same time enjoying free access to the knowledge held within libraries.
In recent years, libraries have become a place that is more than a repository only for books. These institutions have worked hard to change with the times and meet the needs and demands of a technology-based society by offering such items as e-books and audio books, computer stations, and other digital resources. The numbers prove how successful Pennsylvania's library system has been in this transformation. In 2012, libraries in the Commonwealth served over 47 million visitors and conducted more than 179,500 programs for children, parents, entrepreneurs, senior citizens, and students.
Furthermore, special programming for job seekers is offered at many libraries in our state and aided over 302,000 individuals last year looking for employment through the system's online access to jobs databases, assistance with online job applications, software and other job resources to help customers create resumes and employment materials.
I have personally witnessed how successful CLP has been assisting individuals with employment through our ever popular Skills For Success series in collaboration with CLP. Here, individuals who are looking for jobs or are interested in boosting skills such as resume building come to CLP for free workshops that serve as a great resource in a competitive job market.
Even more impressive is the library system's electronic library catalog known as the Access Pennsylvania Database. This program gives residents online access to the system's approximately 3,000 school, public, college, university, special libraries and intermediate units in which users may "order" a resource from another state library and have it delivered to a resident's local library for checking out. Access Pennsylvania is the largest online catalog of its type in North America.
I have always been and will continue to be an advocate for Pennsylvania's library system. There is something for everyone at the library no matter what your age. National Library Week encourages all residents to visit the library system and take advantage of the wonderful resources available to residents offering a world of knowledge and opportunity and all for free!
Did You Know…
Did you know that according to the American Library Association, children ages 3-5 who are read to at least three times a week are twice as likely to recognize all letters, have word-sight recognition and understand words in context?

Register Today for Skills for Success!

The next round of workshops in the Skills for Success: The Fontana Series got underway last week at the Carnegie Library of Pittsburgh (CLP), Brookline branch. The series will continue tomorrow and run each Wednesday during April at the CLP-Brookline branch, located at 708 Brookline Boulevard. If you are currently looking for a job, or are interested in boosting your skills that will help you land a desired position, sign up today for one of these free workshops, which will serve as a great resource for you.
Senator Fontana greets participants at the first Skills for Success: The Fontana Series workshop on April 4th at the Carnegie Library – Brookline branch.
I was proud to partner with CLP in 2011, providing grant funding for this free series aimed at building skills and creating excellent resumes and applications that aid job seekers in achieving the positions they desire. Whether you have already built a resume and are looking to fine-tune it, if you are starting from scratch and need help with organizing your work history, need assistance with searching for positions online, or require help in improving your interviewing skills, this free workshop will benefit you.
Rachel Masilamani and Richard Brzustowicz are again leading the Skills for Success: The Fontana Series, bringing over 10 years combined experience assisting library visitors with job hunting, online applications and resume writing. The series features two separate workshops: one focused on resumes and cover letters, and the other dedicated to interviews and networking. The series also contains a career lab where attendees can work on online applications and explore library resources that can assist them in the job searching process.
Job seekers today face fierce competition in securing employment. The Skills for Success: The Fontana Series aims to equip job seekers with the tools they need to improve their chances at landing a desired position. Due to limited space, registration is required for workshops; however, walk-ins are welcome for the career labs. The schedule for remaining workshops in the Skills for Success: the Fontana Series is listed below. Following Brookline, the series will move to CLP branches in West End and Mt. Washington. To register for a workshop at any of these locations please call 412-281-7141, ext. 2012 or email careerworkshops@carnegielibrary.org.
CLP – Brookline
708 Brookline Blvd.
Pittsburgh, PA 15226
Wednesday, April 10 – Interviewing & Networking
Wednesday, April 17 – Resumes & Cover Letters
Wednesday, April 24 – Interviewing & Networking
Workshops: 3-5 p.m., Career Labs: 5–7 p.m.
CLP – West End
47 Wabash Ave.
Pittsburgh, PA 15220
Tuesday, May 7 – Resumes & Cover Letters
Wednesday, May 8 – Interviewing & Networking
Tuesday, May 14 – Interviewing & Networking
Wednesday, May 15 – Resumes & Cover Letters
Workshops: Noon-2 p.m., Career Labs: 2-4 p.m.
CLP – Mt. Washington
315 Grandview Ave.
Pittsburgh, PA 15211
Thursday, May 23 – Resumes & Cover Letters
Thursday, May 30 – Interviewing & Networking
Thursday, June 6 – Resumes & Cover Letters
Thursday, June 13 – Interviewing & Networking
Workshops: 1-3 p.m., Career Labs: 3-5 p.m.

Carnegie Library Expands Hours

Beginning next week most Carnegie Library of Pittsburgh neighborhood branch locations will have expanded hours of operation. For the first time in over a decade, the CLP – Downtown & Business branch will be open to customers on Saturdays. In total, library visitors will have an additional 79 hours per week to visit the libraries. These new hours are beginning in conjunction with National Library Week. For a full listing of hours at each location, please visit www.carnegielibrary.org.
Beginning April 14th, the following locations will operate on this schedule:
Allegheny
1230 Federal Street
Pittsburgh, PA 15212
412-237-1890
Monday-Thursday
Friday & Saturday
10 a.m. – 8 p.m.
10 a.m. – 5 p.m.

Beechview
1910 Broadway Avenue
Pittsburgh, PA 15216
412-563-2900

Monday, Tuesday & Thursday
Wednesday, Friday & Saturday
10 a.m. – 8 p.m.
10 a.m. – 5 p.m.
Brookline
708 Brookline Boulevard
Pittsburgh, PA 15226
412-561-1003
Monday-Thursday
Friday & Saturday
10 a.m. – 8 p.m.
10 a.m. – 5 p.m.
Downtown
612 Smithfield Street
Pittsburgh, PA 15222
412-281-7141
Monday-Thursday
Friday - Saturday
8:30 a.m. – 6 p.m.
10 a.m. – 5 p.m.
Knoxville
400 Browsville Road
Pittsburgh, PA 15210
412-381-6543
Monday-Wednesday
Thursday-Saturday
10 a.m. – 8 p.m.
10 a.m. – 5 p.m.
Mt. Washington
315 Grandview Avenue
Pittsburgh, PA 15211
412-381-3380
Monday, Friday & Saturday
Tuesday-Thursday
10 a.m. – 5 p.m.
10 a.m. – 8 p.m.
West End
47 Wabash Street
Pittsburgh, PA 15220
412-921-1717
Monday, Friday & Saturday
Tuesday-Thursday
10 a.m. – 5 p.m.
10 a.m. – 8 p.m.
CLP Pop-Up
1206 Arlington Avenue
Pittsburgh, PA 15210
412-622-3319
Monday & Thursday
Wednesday, Friday & Saturday
12 p.m. – 7 p.m.
10 a.m. – 5 p.m.

CLP Community Meeting
The Carnegie Library of Pittsburgh will be hosting a community meeting to update the public on the library's plans for the proposed consolidated library on Brownsville Road that will accommodate Knoxville, Carrick and all the hilltop communities. The meeting is scheduled for April 27th at 10 a.m. at the Temple Baptist Church, located at 743 Brownsville Road. Attendees will have the opportunity to learn more about the library's plans, offer feedback and ask questions. Registration for the meeting is not needed. If you have any questions please contact Maggie McFalls, CLP's Community Engagement Coordinator at 412-622-8877 or mcfallsm@carnegielibrary.org.

LIHEAP Deadline Extended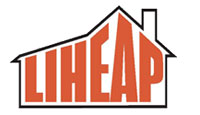 I wanted to remind everyone that the Low Income Home Energy Assistance Program (LIHEAP) has been extended. If you need assistance in paying your home heating bills, you now have until April 26th to apply. LIHEAP, which opened on November 1st, provides cash grants to low-income households that need help in paying their home heating fuel and utility bills.
If you need to apply for LIHEAP, you can do so on the state's COMPASS website or by picking up an application at any of my district offices. After your application is reviewed, you will receive a notice explaining your eligibility and the amount of assistance you will receive. Payments are generally sent directly to a utility company or fuel dealer and are credited to your account. Crisis grants are also available to those who have an emergency situation and are in jeopardy of losing their heat. Crisis assistance is available 24 hours a day by calling the Allegheny County Department of Human Services at 1-800-851-3838. For additional home heating assistance, you may also want to contact your utility company. You may also call the LIHEAP hotline at 1-866-857-7095 with any questions about this program.
The income limits for this season's LIHEAP are as follows:
| | |
| --- | --- |
| Household Size | Income Limit |
| 1 | $16,755 |
| 2 | $22,695 |
| 3 | $28,635 |
| 4 | $34,575 |
| 5 | $40,515 |
| 6 | $46,455 |
| 7 | $52,395 |
| 8 | $58,335 |
| 9 | $64,275 |
| 10 | $70,215 |

Housing Resource Center Workshops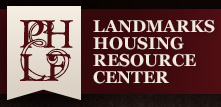 The Pittsburgh History & Landmarks Foundation (PHLF) and their Landmarks Housing Resource Center are offering free workshops for homeowners on a variety of topics on Saturdays during the month of April.
On April 13th, the Landmarks Housing Resource Center is hosting Building Interior Walls, a free workshop for homeowners considering adding walls within their homes. Green and Sustainable Building Materials is a workshop scheduled for April 20th that will discuss what products are best suited for green building and sustainability. On April 27th attendees can learn about how to prevent common issues associated with tile and grout at the Tile & Grout 101 workshop.
The above mentioned workshops will take place from 10 – 11:30 a.m. at the Landmarks Housing Resource Center, located at 744 Rebecca Avenue in Wilkinsburg. While these workshops are free and open to the public, RSVP's are requested. To register, please contact Mary Lu Denny at marylu@phlf.org or 412-471-5808, ext. 527.

Small Business Award

Direct Energy, in collaboration with Pittsburgh Magazine, is launching their first Small Business Community Heroes award program designed to recognize the small business owner who most exemplifies the spirit of volunteerism. Any small business owner in the region with fewer than 100 employees, who actively volunteers in his or her community, is eligible to be nominated.
All nominations must be submitted by May 19th and nomination forms can be found on Direct Energy's website. Nominations may be entered online, or faxed to 412-667-6109. You may also mail a completed nomination form to:
Direct Energy
ATTN: Andrea Romo
1001 Liberty Avenue, Suite 1200
Pittsburgh, PA 15222
A selection panel of representatives designated by the Award Sponsors will review all nominations received and the judging panel will select a winner. The winner will receive a cash prize, a contribution from Direct Energy to the charity of the winner's choice and will be featured in the July edition of Pittsburgh Magazine. For more information on the contest please visit www.directenergy.com/heroes.

Brookline Construction Bucks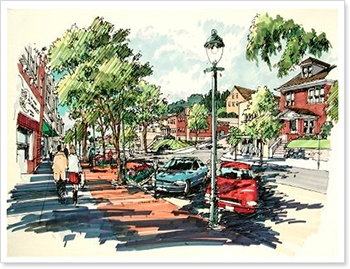 As I wrote in last week's edition, the Brookline Boulevard Improvement Project is underway. Upon completion, this project will showcase new street lights, street trees and planting beds, traffic signal improvements, new pavement and pavement markings, crosswalks, sidewalks, and ADA accommodations along the Boulevard.
As this renovation continues, the Brookline Chamber of Commerce is reminding everyone that Brookline is open for business! The Chamber has instituted the Construction Bucks program during the construction project. The Chamber will be selling $25 worth of Construction Bucks for $20 that can be used at participating businesses. Construction Bucks are available for purchase at Cannon Coffee and A-Boss Opticians along Brookline Boulevard. If you would like to participate or have questions about the program, please call Linda Boss at 412-561-0811.

Fontana Fact
Forbes.com recently named Pittsburgh as one of 15 emerging downtowns in the United States. Class A office space downtown was 94.5% leased by the third quarter of 2012 and since 2009, 219 new housing units have come to market with another 346 under construction. The area's population has also risen 21% since 2000.

Offices of State Senator Wayne D. Fontana
Brookline District
932 Brookline Blvd.
Pittsburgh, PA 15226
Phone: 412-344-2551
Fax: 412-344-3400
Harrisburg
543 Main Capitol
Box 203042
Harrisburg, PA 17120
Phone: 717-787-5300
Fax: 717-772-5484
Kennedy Township
Kenmawr Plz.
524 Pine Hollow Rd
Kennedy Twp, PA 15136
Phone: 412-331-1208
Fax: 412-331-2079
Beechview Satellite
1660 Broadway Ave.
Pittsburgh, PA 15216
Phone: 412-343-2080
Fax: 412-343-2418