Pittsburgh Trial Highlights Need for Child Abuse Reporting Upgrade
The following is a piece I authored that was published in several publications around Pennsylvania last week.
Testimony from the trial in Pittsburgh involving alleged child abuse by a former Pittsburgh Public Schools police officer underscores the need for better safeguards for our children and clearer reporting procedures for school officials if they suspect child abuse.
That is the goal of my legislation that requires school district authorities to report possible child abuse to authorities within 24 hours. My bill would remove the current confusing patchwork of reporting requirements involving school officials when they believe there are instances of child abuse in school. My legislation makes all school officials mandated reporters of suspected child abuse.
Witnesses at trial testified that they were subjected to abuse by the former school police officer on school premises as far back as 1998, yet no student came forward with abuse allegations at that time. That changed in 1999 when the former principal at the Arthur J. Rooney Middle School suspected that inappropriate activity occurred and reported his suspicions to the officer's supervisors.
Weeks later, the incident was reported to Pittsburgh police. However, the victim refused to be interviewed and the investigation went dormant, according to published reports from the trial.
Neither the principal, nor the officer's supervisors were required to immediately report the incident to either local or state police or Childline. If the mandatory reporting bill had been in place in 1999, it was likely that a full, aggressive investigation would have ensued -- prompted by the report to police or Childline -- and other alleged abuses uncovered from previous years.
Quick action and mandatory reporting of suspected cases of abuse not only stop the abuse and the abuser, but also preserve evidence and eye witness accounts. One of the problems discussed in the Pittsburgh trial is that there is no physical evidence and witnesses are testifying more than a decade after the alleged incidents.
The testimony in the Pittsburgh case is similar to statements made at the preliminary hearing in the Penn State perjury case now underway in Harrisburg. In that case, a witness to the Sandusky sexual assault asserted that he thought by telling Penn State officials about the attack was sufficient and that an immediate report to police was not necessary.
Had the mandatory reporting law been on the books, the details of the alleged incidents in the Pittsburgh case or the assault in the Sandusky attack would be fresh on the minds of the witnesses and physical evidence could have been gathered immediately. This material would be useful to law enforcement and court officials in administering justice.
The mandatory reporting measure that I authored, Senate Bill 31 (SB 31), is part of a package of recommended bills from the bipartisan, bicameral Legislative Task Force on Child Abuse. The blue-ribbon panel included a wide range of experts from across all disciplines that deal with child abuse. The Task Force was formed after the incidents of child abuse were discovered in the highly publicized Sandusky/Penn State child abuse case. The Task Force, recognizing the value of the legislation that I offered as a means to improve and clarify reporting procedures, supported my plan. My legislation was unanimously reported from the Education Committee in early June. I expect a vote by the full Senate this fall.
My proposal is unambiguous. It clearly and unequivocally imposes duties on school officials regarding the reporting of suspected child abuse. The message from my legislation: if you believe you have witnessed abuse, you are responsible to immediately report it to authorities. Period.
Our children deserve greater protection and our school officials must have the tools at their disposal to ensure that our kids are safe. The details emerging from the trial in Pittsburgh of the former school police officer accused of child abuse and the Penn State perjury hearing from long ago illustrates the great need to act now.
For more detailed information on Senate Bill 31, please click here.
Did You Know…
Did you know, in 2012, ChildLine, Pennsylvania's child abuse hotline, registered 26,664 reports of suspected abuse and/or neglect - an increase of 2,286 reports from the previous year?


32 Days Until FontanaFest! – The 9th Annual FontanaFest will be held on Saturday, September 7th from 11 a.m. – 4 p.m. at South Side's Riverfront Park (bottom of 18th Street at the river). The community event

highlights many of the family-oriented activities that can be done on or near Pittsburgh's three rivers. Join us for a FREE day of family fun with activities on the rivers, free food and drink, inflatables, crafts and pony rides. Pittsburgh Water Limo will be offering free boat rides during FontanaFest with rides scheduled for 11:30 a.m., 12:30 p.m., 1:30 p.m. and 2:30 p.m. A limited amount of tickets can be picked up at the Welcome

Booth as you enter the park. The PA Fish & Boat Commission will also provide canoes and kayaks for attendees to take out on the Monongahela.
Be sure to visit www.fontanafest.com over the next month to view a listing of all participating organizations and sponsors. Several organizations will also be present to provide children and families with important educational information and activities. It's rain or shine – but I have every confidence we will have another beautiful day, so please come out and enjoy!

Discounted Prescriptions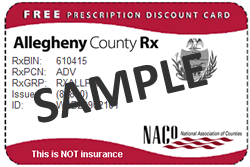 All residents in Allegheny County can download and print a prescription discount card that can save money on prescription drugs through a program sponsored by the National Association of Counties (NACo). The discount card is free to all Allegheny County residents regardless of age, income or existing health coverage. More than 300 pharmacies throughout the County participate in the program and will honor the discount card.
To download and print a discount card today, simply visit the Allegheny County website to get started. Click on the "Get an Allegheny Rx Card" link and enter your zip code when prompted. This will create a page that contains the discount card which you then can print out and cut out the card to be used at participating pharmacies. For more information, please call 1-877-321-2652 or visit the County's website to view a frequently asked questions document.

SBA Loans Available in Allegheny County

Residents and businesses affected by the flooding and severe storms that hit our region between June 26th and July 21st can apply for low-interest disaster loans from the U.S. Small Business Administration. Low interest loans of up to $200,000 are available to homeowners to repair or replace destroyed or damaged real estate. Loans up to $40,000 are also available to homeowners or renters to replace destroyed or damaged personal property. Additionally, businesses and non-profit organizations can borrow up to $2 million to replace or repair destroyed or damaged real estate, machinery and equipment, inventory and other business assets according to the SBA.
The SBA is operating a Disaster Loan Outreach Center that will remain open through Thursday at the Main Terminal Building 12 at the Allegheny County Airport in West Mifflin. Any homeowners or business owners not able to visit the Outreach Center can also call the SBA's Customer Service Center at 1-800-659-2955 or email disastercustomerservice@sba.gov. Loan applications can also be downloaded at www.sba.gov/disaster.

Pittsburgh Public Schools Seeking Input
Pittsburgh Public Schools recently launched a new website in an effort to solicit ideas from parents, community members, and teachers on how best to create high quality schools within the district. The site, http://vivapittsburgh.mysocialsphere.com/, provides an opportunity for stakeholders to weigh in and discuss

educational issues in an online forum.
The project is called Voices Ideas Vision Action, or VIVA. After educators, parents and community members have shared their ideas on how best to redesign schools to meet today's needs and tomorrow's expectations, leaders will be selected from the conversation and will be invited to join a writing collaborative tasked with creating a report that blends all ideas. This report will provide recommendations that will be presented to the school board and school administrators in mid-September.
To learn more about the VIVA Idea Exchange or to participate, please visit http://vivapittsburgh.mysocialsphere.com/ to get started.

Our Brookline.com

The South Pittsburgh Development Corporation (SPDC) is working to develop a comprehensive plan for improving Brookline and is seeking input from the community through a new website, www.ourbrookline.com. Their focus is promoting Brookline through sustainable projects, effective marketing and communication with residents in the area. The site, www.ourbrookline.com, is a creative tool where residents can share ideas for how to improve the neighborhood and what the priorities should be moving forward. I encourage Brookline residents to visit the site and consider getting involved in the planning process.

Update from Carnegie Library

The Carnegie Library of Pittsburgh (CLP) announced recently that their Beechview branch is slated to undergo significant renovations beginning this fall. The improvements are part of a multi-year plan to equip all CLP buildings with efficient heating and cooling systems and to ensure each facility is fully accessible and receiving much-needed user-friendly updates. CLP's Beechview branch, located at 1910 Broadway Avenue, was originally constructed in 1967. As with all of its capital projects, CLP will host a series of planning meetings with the community to gather input on the project.
With 19 neighborhood locations, CLP is one of the region's most visited assets and serves more than two million visitors each year, offering critical services such as early learning programs for children, job searching assistance, and computer and internet access and more. For more information on CLP's services and locations, please visit www.carnegielibrary.org.

Touring State Capitol
It's not too early to start planning if you're considering a tour of the Pennsylvania State Capitol Building. If you are considering a trip to Harrisburg and are interested in touring the State Capitol, you can begin booking free tours today by calling 1-800-868-7672. Free tours are offered regular weekdays every half hour from 8:30 a.m. – 4 p.m. On weekends and most holidays, tours are offered at 9 a.m., 11 a.m., 1 p.m. and 3 p.m. Additionally, the State Museum opens for ten Mondays and Tuesdays in the spring to accommodate tour guests.

Brookline Business Feature
This week's featured Brookline business is Hank's Hot Dogs, located at 919 Brookline Boulevard. Hank's is family-owned and has been serving the community since 1967. They offer a variety of hot dog selections, hamburgers, fries and onion rings, and chicken dishes. Hank's is open from 10 a.m. – 5 p.m. Monday through Saturday. To contact Hank's Hot Dogs you can call 412-561-1240. Please continue to support local merchants during the Brookline Boulevard Streetscape Project and remember:
Brookline is open for business!
Fontana Fact
The Citiparks Roving Art Cart is celebrating its 40th Anniversary this summer. The Roving Art Cart visits neighborhood parks and playgrounds during the summer, Tuesdays through Fridays, providing children an opportunity to express themselves through fun art activities like painting, sculpting, multi-media projects, and more. It began 40 years ago as a single cart and over the years has evolved into many tents and art projects while serving over 18,000 children annually. I'm proud to have the Roving Art Cart be a part of FontanaFest once again this year.

Offices of State Senator Wayne D. Fontana
Brookline District
932 Brookline Blvd.
Pittsburgh, PA 15226
Phone: 412-344-2551
Fax: 412-344-3400
Harrisburg
543 Main Capitol
Box 203042
Harrisburg, PA 17120
Phone: 717-787-5300
Fax: 717-772-5484
Kennedy Township
Kenmawr Plz.
524 Pine Hollow Rd
Kennedy Twp, PA 15136
Phone: 412-331-1208
Fax: 412-331-2079
Beechview Satellite
1660 Broadway Ave.
Pittsburgh, PA 15216
Phone: 412-343-2080
Fax: 412-343-2418