Offices Closed
All Senate offices are closed today in observance of Veterans Day. My offices will re-open tomorrow, Wednesday, November 12th as scheduled. Please join me today in thanking veterans everywhere who have sacrificed so much in order for our country to enjoy the freedom we have today.

Legislative Achievements for Veterans in 2014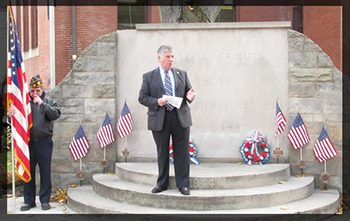 To honor Veterans Day and pay tribute to all of the individuals who are currently serving in the military or those who have in the past, I bring to your attention some of the legislative achievements of the Pennsylvania General Assembly for 2014:
Senate Bill 437/Act 10 - The Department of Education may issue a Pennsylvania military science teaching certificate to a person who possesses a valid military science certificate or endorsement issued by a branch of the United States Armed Forces authorizing the person to teach military science and the Junior Reserve Officer Training Corps (ROTC).
House Bill 43/Act 86 - The bill increases the availability of mental health services to military personnel and their families by establishing a procedure through which physicians and other health care practitioners who are retired from active practice may provide mental health services within their scope of practice as a volunteer upon referral from approved organizations.
House Bill 1164/Act 46 - Allows veteran students to receive priority course scheduling at public institutions of higher education.
House Bill 1460/Act 59 - Requires colleges and universities in the Commonwealth to place an "M" or "Military" on students' grade transcripts for classes they are unable to complete due to military leave of absence. The legislation also provides for an Heroic Service website which will require Pennsylvania's Department of Military and Veterans Affairs (DMVA) to provide public access to a database that contains the names of any individual who has been awarded any of the following for heroic service in the Armed Forces: Medal of Honor; Distinguished Service Cross; Navy Cross; Air Force Cross; or Silver Star.
House Bill 2013/Act 74 - When a school board member is called to active duty in the military or naval forces, a temporary vacancy shall be declared and filled by either the remaining members of the board or the court, as the case may be from the qualified electors of the district, until the return of such member.
Senate Bill 403/Act 78 - Authorizes the awarding of grants to medical or health officers (both full-time and part-time) in exchange for their service in the National Guard, to help attract and retain more physicians in the Guard.
Senate Bill 923/Act 66 - Preserves the Military Family Relief Assistance Program (MFRAP) which was set to expire on June 30, 2016 and will now run until 2020. It also expands the program's eligibility criteria because the current guidelines are so narrowly drawn that participation is limited.
Senate Bill 1090/Act 80 - Provides that any resident military veteran who is eligible for federal military disability compensation for disabilities at 60% and above qualifies for a reduced fee hunting license of $1
Senate Bill 1102/Act 81 - This bill allows for any resident disabled veteran with a disability between 60% and 99% to qualify for a $1 fishing license.
Senate Bill 1115/Act 82 - Requires approved institutions of higher learning to apply any federal tuition assistance before awarding Educational Assistance Program grants to PA National Guard personnel.
Senate Bill 1129/Act 180 - Updates the current Paralyzed Veteran's Pension Program to reflect eligibility terms currently used by the U.S. Department of Veterans Affairs in determining disability claims.
Senate Bill 1135/Act 188 - Provides a preference for active duty service members and veterans in the establishment of rentals and selection of tenants by public housing authorities.
Senate Bill 1187/Act 109 - Provides for a special registration plate for recipients of the Combat Action Badge. The bill also adds the following wars or conflict that individuals who served in the United States Merchant Marines can now receive a special plate: the Korean War, the Vietnam Conflict or any of the Gulf Wars. Currently, only Merchant Marines who served during World War II were able to get a special plate.
Senate Bill 1224/Act 147 - Allows a pharmacy within an assisted living residence or personal care home to receive lower cost drugs directly from the Department of Veterans Affairs drug benefit program.
I was proud to co-sponsor and support many of these veteran-friendly initiatives and look forward to doing the same when the new legislative session begins in January. In the mean time, if you have any questions about these new laws, please contact my office for assistance.

Veterans Programs

The Pennsylvania Department of Military and Veteran Affairs (DMVA) provides a variety of resources and assistance to the Commonwealth's veterans and their families. Some of the programs DMVA administers include the following:
Educational Gratuity Program – This program provides financial assistance to children between the age of 16 and 23 of honorably discharged veterans who have service-connected disabilities and served during a period of war or armed conflict, or children of veterans who die or died in service during a period of war or armed conflict.
Blind Veterans Pension – This program provides blind veterans with a monthly pension if the Pennsylvania veteran served in the military honorably and suffered a service-connected injury or incurred a disease which resulted in the loss of vision.
Paralyzed Veterans Pension – This program provides paralyzed veterans with a monthly pension if the Pennsylvania veteran served in the military honorably and suffered a service-connected injury or disease resulting in the loss or loss of use of two or more extremities.
Veterans Emergency Assistance – This program provides temporary financial aid in an emergency to veterans and their beneficiaries who reside in Pennsylvania for the necessities of life (food, dairy, shelter, fuel, medical care and clothing).
Disabled Veterans Real Estate Tax Exemption – This program provides a real estate tax exemption for any honorably discharged veteran who is 100% disabled, a resident of the Commonwealth and has a financial need.
For more information on these programs or any programs available to veterans, please visit www.dmva.state.pa.us or call 1-800-547-2838.
Did You Know…
Did you know Pennsylvania is one of only five states in the country with more than one million Veterans? The others are California, Florida, Texas, and New York.

Persian Gulf Conflict Veterans Bonus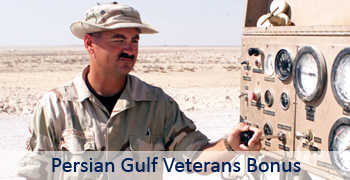 The Pennsylvania Department of Military and Veterans Affairs (DMVA) wants to remind Pennsylvania Veterans that they have until August 31, 2015 to apply for a special one-time payment to honor their service and sacrifice if they served on active duty in the Persian Gulf Theater of Operations from August 2, 1990 – August 31, 1991.
More than 10,500 Persian Gulf Veterans have applied for the one-time cash bonus program since the Department began accepting applications in 2008. The bonus pays $75 per month for qualifying, active-duty service members, up to a $525 maximum. For personnel whose death was related to illness or injury received in the line of duty in Operations Desert Shield or Desert Storm, there is an additional $5,000 available to the surviving family. Service members who were declared prisoners of war may also be eligible for an additional $5,000.
In each case, the service member must have:
Served with the U.S. Armed Forces, a reserve component of the U.S. Armed Forces or the Pennsylvania National Guard


Served on active duty in the Persian Gulf theater of operations during the period August 2, 1990 – August 31, 1991 and received the Southwest Asia Service Medal


Been a legal resident of Pennsylvania at the time of active duty service


Been discharged from active duty under honorable conditions, if not currently on active duty
For more information on how to apply, please visit www.persiangulfbonus.state.pa.us.

Serving Local Veterans

The Veterans Leadership Program of Western Pennsylvania (VLP) has worked with men and women who are transitioning from military service to civilian life since 1982. This independent, non-profit organization was founded by local Vietnam Veterans, and serves all veterans who reside in western Pennsylvania. VLP can assist veterans with a variety of services including: emergency, transitional and permanent housing; rent and utility assistance; employment counseling; financial and budgeting services; legal aid; VA benefit applications; and referrals to many agencies for counseling services.
VLP's team of experienced professionals includes male and female veterans, National Guard and Reserve members, family members of veterans, and civilians who assist more than 2,000 veterans each year. Whether it is a quick question or essential services, VLP is able to assist. If you are a veteran or know a veteran in need of assistance, please contact VLP at 412-481-8200 or info@vlpwpa.org. More information about VLP can be found on their website www.NeverForgetVets.org or www.vlpwpa.org.

McKees Rocks Historical Society Window Display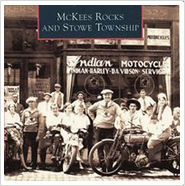 The McKees Rocks Historical Society was founded in 2007 to encourage community interest in the history of the area by collecting, preserving, exhibiting, and interpreting the past to people of all ages. Recently, the Historical Society lost their window space in McKees Rocks. I am pleased that moving forward the Historical Society will be utilizing window space in my Kennedy Township office, located in Kenmawr Plaza on Pine Hollow Road.
During the month of November, the Historical Society is paying tribute to our veterans with a wonderful display that highlights connections to the McKees Rocks and Stowe areas. You can get a glimpse of the display on the Historical Society's Facebook page.
If you're interested in learning more about the McKees Rocks Historical Society or in becoming a member, please contact Sandy Saban by email at sandyspeak@gmail.com and type the phrase "Historical Society" in the subject line. The Historical Society is hosting a meeting on November 18th at Mickey's Place, located at 1625 Pine Hollow Road. A social and dinner is scheduled from 6 – 7 p.m., and the meeting and program from 7 – 8 p.m. which includes a Missing Man Table and Honors Ceremony.

LIHEAP is Open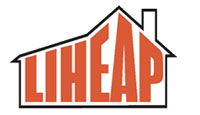 Last week, the Pennsylvania Department of Public Welfare (DPW) began accepting applications for this season's Low Income Home Energy Assistance Program (LIHEAP). The program helps low income families pay their heating bills. You can apply and check the status of your application on the state's COMPASS website. You can also pick up an application in my district offices, or download one yourself from DPW's LIHEAP website. Completed paper applications should be returned to one of the Allegheny County Assistance Offices.
Funding for LIHEAP is provided by the federal government and eligibility is based on Federal Poverty Income Guidelines. The income limits for this season are as follows:
| | |
| --- | --- |
| Household Size | Income Limit |
| 1 | $17,505 |
| 2 | $23,595 |
| 3 | $29,685 |
| 4 | $35,775 |
| 5 | $41,865 |
| 6 | $47,955 |
| 7 | $54,045 |
| 8 | $60,135 |
| 9 | $66,225 |
| 10 | $72,315 |
After your application is received, you will receive a written notice explaining your eligibility and the amount of assistance you will receive. Payments are generally sent directly to a utility company or fuel dealer and are credited to your account. For more information, please contact the LIHEAP hotline at 1-866-857-7095.

Local Eagle Scout
I wish to congratulate Nicholas Spak on achieving the rank of Eagle Scout, the highest advancement rank available in the Boy Scouts of America. Nicholas is the son of Barbara and Myron Spak of Scott Township.
Nicholas is a member of Troop 28, which is sponsored by the Bower Hill Community Church in Mt. Lebanon. As a member of Troop 28 since 2009, Nicholas has held several leadership roles including Chaplain Aid, Patrol Leader, and Assistant Senior Patrol Leader. He is also a member of the Boy Scouts National Honor Society, the Order of the Arrow and in 2012 earned the Light is Life Religious Emblem for Eastern Catholic Scouts. For his Eagle Scout community service project, Nicholas led an international humanitarian project that entailed collecting and shipping more than 900 pounds of First Aid and personal hygiene items to 12 centers for children and orphanages throughout the Ukraine. A senior at Chartiers Valley High School, Nicholas has been active in the high school show band and concert band, is a member of the Robotics team, National Honor Society and Math Honor Society. He also finds the time to volunteer at the Light of Life Rescue Mission.
Congratulations to Nicholas on achieving the rank of Eagle Scout! It's exciting to see a young person like Nicholas make such a positive and lasting imprint on his community in such a short time.

Carnegie Library Community Meeting
The Carnegie Library of Pittsburgh (CLP) is hosting an informational community meeting to discuss the renovation of the CLP-Knoxville branch. The meeting is scheduled for this evening at 6 p.m. at CLP's Knoxville branch, located at 400 Brownsville Road. Officials with the library will speak about the new features of the building and will share the schedule for the improvements. Attendees will have the opportunity to ask questions. For more information, please contact Jennifer Pickle at 412-381-6543 or Knoxville@carnegielibrary.org.

Focus on Renewal Event
Focus on Renewal (FOR) is hosting a happy hour to raise money tomorrow, from 5 – 7 p.m. at Mullaney's Harp and Fiddle in the Strip District. FOR Board Members Jamie Rooney and Eric Dalton along with Executive Director Greg Quinlan and Associate Director Sister Sarah Crotty will be guest servers. All tips they collect at

the event will benefit FOR and the work they do in the Sto-Rox community. For more information, please contact Chris Crytzer at 412-331-1685, ext. 305 or ccrytzer@forstorox.org.

Fontana Fact
According to a study recently published by Oxford Economics, the commercial casino industry in Pennsylvania has a total employment impact of nearly 34,000 total jobs. Without these jobs in the commercial casino industry, Pennsylvania's unemployment rate would be nearly one percentage point higher.

Offices of State Senator Wayne D. Fontana
Brookline District
932 Brookline Blvd.
Pittsburgh, PA 15226
Phone: 412-344-2551
Fax: 412-344-3400
Harrisburg
543 Main Capitol
Box 203042
Harrisburg, PA 17120
Phone: 717-787-5300
Fax: 717-772-5484
Kennedy Township
Kenmawr Plz.
524 Pine Hollow Rd
Kennedy Twp, PA 15136
Phone: 412-331-1208
Fax: 412-331-2079
Beechview Satellite
1660 Broadway Ave.
Pittsburgh, PA 15216
Phone: 412-343-2080
Fax: 412-343-2418