Elected to Leadership
Last week in Harrisburg I was proud to have been unanimously elected as the Senate Democratic Caucus chairman for the coming two-year legislative session. As caucus chairman, I have the responsibility of setting the daily caucus agenda and leading the discussion on bills that are under consideration on the Senate floor.
I thank my colleagues for electing me and am humbled and honored by the confidence they have shown in me. As the Chair, I plan on using this leadership position to do even more on the pressing issues facing constituents in the 42nd Senatorial District and throughout the Commonwealth.
My top priorities have and will continue to be promoting job creation, developing critical infrastructure, ensuring a quality education for our children, and being a staunch advocate for Allegheny County and its interests. Serving as caucus chairman provides an excellent opportunity to better represent the families, small businesses, veterans, and seniors of this district and I look forward to continuing to serve all my constituents in this new capacity in the upcoming session.

LIHEAP is Open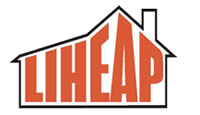 The Pennsylvania Department of Public Welfare (DPW) is now accepting applications for this season's Low Income Home Energy Assistance Program (LIHEAP). The program helps low income families pay their heating bills. You can apply and check the status of your application on the state's COMPASS website. You can also pick up an application in my district offices, or download one yourself from DPW's LIHEAP website. Completed paper applications should be returned to one of the Allegheny County Assistance Offices.
Funding for LIHEAP is provided by the federal government and eligibility is based on Federal Poverty Income Guidelines. The income limits for this season are as follows:
| | |
| --- | --- |
| Household Size | Income Limit |
| 1 | $17,505 |
| 2 | $23,595 |
| 3 | $29,685 |
| 4 | $35,775 |
| 5 | $41,865 |
| 6 | $47,955 |
| 7 | $54,045 |
| 8 | $60,135 |
| 9 | $66,225 |
| 10 | $72,315 |
After your application is received, you will receive a written notice explaining your eligibility and the amount of assistance you will receive. Payments are generally sent directly to a utility company or fuel dealer and are credited to your account. For more information, please contact the LIHEAP hotline at 1-866-857-7095.

Property Tax/Rent Rebate Program and Social Security COLAs
I want to remind everyone that if you have not filed for a rebate through the Pennsylvania Property Tax/Rent Rebate Program, the deadline has been extended to December 31st.
If you received a rebate last year, you should have received an application in the mail. If you did not receive an application, or did not apply last year and wish to apply this year, the applications can be obtained from any of my district offices and my staff would be happy to assist you in preparing your application.
The Property Tax/Rent Rebate Program benefits eligible Pennsylvanians age 65 and over; widows and widowers age 50 and over; and people with disabilities age 18 and over. As I mentioned last week, a new law will allow more Pennsylvania senior citizens to be eligible for the state's Property Tax and Rent Rebate Program should the Social Security cost-of-living adjustment (COLA) be increased. Passage of Act 156 of 2014 comes at a perfect time with the announcement that Social Security beneficiaries will receive a 1.7 percent COLA in their monthly payments starting in January 2015.
Believing no older Pennsylvanian should be disqualified from receiving rebates just because of a Social Security COLA, the Pennsylvania General Assembly rectified this situation by changing the eligibility guidelines under Act 156. Now, any homeowner with an annual income of up to $35,298 for 2013 and who collects social security and received a property tax rebate will continue to qualify for the Property Tax Rebate. The same goes for renters with an annual income of up to $15,128.
The Pennsylvania Department of Revenue will automatically review previous claim year 2013 applications where the rebate was denied for income in excess of $35,000 for homeowners and $15,000 for renters. In the cases where a homeowner or renter's overage is due only to a Social Security COLA, the department will re-open, process and then pay these claims.
It has been estimated that approximately 6,000 seniors will now be protected from losing their rebate this fiscal year because of passage of Act 156, and up to nearly 9,000 by the 2016-17 fiscal year. I realize that many Commonwealth residents on fixed incomes rely on the Property Tax and Rent Rebate Program for some financial relief and these individuals should not be punished because of a COLA and that is why I supported passage of this law.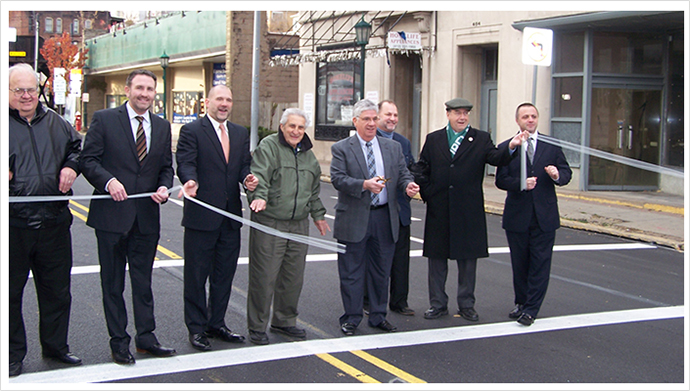 Senator Fontana had the honor of cutting the ribbon at a ceremony announcing the return of two-way traffic to Chartiers Avenue in McKees Rocks on November 14th. Pictured from left to right are: Representative Nick Kotik; PennDOT District 11 Executive Dan Cessna; McKees Rocks CDC Executive Director Taris Vrcek; McKees Rocks Councilman John Ciangiarulo, Jr; Senator Fontana; McKees Rocks Council President Keith Schwab; Allegheny County Councilman Michael Finnerty; and Representative Dan Deasy.

Revitalizing McKees Rocks
I was pleased to attend and speak at a ceremony on Chartiers Avenue in McKees Rocks on November 14th in celebration of the return to two-way traffic through the business district. In 2012, McKees Rocks applied for and received funding through PennDOT's Automated Red Light Enforcement (ARLE) grant program, which I was proud to support. The funding allowed McKees Rocks Borough to update their traffic-control signals which was necessary in order to change traffic patterns.
A quarter century ago, the two-way traffic pattern through the business district in McKees Rocks was changed to a one-way pattern to alleviate traffic congestion. At the time, this congestion within the business district was caused primarily by the signal equipment itself, which only utilized internal timers for signal switching and included no means to measure traffic flow. Due in part to this change, the business district has suffered as store fronts are no longer easily visible and a hazardous traffic pattern has emerged.
Over the years, it has become abundantly clear to me that a convenient, safe and accommodating transportation infrastructure is crucial to a community's success. It is important for families seeking a place to live and raise children and is also important for developers and businesses interested in making investments into communities.
I applaud the efforts of borough officials in McKees Rocks, who worked diligently with PennDOT and the McKees Rocks Community Development Corporation to ensure this plan's viability. There are many positive developments taking place in McKees Rocks, Stowe and the surrounding area. The return of two-way traffic in McKees Rocks will assist current business owners and provide an added attraction to new investors seeking to participate in this area's ongoing revitalization.
Did You Know…
Did you know roughly 16,000 automobiles travel on Chartiers Avenue in McKees Rocks each day?

Health Insurance Marketplace Opens

Saturday marked the beginning of open enrollment on the health insurance marketplace, www.healthcare.gov. Anyone in Pennsylvania seeking coverage for January 1st must be enrolled by December 15th. Open enrollment concludes on February 15th. When applying or renewing your coverage in the health insurance marketplace, you will need to provide some information about you and your household, including income and any insurance coverage you currently have.
Like last year, anyone seeking coverage and needing assistance with enrolling can enter their address or zip code at www.healthcare.gov and view a listing of organizations with individuals who have been trained to assist customers. The listing will include all organizations located in proximity to your home that can assist. Also listed will be their hours of operation and contact information.
One change from last year is anyone seeking coverage can now view 2015 marketplace plans and prices prior to applying. You may also sign up to receive text message alerts and updates about the marketplace on the website. To begin looking for coverage on the marketplace, you can visit www.healthcare.gov or call 1-800-318-2596. If you or someone you know needs assistance and does not have a computer, my staff will be happy to assist in locating an organization nearby that can offer guidance in the enrollment process.

Toys for Tots

For the 11th year, the Kennedy Township Police Department, in conjunction with the United States Marine Corps, is collecting new toys for the Marine Corps Reserve annual Toys for Tots campaign. The U.S. Marines Corps Reserve has been collecting toys for underprivileged children for over 50 years. The Kennedy Township Police Department will be collecting new toys for children up to the age of 12 until December 15th. They are located at 340 Forest Grove Road and donations of new and unwrapped toys will be accepted from 7:30 a.m. – 11:30 p.m. seven days a week. To learn more about the Toys for Tots program, you can visit them online at www.toysfortots.org.
The Police Department is also working with the Allegheny County Housing Authority to collect new and gently used items for homeless veterans. Most needed items include: gloves; socks; hats; coats; sweaters; pants; and shoes. Donations can also be dropped off at the Kennedy Township Police Department. For more information, please call 412-331-2408.

Tutors Needed
OASIS Pittsburgh will be hosting free training sessions for adults aged 50 and over who are interested in serving as tutors for students enrolled in Pittsburgh Public Schools, kindergarten – 4th grade. These

training sessions will be held on December 3-4 from 10:30 a.m. – 3:30 p.m. at Macy's Department Store in downtown Pittsburgh. All materials, books, and supplies will be provided by OASIS.
OASIS is a non-profit organization, founded in 1982, that is active in 40 cities across the country in promoting successful aging by providing opportunities for adults aged 50 and over to pursue vibrant, healthy, productive and meaningful lives. Their Intergenerational Tutoring Program trains older adults on tutoring children and provides older adults the chance to help students learn. The program is operated in partnership with the Greater Pittsburgh Literacy Council.
For more information on how to become an OASIS tutor, please call John D. Spehar, Pittsburgh OASIS Tutoring Coordinator at 412-232-2021 or email him at jdspehar@oasisnet.org.

Fontana Fact
This Friday, the Pittsburgh Downtown Partnership hosts the 54th Annual Light Up Night in downtown Pittsburgh. Light Up Night has become the official kickoff to the holiday season in Pittsburgh with a variety of activities and entertainment taking place throughout the Golden Triangle. The first Pittsburgh "Light Up" Night took place on April 9, 1959 when every light in the Golden Triangle was turned on from 9:30 p.m. – midnight in an effort to stimulate business in downtown department stores and theaters.

Offices of State Senator Wayne D. Fontana
Brookline District
932 Brookline Blvd.
Pittsburgh, PA 15226
Phone: 412-344-2551
Fax: 412-344-3400
Harrisburg
543 Main Capitol
Box 203042
Harrisburg, PA 17120
Phone: 717-787-5300
Fax: 717-772-5484
Kennedy Township
Kenmawr Plz.
524 Pine Hollow Rd
Kennedy Twp, PA 15136
Phone: 412-331-1208
Fax: 412-331-2079
Beechview Satellite
1660 Broadway Ave.
Pittsburgh, PA 15216
Phone: 412-343-2080
Fax: 412-343-2418