Fontana Re-Elected as Vice Chair of PHEAA Board
On February 13th, I was re-elected as the Vice-Chair of the board of directors for the Pennsylvania Higher Education Assistance Agency (PHEAA). I have served on the PHEAA Board since 2008 and am pleased to continue my work to help make a college education more affordable and accessible. In these difficult economic times, it is especially rewarding to know that my work with PHEAA can have such a positive influence on the lives of so many students and their families. I am very proud of all that PHEAA has achieved as one of the nation's leading student aid organizations and look forward to continuing to advocate for our organization's many causes.
The Time is Now to Raise Minimum Wage
In 1914, Henry Ford had an extraordinary idea that would essentially change the workforce of his company and the approach of how many of the businesses in the United States operated. As a way to try to reduce worker attrition, Ford announced that the Ford Motor Company would pay its workers $5 a day, which doubled the average autoworker's wage. As expected, not only did employee turnover diminish, but productivity increased. For this reason, the Ford Company was able to build inexpensive cars in great quantities resulting in more people being able to afford to buy one of these vehicles. Thus, the emergence of the American middle class began.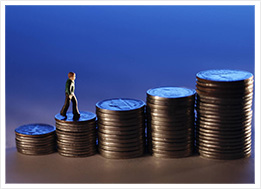 Enacted in 1938 as a component of President Franklin D. Roosevelt's New Deal, a minimum wage was instituted to essentially spark the economy by creating an economic stimulus after the Great Depression. Today, Pennsylvania's and the federal minimum wage rate is $7.25 an hour with full-time employees earning about $15,000 a year. At the same time, take into account that the federal government poverty line for a family of two is $15,510.
The last time Pennsylvania's minimum wage rate was increased was in 2009. However, if the minimum wage had kept up with inflation since 1968, presently it would be a nearly $10 an hour. Thirteen states, including our neighbors Ohio, New York and New Jersey, raised their minimum wage rate on January 1st. There is also a proposal in Congress right now that would raise the federal rate to $10.10 by 2016.
An increase in the minimum wage would provide residents with a more family-sustaining income that will bring more hard working individuals out of poverty, no longer having to rely on government subsidies like food stamps or cash assistance. Additionally, higher wages actually help businesses retain employees as we have seen with the Ford Company, resulting in savings for the employer because they don't have to spend as much on recruiting and training new employees.
At a time when the Commonwealth is trying to recover from the recent recession, a minimum wage increase would also be economically wise because workers would spend more, generating additional sales and some much needed economic activity. A study by the Chicago Federal Reserve Bank in 2011 found that for each dollar the minimum wage increases, household income rises by $1,000 a year while at the same time spending increases by $2,800 because consumers often use that money as down payments on durable goods like vehicles.
A recent Gallup poll was conducted that showed 72 percent of Pennsylvania residents support an increase in minimum wage. The time is now to increase the minimum wage to $9 this year and up to $10.10 by the end of next year. We also need to consider tying any future increases to the rate of inflation so that full-time workers are never living in poverty. We cannot continue to hear excuses while we turn our backs on this sector of the workforce. With over 700,000 residents making minimum wage or less, tax breaks for big businesses have allowed these corporations' profits to skyrocket while the middle class has steadily shrunk creating a bigger divide. A minimum wage increase would provide a fairer salary and guarantee a greater successful financial future that not only lifts people out of poverty and off of government subsidies but also spurring some much needed economic activity in Pennsylvania.
Did You Know…
Did you know the first federal minimum wage was enacted on October 24, 1938 and was set at $0.25?
Property Tax/Rent Rebate
The Pennsylvania Department of Revenue is accepting applications for the 2013 Property Tax/Rent Rebate program. If you received a rebate last year, you should receive an application in the mail. If you have not received an application, or did not apply last year and wish to apply this year, the applications can be obtained from any of my district offices and my staff would be happy to assist you in preparing your application.
The Property Tax/Rent Rebate program benefits eligible Pennsylvanians age 65 and over; widows and widowers age 50 and over; and people with disabilities age 18 and over. Homeowners with a yearly income of $35,000 and renters with a maximum yearly income of $15,000 are eligible for a rebate. The maximum standard rebate is $650.00 and the deadline to apply is June 30th.
Winter Storm Tips from Department of Insurance
As we continue to endure extreme winter weather conditions this season, the Pennsylvania Insurance Department is offering suggestions to homeowners with questions about their insurance policies. It's important to know that damage to your house and its contents caused by the weight of snow or ice, creating a collapse, is covered under standard homeowners' insurance policies. Freezing conditions that cause pipes to burst or ice dams, when water is unable to drain properly through gutters and seeps into a house causing damage to ceilings and walls also is normally covered. Most damage resulting from fallen trees is covered by your homeowners' policy but you should check with your insurance company before calling a tree removal service as removal costs may also be covered.
For drivers, your auto insurance coverage pays you for damage you, or someone driving the car with your permission, may cause to someone else's property due to ice, snow and slick roads. Damage to your car resulting from colliding with another car, object, or as a result of flipping over is covered if you carry the optional collision coverage of your policy. It also covers damage caused by potholes. Comprehensive
coverage on your auto policy also covers damage to your car caused by heavy wind, flooding, falling ice or tree limbs.
Whether its home or car insurance, you should contact your insurance company with specific questions about coverage. If you file an insurance claim and it is denied, review the terms of your policy for what is or is not covered. Know that you may also file an appeal to your insurance company's claim manager and that if questions remain, you may contact the Pennsylvania Insurance Department at 1-877-881-6388. The Insurance Department also recommends these steps to help make the insurance process easier to navigate:
Contact your insurance company immediately and follow the instructions given to you by claims personnel. Keep a log of the people you spoke with and ask questions if you do not understand instructions.


Separate damaged and undamaged property for the claims adjuster to examine. Do not throw away damaged property until your company's adjuster advises you that it is okay to do so.


Wait for the claims adjuster to arrive. Do not call anyone to repair or replace your loss without first getting instructions from your adjuster.


If your home is damaged, make only temporary repairs until a claims adjuster looks at the damage. Permanent repairs could trigger a denial of your claim.


Be careful when choosing a contractor to make repairs. Before signing a contract, check references to make sure you are working with a reputable firm.
Making $ense of Finance
The Pennsylvania Military Finance Alliance is hosting the first "Making $ense of Finance" on Saturday, March 1st at PNC Park. The free conference will run from 10 a.m. – 3 p.m. and is open to members of the military, veterans, and spouses. The conference program will be geared specifically towards the financial and investing challenges faced by members of the military and veterans. Workshops led by experts in the following areas will be available at the conference: investment and retirement basics; understanding credit reports and credit scores; personal risk management and insurance; budgeting; and protecting your identity.
Brigadier General (Ret.) Jerry G. Beck, Jr., will give the keynote address at the conference. He currently serves as the Deputy Adjutant General – Veterans Affairs for the Pennsylvania Department of Military & Veterans Affairs. To register for this conference, you may call 717-705-2687 or visit www.dobs.state.pa.us. Breakfast, lunch and parking will be provided but space is limited and registration is required. The first 200 people to register will receive a $25 gift card for attending and participating in the conference.
Making $ense of Finance is made possible through the Pennsylvania Military Finance Alliance, a cooperative effort of the Department of Military and Veterans Affairs, Department of Banking and Securities, Office of the Attorney General, Army OneSource, Better Business Bureau of Western Pennsylvania, Liberty USO, Advantage Credit Counseling Services, and the Heinz Endowments.
Upcoming Lunch & Learn – APPRISE
The Allegheny County APPRISE program/Allegheny Link is hosting the first in a series of Lunch and Learn Sessions on March 20th from 11:30 a.m. – 3 p.m. at the Allegheny County Human Service Building, located at 1 Smithfield Street in downtown Pittsburgh. The session on March 20th will cover Medicare basics, providing an overview of the Medicare Health System.
The goal of the session is to provide attendees with an understanding of how Medicare functions and how this system can be effectively used to obtain affordable quality health services. APPRISE staff will examine the purpose and design of Medicare, its eligibility and enrollment criteria, and the various components of the Medicare system and how they coordinate with non-Medicare health care benefits.
APPRISE is a free health insurance counseling program designed to help Pennsylvanians, age 60 years and older. APPRISE volunteer counselors are specially trained to answer consumer questions and offer education about Medicare, HMOs, long-term care insurance, supplemental insurance, and Medicaid benefits. APPRISE services are free, objective and completely confidential. For more information on the Lunch and Learn series or to R.S.V.P. for the first session, please contact 412-661-1438.
HCEF Celebrates Milestone
Congratulations to Joe Lagana and Bill Wolfe and the staff at the Homeless Children's Education Fund (HCEF) who recently celebrated 15 years of service. I have been pleased to work with HCEF, and two years ago wrote legislation that was signed into law which created a statewide task force to examine the educational needs and status of homeless children in the Commonwealth. This task force will make recommendations to the General Assembly on steps that can be taken to better provide a strong educational foundation for homeless children.
Since beginning their mission, HCEF has built 12 learning centers, distributed more than 30,000 backpacks full of school supplies to homeless children, and started the Homeless Education Network. They have also provided over $300,000 in educational field trips and mini-grants, supported 28 homeless agencies in Allegheny County, started a scholarship program, matched children with volunteer mentors, and have established afterschool programs and summer camps for children.
Every child deserves the opportunity to receive a quality education no matter their family's economic status and living situation. I commend the HCEF for their efforts over the last 15 years and look forward to continue working with them to ensure all children receive a quality education.
Fontana Fact
Presidents' Day is celebrated as a federal holiday on the third Monday each February but was originally established in 1885 in recognition of President George Washington's birthday. The holiday became known as Presidents' Day after it was moved as part of the federal Uniform Monday Holiday Act in 1971. Only four U.S. Presidents celebrated birthdays in February – George Washington, William Henry Harrison, Abraham Lincoln, and Ronald Reagan.
Offices of State Senator Wayne D. Fontana
Brookline District
932 Brookline Blvd.
Pittsburgh, PA 15226
Phone: 412-344-2551
Fax: 412-344-3400
Harrisburg
543 Main Capitol
Box 203042
Harrisburg, PA 17120
Phone: 717-787-5300
Fax: 717-772-5484
Kennedy Township
Kenmawr Plz.
524 Pine Hollow Rd
Kennedy Twp, PA 15136
Phone: 412-331-1208
Fax: 412-331-2079
Beechview Satellite
1660 Broadway Ave.
Pittsburgh, PA 15216
Phone: 412-343-2080
Fax: 412-343-2418