Senator Fontana answers a question on his legislation, Senate Bill 1457 (SB 1457), that would regulate and legalize ride-share services in Pennsylvania at a press conference on July 10th at the City-County Building downtown. Mayor Bill Peduto hosted the press conference which featured bi-partisan support of ride-sharing from County Executive Rich Fitzgerald, and state representatives Erin Molchany, Mark Mustio and John Maher.

Ride-sharing Legislation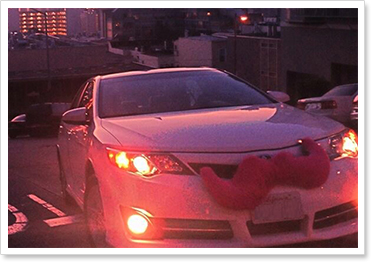 Last week, I introduced legislation that would regulate ride-share services, like Lyft and Uber, in Pennsylvania. I feel that my Senate Bill 1457 not only addresses concerns that have been raised by critics regarding these types of companies but also provides a permanent solution for the ride-sharing programs that will fill gaps in the region's transportation network.
Ride-sharing companies use a software platform that enables riders to connect with drivers using Smartphone technology. The driver and rider connect through an app and after a ride is complete, a donation-based payment is offered by credit card through the same app – a concept that will revolutionize transportation for years to come.
SB 1457 includes provisions that promote safety and security for riders. In particular, transportation network companies (TNC) must:
Obtain a license from the PUC to operate in the Commonwealth;
Maintain detailed records;
Establish driver-training programs;
Enforce a zero-tolerance policy on drug and alcohol use and the crafting of a complaint reporting system;
Implement a background check system and develop specific driver guidelines that deal with past criminal, moving violation or driving under the influence history; and
Make sure all ride-sharing vehicles undergo annual certificates of inspections approved by PennDOT as well as an annual safety inspection conducted by the TNC or an approved third party, among other responsibilities.
In addition, my measure requires vehicles used for ride-sharing be no more than 8 model years old, drivers to have an updated photo in plain view and the driver would not be permitted to pick up passengers who "hail" the vehicle while in use. A ride-share driver would prove motor vehicle insurance while at the same time a TNC must also maintain specific levels of insurance for liability, medical payments, comprehensive, collision and uninsured/underinsured coverage.
Over the past several weeks, I have been working closely with the PUC and other stakeholders to address any concerns so that ride-sharing can be properly regulated in Pennsylvania to meet all the demands. Furthermore, I have modeled my legislation after California's, since they were the nation's first state to successfully regulate ride-sharing.
More recently, the Pennsylvania Public Utility Commission (PUC) administrative law judges ruled that the ride-sharing companies were operating outside the law and issued cease-and-desist orders to prevent the companies from offering their services. The law requires transportation companies that provide rides to have licenses issued by the commission.
Due to this resent ruling, I believe a multi-faceted approach is needed that includes short-term relief with a long-term solution. While SB 1457 makes its way through the legislative process, I believe the PUC should act expeditiously and issue experimental permits so ride-sharing can operate now. For this reason, I have also introduced Senate Resolution 427 to address the matter by asking the PUC to act immediately and approve the permit application.
SB 1457 will likely be referred to the Senate Consumer Protection and Professional Licensure Committee and I urge the committee to schedule the bill for action in September when the Senate reconvenes. After all, this alternative and modern fee-based transportation option has been beneficial to many citizens in our region and will only enhance and improve Allegheny County's transportation network system.

E-ZPass Phishing Scam Alert

The Pennsylvania Turnpike Commission is warning everyone of a phishing scam alert. Many people have received email notices that seem like they are coming from E-ZPass and indicate to the person receiving the correspondence that they owe money for having driven on a toll road. Please be advised this is NOT a communication from E-ZPass, but is likely a phishing scam. The Turnpike Commission advises anyone receiving this message to not open or respond. If you have questions about the validity of any message received from E-ZPass, please contact the E-ZPass Customer Service Center at 1-877-736-6727 for guidance.

10th Annual FontanaFest – Save The Date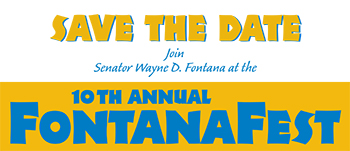 The 10th Annual FontanaFest is changing venues this year. This year's annual community event is being held at Highmark Stadium at Station Square, home of the Pittsburgh Riverhounds on Saturday, August 9th from 11 a.m. – 3 p.m.
Children in attendance will have the opportunity to participate in soccer activities with members of the Riverhounds on the field at Highmark Stadium from noon – 1:30 p.m.
Other activities include inflatables, balloon making and crafts, along with the chance for children and families to receive important information on exercise, nutrition, healthy lifestyles, health care, education and jobs and jobs training.
Lunch will be provided from noon – 2 p.m. for all guests, and once again, IT'S ALL FREE! Station Square will be providing free parking in the Stadium's West Lot for attendees from 10:30 a.m. – 3:30 p.m.
Make sure you save the date, Saturday, August 9th and note the change in venues this year. I will make sure to update you with more information on the 10th Annual FontanaFest throughout the month.

Energy Development Authority Funding Workshop
The Department of Environmental Protection (DEP) is inviting non-profits, schools, colleges and universities, local governments, public corporations, for-profit businesses and authorities to attend a funding workshop in

western Pennsylvania. The workshop is scheduled for July 23rd at the Cranberry Township Municipal Center, located at 2525 Rochester Road in Cranberry Township, Butler County.
The Pennsylvania Energy Development Authority (PEDA) will be awarding approximately $10 million for renewable energy projects such as wind, hydropower, solar, and biomass, along with demand management measures including energy recovery, energy efficiency and load management. The deadline to apply is August 15th.
This free informational workshop is being held to assist potential applicants in learning more about PEDA funding eligibility and requirements. The presentation will include a demonstration of the online eGrants application process. Registration for the workshop will close at 5 p.m. on July 22nd. To register, please email DEP Northwest Region Community Relations Coordinator Gary Clark at ghclark@pa.gov or call 814-332-6615.

Deadline for Property Tax/Rent Rebate Program Extended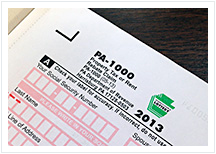 I want to remind everyone that if you have not filed for a rebate through the Pennsylvania Property Tax/Rent Rebate Program, the deadline has been extended. The Pennsylvania Department of Revenue will now be accepting applications through December 31st. The previous deadline had been June 30th.
If you received a rebate last year, you should have received an application in the mail. If you did not receive an application, or did not apply last year and wish to apply this year, the applications can be obtained from any of my district offices and my staff would be happy to assist you in preparing your application.
The Property Tax/Rent Rebate Program benefits eligible Pennsylvanians age 65 and over; widows and widowers age 50 and over; and people with disabilities age 18 and over. Homeowners with a yearly income of $35,000 and renters with a maximum yearly income of $15,000 are eligible to receive a rebate. The maximum standard rebate is $650. Distribution of rebates began on July 1st and moving forward, rebates will be distributed as claims are received and processed.

Programs to Help Reduce Arthritis-Related Falls
The Pennsylvania Department of Health has partnered with the Arthritis Foundation chapters of Pennsylvania to encourage education and participation in two falls prevention programs, Walk With Ease and the Arthritis Exercise program. Research has shown that these programs can improve balance, a key factor identified by the Centers for Disease Control and Prevention (CDC) to help prevent falls among middle-aged and older adults.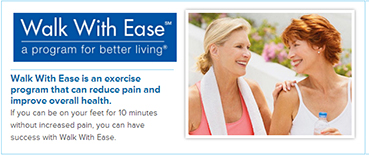 Walk With Ease is a National Arthritis Foundation exercise program for individuals seeking relief from arthritis pain and/or wishing to become more active. The program combines self-paced group walks with safe-walking education to improve flexibility, stamina and overall health, while reducing pain and stiffness associated with arthritis and inactivity. For more information on the Walk With Ease program and to find a local program, please click here.
The Arthritis Exercise Program is a low-impact physical activity program designed to improve mobility, strength and self-confidence, while reducing fatigue, pain and arthritis-related stiffness. To find a local Arthritis Exercise Program, please click here.
For more information on the Department of Health's arthritis program please call 1-877-PA-HEALTH.
Did You Know…
Did you know that individuals aged over 45 who suffer from arthritis but who exercise or participate in physical therapy to improve posture, balance and lower body strength can help reduce the risk of a fall by up to 37 percent?

OASIS Tutors
OASIS Pittsburgh will be hosting free training sessions for adults aged 50 and over who are interested in serving as tutors for students enrolled in Pittsburgh Public Schools. These training sessions will be held on

August 20th and August 27th from 10:30 a.m. – 3:30 p.m. at Macy's Department Store in downtown Pittsburgh. All materials, books, and supplies will be provided by OASIS.
OASIS is a non-profit organization, founded in 1982, that is active in 40 cities across the country in promoting successful aging by providing opportunities for adults aged 50 and over to pursue vibrant, healthy, productive and meaningful lives. Their Intergenerational Tutoring Program trains older adults on tutoring children and provides older adults the chance to help students learn. The program is operated in partnership with the Greater Pittsburgh Literacy Council.
For more information on how to become an OASIS tutor, please call John D. Spehar, Pittsburgh OASIS Tutoring Coordinator at 412-232-2021 or email him at jdspehar@oasisnet.org.

Fontana Fact
Three members of the Pittsburgh Pirates were selected to play in the 2014 Major League Baseball All-Star Game tonight in Minnesota. This is the fourth consecutive season that more than one Pirate has been selected to appear in the All-Star Game. Centerfielder Andrew McCutchen was the leading vote getter among National League outfielders and will be appearing in his fourth straight mid-summer classic. He is joined on the National League squad by teammates, relief pitcher Tony Watson, and infielder/outfielder Josh Harrison, each making their first All-Star Game appearance.

Offices of State Senator Wayne D. Fontana
Brookline District
932 Brookline Blvd.
Pittsburgh, PA 15226
Phone: 412-344-2551
Fax: 412-344-3400
Harrisburg
543 Main Capitol
Box 203042
Harrisburg, PA 17120
Phone: 717-787-5300
Fax: 717-772-5484
Kennedy Township
Kenmawr Plz.
524 Pine Hollow Rd
Kennedy Twp, PA 15136
Phone: 412-331-1208
Fax: 412-331-2079
Beechview Satellite
1660 Broadway Ave.
Pittsburgh, PA 15216
Phone: 412-343-2080
Fax: 412-343-2418