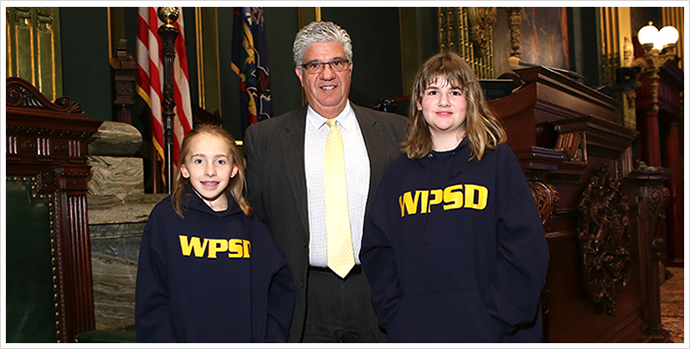 Senator Fontana enjoyed meeting with students from the Western Pennsylvania School for the Deaf (WPSD) at the Capitol in Harrisburg on October 20. Senator Fontana is pictured here with Valerie DeVos and Makenna Hager, both residents of the 42nd Senatorial District.

Day 119 of impasse - Negotiators need to come together and remain in a room until a budget agreement is reached. Let's get the job done.

No Budget, No Break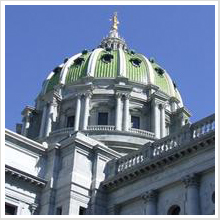 The state's budget impasse has now dragged on for four long months and will soon be entering the fifth month. It has become nothing more than a huge failure for everyone involved. More importantly, our citizens – including seniors, school students and the disabled– are becoming more and more directly affected by the delay. And the longer this standoff goes, the more our constituents, those we are here to serve, are beginning to view their government as ineffective and callously indifferent to the very real pain this impasse has caused.
Peoples' lives are not a game. The credit rating of this state is not a joke. And any member – of either party – who continues to refuse to have meaningful, productive discussions is part of the problem. Because let's face it, Republicans don't possess a fundamental hatred of school children; and our governor isn't bent on raising taxes one penny more than he has to. If you're out there trying to sell either of these ploys, then you're part of the problem. The craziest thing about this impasse is that there really isn't that much of a difference between what everyone wants.
In my view, what the impasse has come down to is how we pay for important services and programs, and whether the revenues are sustainable. Over the last four years, government services and funding have been largely cut and yet we still face a more than $2 billion structural deficit that cannot be ignored. There are few areas left to cut. The public needs to understand that if we really want more school funding, human service support and property tax relief – we have to somehow pay for it.
It's time to put away the partisan rhetoric and begin negotiating and compromising. In the spirit of the "No budget, no break," campaign that many of my democratic colleagues have embraced, I'm also urging negotiators to meet daily. It's time for all leaders to be in a room together, working all day, every single day, until an agreement is reached.
There is no better time than now to end this disgrace and pass a state budget.

Offices Closed
All Senate offices will be closed on Tuesday, Nov. 3 for Election Day. My offices will re-open on Wednesday, Nov. 4 as scheduled.

Information for Election Day

For any questions related to voting, I encourage you to visit www.votespa.com. This site has information on your rights as a voter, answers to frequently asked questions, and allows you to confirm your registration and polling place. Below is additional information about the Nov. 3 General Election. If you need any further assistance, or have any additional questions, please call one of my district offices and my staff will gladly assist you.
Deadline to Request Absentee Ballots
Any voter who needs an absentee ballot for the Nov. 3 General Election must complete and return the application to the Allegheny County Elections Division by 5 p.m. today. The Elections Division is located in the County Office Building, 542 Forbes Avenue, Room 601 in downtown Pittsburgh. You can download and print an absentee ballot application by clicking here or can pick one up at any of my district offices. For fastest results, you may visit the Elections Division office and complete an application in person. If properly registered, you will be handed an absentee ballot on the spot.
Anyone voting by absentee ballot will be required to provide a PA Driver's License number, PennDOT ID number, or last four digits of Social Security Number. If you do not possess any of the aforementioned items, a copy of an acceptable ID must be provided with the application.
Completed absentee ballots must be received by the Elections Division office by 5 p.m. this Friday, October 30.
Polling Place Locator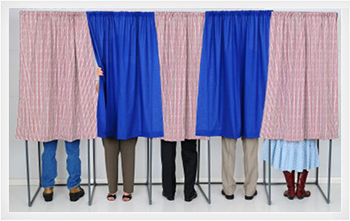 If you are a newly-registered voter, have recently moved or have not voted in awhile, and are unsure where your polling place is located, you can visit the Polling Place Locator Page at www.county.allegheny.pa.us/elect/index.aspx. You will be asked to enter your municipality, house number and street name. Once that information is entered, the site will inform you of your polling place and provide the address. You will also be provided an opportunity to enter your name and birth date to determine if you are a registered voter and will also be able to view the ballot you will be presented with at your polling place. If you are unable to find your polling place on this site, or if any of your information is listed incorrectly on the site, please contact the Elections Division office at 412-350-4500.
How to Register Election Day Complaints
Any registered voter who wishes to file a complaint about alleged election law violations can do so by visiting www.votespa.com and clicking on the "Election Complaints" tab. The voter will be asked to enter their first and last name, address, county of residence, and date of birth to ensure they are a registered voter. Once submitted, these complaint forms will be directed to the county election board for the county in which the voter making the complaint resides. Written statements of complaint are available at all polling places and the Allegheny County Board of Elections. You may also call 1-877-VOTES-PA (1-877-868-3772) to obtain a complaint statement.

LIHEAP Applications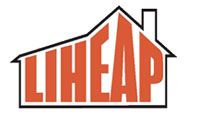 Beginning this Monday, Nov. 2, the Pennsylvania Department of Human Services (DHS) will be accepting applications for this season's Low Income Home Energy Assistance Program (LIHEAP). The program helps low income families pay their heating bills. You can apply and check the status of your application on the state's COMPASS website. You can also pick up an application in my district offices or download one yourself from the DHS LIHEAP website. Completed paper applications should be returned to one of the Allegheny County Assistance Offices.
Funding for LIHEAP is provided by the federal government and eligibility is based on Federal Poverty Income Guidelines. The income limits for this season are as follows:
| | |
| --- | --- |
| Household Size | Income Limit |
| 1 | $17,655 |
| 2 | $23,895 |
| 3 | $30,135 |
| 4 | $36,375 |
| 5 | $42,615 |
| 6 | $48,855 |
| 7 | $55,095 |
| 8 | $61,335 |
| 9 | $67,575 |
| 10 | $73,815 |
| For each additional person add | $6,240 |
After your application is received you will receive a written notice explaining your eligibility and the amount of assistance you will receive. Payments are generally sent directly to a utility company or fuel provider and will be credited to your heating account. Crisis grants may also be available if you have an emergency situation and are in jeopardy of losing your heat. For more information, please contact the LIHEAP hotline at 1-866-857-7095.

Memorial Unveiling Ceremony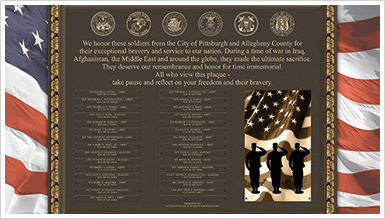 The public is invited to the unveiling of the Memorial Bronze Honor Roll on Nov. 21. The ceremony will take place in the City-County Building's main lobby at 11 a.m.
The Memorial Bronze Honor Roll honors soldiers from the City of Pittsburgh and Allegheny County who were killed in action during the wars in Afghanistan, Iraq and the Middle East for their exceptional bravery and service to our nation. The plaque will be permanently displayed in the lobby at the City-County Building, providing an opportunity for all who view it to pause and reflect on our freedom and these soldiers' bravery.

The City-County Building is located at 414 Grant Street in downtown Pittsburgh. All guests attending the ceremony can enter the building from the entrance on Ross Street.
I commend my former colleague in the State Senate, Jim Ferlo for spearheading this effort and for the work of the Memorial honor Roll Committee of Veterans Place of Washington Boulevard in bringing this project to fruition.

Volunteers Needed
Higher Achievement is an intensive academic afterschool program that helps middle school students in the Hill District and Homewood reach their full potential in high school, college and beyond. The program is seeking volunteers to serve as mentors to teach either math, literature, or an elective seminar course.

Higher Achievement is asking volunteer mentors to commit to one evening per week, from 6 – 7:30 p.m. either Monday, Tuesday or Thursday throughout the school year. Volunteers can choose the subject and Higher Achievement will provide the curriculum, training and support.
The locations of Higher Achievement's two centers are as follows:
Hill District Center
Pittsburgh University Prep
3117 Centre Avenue
Pittsburgh, PA 15219
Homewood Center
Pittsburgh Westinghouse
1101 N. Murtland Avenue
Pittsburgh, PA 15208
Mentors can apply online at www.higherachievement.org/volunteer and click on the APPLY HERE tab to get started. For more information about Higher Achievement's needs and their afterschool program in general, please email recruiter@higherachievement.org or visit them online at www.higherachievement.org.
Did You Know…
Did you know a report on 21st Century Community Learning Centers (afterschool programs receiving federal funds) showed that 45 percent of all afterschool participants improved their reading grades and 41 percent improved their math grades?

Trick-or-Treat Safety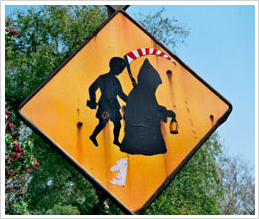 In last week's edition of my News & Views, I put forth a listing of trick-or-treating schedules and other Halloween events taking place throughout the 42nd Senatorial District since some schedules vary from neighborhood to neighborhood. Please be mindful of this if you are driving through neighborhoods where children are out trick-or-treating and watch your speed. You can view the schedule, district-wide by clicking here.
The Pennsylvania Division of the American Trauma Society also offers these safety tips to trick-or-treaters this year:
Always walk on the sidewalk. If no sidewalk is available, walk as far to the edge of the street as possible, facing traffic.


Only cross the street at crosswalks and make sure to look both ways for traffic.


Make sure to have an adult with you or trick-or-treat with a group. Never enter the home of a stranger.


Add reflective tape to costumes.


Carry a flashlight or glowstick so drivers can see you.


Drivers, remember to pay extra attention on trick-or-treat night. Slow down and expect heavier pedestrian traffic and where possible, take routes to avoid trick-or-treaters.

Fontana Fact
According to the National Retail Federation, more than 157 Americans will celebrate Halloween this year with total spending on the holiday expected to top $6.9 billion. A princess is the most popular costume for a child this year followed by a Batman character while for the 11th straight year, the most popular adult costume is a witch.

Offices of State Senator Wayne D. Fontana
Brookline District
932 Brookline Blvd.
Pittsburgh, PA 15226
Phone: 412-344-2551
Fax: 412-344-3400
Weekdays – 9 am – 5 pm
Harrisburg
543 Main Capitol
Box 203042
Harrisburg, PA 17120
Phone: 717-787-5300
Fax: 717-772-5484
Weekdays – 8:30 am – 5 pm
Kennedy Township
Kenmawr Plaza
524 Pine Hollow Road
Kennedy Twp, PA 15136
Phone: 412-331-1208
Fax: 412-331-2079
Weekdays – 10 am – 4 pm
Beechview Satellite
1660 Broadway Avenue
Pittsburgh, PA 15216
Phone: 412-343-2080
Fax: 412-343-2418
Tuesdays – 10 am – 4 pm
Strip District (Mobile Office)
Pittsburgh Public Market
2401 Penn Avenue
Pittsburgh, PA 15222
Thursdays – 10 am – 4 pm
Northside (Mobile Office)
Carnegie Library
Allegheny Branch
1230 Federal Street
Pittsburgh, PA 15212
Wednesdays – 10 am – 4 pm