Time to Make Minimum Wage a Living Wage
Last week, I participated in "10 Days of Action for $10.10" to reaffirm my stance that the time is now to invest in the hard workers of Pennsylvania and make minimum wage a living wage. An increase in minimum wage is about human decency and doing the right thing for the residents of this commonwealth. It's about giving low-income workers a fighting chance.
For 10 days, members of my caucus have stood up during petitions on the Senate floor to make our voices heard that the wage gap continues to widen and the American middle class is disappearing before our eyes. More alarming, Pennsylvania continues to watch as other cities and states advance forward by increasing their minimum wage while the commonwealth's economy remains stagnant and our wages put our residents behind.
Why must we be content with $7.25? Why don't our workers deserve better? What it comes down to is fairness. It is nearly impossible to survive on $7.25 an hour. And for anyone who may argue otherwise, I challenge them to try living on minimum wages. In my America, in our Pennsylvania, working people shouldn't be living in poverty. It's as simple as that. America is the land of opportunities and should not be the place where a minimum wage worker falls below the federal poverty level.
Price comparisons have revealed that a raise in minimum wages do not significantly lead to increased consumer costs and in fact result in thousands of new dollars being injected back into the local economy. This is exactly what the commonwealth needs right now. Contrary to stereotype, a typical minimum-wage worker is not some suburban teenager earning pocket cash. Based on Census Bureau data, 88 percent of minimum wage earners are adults and more than half are women.
As many of you know, I am a realtor by profession. I know first-hand that for these workers, decent housing is out of reach. They would need to work nearly THREE full-time minimum wage jobs to rent a simple two-bedroom apartment at a rate of less than 30 percent of their income. And where do these struggling workers go to make ends meet? Government services are too often the only option. Is this the system we want? Is this the best we can do? Are we really going to continue ignoring the plight of these struggling families? Are we really going to stand by watching the rich get richer while our hard working low-income men and women fall behind?
Pennsylvania's minimum wage is outdated, senseless and harsh. It stifles our economy and drains crucial safety net and welfare programs. Embarrassingly, inaction on this issue symbolizes this legislature's indifference toward hard working people and emotionless tolerance for poverty. More than 75 percent of Americans favor a minimum wage hike. It's time to act now and make minimum wage a living wage.
To see a short video I taped with John Meyerson of the UFCW Local 1776 on this important issue, please click here.


11th Annual FontanaFest – Save the Date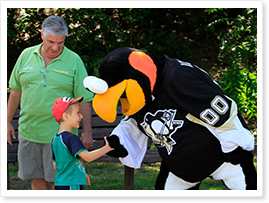 I'm excited to announce that the 11th annual FontanaFest has been scheduled for Saturday, August 22nd from 11 a.m. – 3 p.m. and will once again be held at Highmark Stadium, home of the Pittsburgh Riverhounds!
The annual community event is perfect for families and children, promoting healthy and active lifestyles by providing many fun activities and crafts. Attendees also are provided with the opportunity to engage with several organizations from around the region and receive important information on available services and programs, nutrition, health care, jobs and jobs training. Lunch and beverages will be provided, and once again, IT'S ALL FREE!
Make sure you save the date, Saturday, August 22nd, and stay tuned throughout the summer for updated information on the 11th annual FontanaFest!

Property Tax/Rent Rebate Deadline Extended
The Pennsylvania Department of Revenue is now accepting applications for the 2014 Property Tax/Rent Rebate program through the end of the year. The previous deadline had been June 30th but has been extended through December 31st. Rebate distribution will begin on July 1st for anyone who returned their completed application by June 30th. After June 30th, rebates will be distributed as claims are reviewed and processed by the Department of Revenue.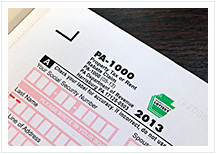 If you did not receive an application, or did not apply last year and wish to apply this year, applications can be obtained from any of my district offices and my staff would be happy to assist you in preparing your application.
The Property Tax/Rent Rebate program benefits eligible Pennsylvanians age 65 and over; widows and widowers age 50 and over; and people with disabilities age 18 and over. Homeowners with a maximum yearly income of $35,000 and renters with a maximum yearly income of $15,000 are eligible for a rebate. Keep in mind that half of Social Security income is excluded.
Due to program changes enacted last year to ensure claimants aren't disqualified from rebates solely because of Social Security cost-of-living-adjustments, homeowners and renters may be eligible for rebates even if their eligibility income is greater than these limits. Any homeowner who collected Social Security, received a property tax rebate in 2013 for claim year 2012 and had annual income last year, discounting half of Social Security, up to $36,129, is encouraged to apply for a rebate for claim year 2014. Any renter in that same situation with an annual income in 2014, discounting half of Social Security, up to $15,484, is also encouraged to apply.

Reminder – Office Hours/Locations
As we approach the summer months with kids home from school, and the hustle and bustle of everyday life increasing for many, I want to remind everyone of my office hours and expanded locations in an effort to be as accessible as possible to all constituents in the 42nd Senatorial District. My staff is happy to provide quality service on any number of state issues and is available at the following times and locations:
Brookline
932 Brookline Boulevard
Pittsburgh, PA 15226
Phone – 412-344-2551
Monday – Friday, 9 a.m. – 5 p.m.

Beechview (satellite office)
1660 Broadway Avenue
Pittsburgh, PA 15216
Phone – 412-343-2080
Tuesdays, 10 a.m. - 4 p.m.

Kennedy Township
Kenmawr Plaza, 500 Pine Hollow Road
Kennedy Twp., PA 15136
Phone – 412-331-1208
Monday – Friday, 10 a.m. – 4 p.m.

Strip District (mobile office)
Pittsburgh Public Market
2401 Penn Avenue
Pittsburgh, PA 15222
Thursdays – 10 a.m. – 4 p.m.

Northside (mobile office)
Carnegie Library – Allegheny branch
1230 Federal Street
Pittsburgh, PA 15212
Wednesdays – 10 a.m. – 4 p.m.

Gaming Revenues Increase
Last week the Pennsylvania Gaming Control Board announced that revenue from table games play in May was over $66.7 million. That figure represents a four percent increase compared with table games revenue from May of 2014. Over $9.5 million in tax revenue was produced from table games play in May. Combined with slot machines, total gaming revenue in May was nearly $278 million, an increase of about one percent from last May.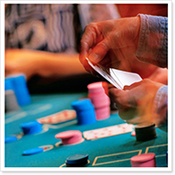 Table games are taxed at 14 percent with revenue directed into the state's General Fund (12 percent) and to local governments (2 percent). Slot machines are taxed at 55 percent in Pennsylvania and directed as follows: 34 percent for property tax reduction; 12 percent supporting the horse racing industry; five percent is placed in a state economic development fund; and two percent goes to local governments that host casinos.
The state's gaming industry employs over 17,700 people and generates an average of $3.7 million per day in tax revenue from table games and slot machines. For more information on gaming in Pennsylvania and to read reports from the Gaming Control Board, please visit them online at www.gamingcontrolboard.pa.gov.

Lyme Disease
Earlier this month the Pennsylvania Department of Health released a report that showed in 2014 that cases of Lyme disease increased statewide 25 percent from the previous year and that the disease is present in all 67 counties. The increase in cases can be attributed in part to heightened awareness about Lyme disease, better reporting, and enhanced monitoring efforts, particularly in Allegheny County.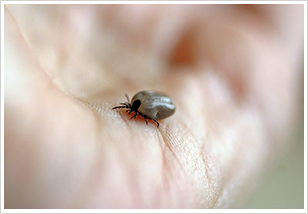 Lyme disease is an illness transmitted through the bite of an infected blacklegged tick, also known as a deer tick. Symptoms include fever, fatigue, headache, muscle aches and joint pain. A common early symptom is a red rash that looks like a bulls-eye.
Ticks can be found everywhere but individuals should be especially cautious in areas with dense bushes or tall grass. When outdoors, use repellents with diethyltoluamide (DEET) and protective clothing. After outdoor activities check for ticks, and if one is found, promptly remove it using fine-tipped tweezers and applying even pressure on the tick as it is being removed.
To read the 2014 report on Lyme disease by County please visit www.health.pa.gov and click on "2014 Lyme disease Report" on the home page. For more information on how to protect from Lyme disease please visit the Allegheny County Health Department's website at www.achd.net.
Did You Know…
Did you know the Department of Health recorded 7,400 cases of Lyme disease in Pennsylvania in 2014 compared with 5,900 cases in 2013?

Tutors Needed
OASIS Pittsburgh will be hosting free training sessions for adults aged 50 and over who are interested in serving as tutors for students enrolled in Pittsburgh Public Schools. These training sessions will be held on August 4th and August 6th from 10:30 a.m. – 3:30 p.m. at Macy's Department Store in downtown Pittsburgh on the 11th floor. All materials, books, and supplies will be provided by OASIS.

OASIS is a non-profit organization, founded in 1982, that is active in 40 cities across the country in promoting successful aging by providing opportunities for adults aged 50 and over to pursue vibrant, healthy, productive, and meaningful lives. Their Intergenerational Tutoring Program trains older adults on tutoring children and provides older adults the chance to help students learn. An hour a week can change a child's life. The program is operated in partnership with the Greater Pittsburgh Literacy Council.

For more information on how to become an OASIS tutor, please call John D. Spehar, Pittsburgh OASIS Tutoring Director at 412-232-2021 or email him at jdspehar@oasisnet.org.

Fontana Fact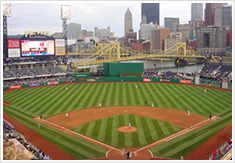 Pittsburgh was ranked the second-best city in the United States for baseball fans, according to a recent study by WalletHub, a web-based personal finance company. The study rated 272 cities based upon 11 metrics split into two categories — "teams and performance" and "costs and fan engagement." The study took into account teams from Major League Baseball and the college ranks. The Pittsburgh Pirates and the University of Pittsburgh baseball team represented Pittsburgh in the study. Pittsburgh ranked first overall in "viewership rate" metric, a measure of the number of viewers of a national TV broadcast per capita, edging out St. Louis and Anaheim, Calif., in the category, helping the city finish third overall in "costs and fan engagement," one of the study's two categories.

Offices of State Senator Wayne D. Fontana
Brookline District
932 Brookline Blvd.
Pittsburgh, PA 15226
Phone: 412-344-2551
Fax: 412-344-3400
Weekdays – 9 am – 5 pm
Harrisburg
543 Main Capitol
Box 203042
Harrisburg, PA 17120
Phone: 717-787-5300
Fax: 717-772-5484
Weekdays – 8:30 am – 5 pm
Kennedy Township
Kenmawr Plaza
524 Pine Hollow Road
Kennedy Twp, PA 15136
Phone: 412-331-1208
Fax: 412-331-2079
Weekdays – 10 am – 4 pm
Beechview Satellite
1660 Broadway Avenue
Pittsburgh, PA 15216
Phone: 412-343-2080
Fax: 412-343-2418
Tuesdays – 10 am – 4 pm
Strip District (Mobile Office)
Pittsburgh Public Market
2401 Penn Avenue
Pittsburgh, PA 15222
Thursdays – 10 am – 4 pm
Northside (Mobile Office)
Carnegie Library
Allegheny Branch
1230 Federal Street
Pittsburgh, PA 15212
Wednesdays – 10 am – 4 pm