Movement on Disclosure of Lead Bill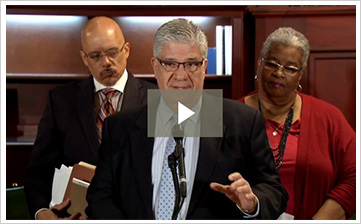 After the water crisis that took place at the end of last year in Flint, Michigan, I decided to author Senate Bill 20 (SB 20) which is aimed at protecting potential homebuyers - that a house or residence that they are considering purchasing could contain lead in the tap water or paint and this would need to be disclosed. I was very pleased this week when the Senate Urban Affairs and Housing Committee unanimously passed my SB 20.
The primary source of childhood lead poisoning in Pennsylvania continues to be exposure to lead-based paint, in the form of chips and dust, found in homes with paint from before its 1978 ban according to the state Department of Health. Congress passed the Residential Lead-Based Paint Hazard Reduction Act of 1992, also known as Title X, to protect families from exposure to lead from paint, dust, and soil by requiring the disclosure of known information before the sale or lease of most housing built before 1978. However, this is not a part of the required contents under Pennsylvania law regarding property disclosure statements. SB 20 would simply add this into state statute.

At the same time, the U.S. Environmental Protection Agency (EPA) estimates that 10 to 20 percent of human exposure to lead comes from drinking water. Lead is rarely found in the source of public water, rather it enters tap water through the corrosion of a home's plumbing materials. Allegheny County banned the use of lead pipes in plumbing in 1969. According to census data, about 71 percent of homes in Allegheny County were built before the County banned lead pipes. Even more alarming are homes built before 1988 are more likely to have lead solder since the County did not ban the use of this metal alloy until then. But it's important to keep in mind that newer homes still may be at risk.
As a realtor, I believe potential homeowners should be aware of what they are buying and understand potential risks with the property. Since a homeowner is responsible for the quality of plumbing in their home that carries the water delivered by the local water treatment facility, Senate Bill 20 will provide added protection that if one knows their water contains lead, they would need to disclose this in the seller's disclosure.
If you remain concerned about potential levels of elevated lead in your water, you can have your home's tap water tested by a lab or many local water authorities offer this service for free. If not, an individual can purchase a kit at a hardware store for anywhere between $20 and $50. But beware, remedying the problem could cost thousands of dollars. Estimates include between $5,000 and $7,000 for filters that remove lead and chemicals from water or up to $15,000 to $25,000 to dig up and replace a lead service line or ridding indoor plumbing of lead solder.
Just like we have put mechanisms in place to alert residents that a home may test positive for radon, lead in water can be a safety concern — especially for families where a mother is pregnant, there are young children and even middle-age men and women. It's no secret that Pennsylvania has an aging infrastructure and this bill adds another safeguard before purchasing a home.

Offices Closed
All Senate offices will be closed on Monday, July 4 in observance of the Independence Day holiday. My offices will re-open on Tuesday, July 5 as scheduled. Have a very happy and safe Fourth of July holiday!

PHFA Launches New Site

Last week, the Pennsylvania Housing Finance Agency (PHFA) launched a redesigned website at www.PHFA.org. Developed by the agency's webmaster, the new site draws on data about which PHFA programs visitors are most often seeking and has been redesigned to make that information more easily available, usually with just a click or two. Another welcome new feature – the Topic Finder – lets people choose what sort of visitor they are (homebuyer, renter, etc.), or choose what they want to do (such as buy a home), and then immediately directs them to the most relevant resources on the site.
The new website's stronger focus on the interests of homebuyers, homeowners, and renters is demonstrated by the prominent homepage location of menus linking directly to programs for these customers. Additionally, access to information for all of PHFA's business partners is now grouped together and provided through a single pull-down menu, also on the homepage.
Special attention was paid to ensure the site can easily be read on different size screens, from desktops to cell phones. As a result, the new website is much more mobile-friendly, which is important to keep it attractive and accessible to Millennial customers. The site also was redesigned to make it more accessible for people with disabilities, especially visitors with vision impairments looking for PHFA programs to help them with housing needs.
The webmaster will continuously review visitor data to make sure the site adjusts to evolving customer interests. A survey will be posted on the homepage in the weeks ahead so that customers can share their feedback. To explore the new site, please visit www.PHFA.org.
Did You Know…
Did you know the PHFA since its creation in 1972 has generated more than $12.5 billion of construction of over 127,000 rental units and saved the homes of nearly 48,600 families from foreclosure?

Property Tax/Rent Rebate Program Deadline Extended
The deadline to file for the Pennsylvania Department of Revenue 2015 Property Tax/Rent Rebate program has been extended through December 31. Rebate distribution will begin on July 1 for anyone who returned their completed application by June 30. After June 30, rebates will be distributed as claims are reviewed and processed by the Department of Revenue.
If you filed a paper rebate last year, you should have received a 2015 application by now. If you have not received an application, or did not apply last year and wish to apply this year, applications are available at www.revenue.pa.gov or at my district offices, and my staff would be happy to assist you in preparing your application.
The Property Tax/Rent Rebate program benefits eligible Pennsylvanians age 65 and over; widows and widowers age 50 and over; and people with disabilities age 18 and over. Homeowners with a maximum yearly income of $35,000 and renters with a maximum yearly income of $15,000 are eligible for a rebate. Keep in mind half of Social Security income is excluded. Some applicants who previously received rebates may continue to qualify despite Social Security cost-of-living adjustments that may have pushed their income past eligibility limits.

PHEAA Hiring for Green Tree Location

The Pennsylvania Higher Education Assistance Agency (PHEAA) is hiring full- and part-time, entry level positions for Call Center Representatives/Loan Counselors, working in a fast-paced call center environment at its Parkway Center facility. The facility is located at 11 Parkway Center. Interested applicants are encouraged to visit www.pheaa.org/jobs to learn more about available opportunities and to submit an application in order to be considered for employment.
PHEAA offers competitive salaries, paid training, regular pay increases, medical benefits, and career advancement opportunities. Spanish speaking skills are a plus. The agency is an equal opportunity employer.

Table Games Revenue Increases in May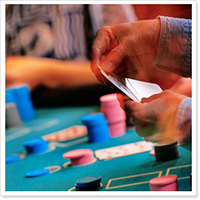 The Pennsylvania Gaming Control Board announced last week that gross revenue from table games play at Pennsylvania's 12 casinos during May was up 6.9 percent over revenue generated during May 2015. Revenue generated from table games in May was over $71 million compared to $66.7 million generated in May 2015. Total tax revenue from table games in May was just over $10 million.
The increase in table games revenue during May combined with May slots revenue resulted in an overall gaming revenue increase for the month of just under 1 percent over May 2015.
Table games in Pennsylvania are taxed at 14 percent with the majority of that revenue directed into the state's General Fund and the remaining funds directed to local governments. Slot machines are taxed at 55 percent in Pennsylvania and directed as follows: 34 percent for property tax reduction; 12 percent supporting the horse racing industry; five percent is placed in a state economic development fund; and two percent goes to local governments that host casinos.
The state's gaming industry employs over 17,000 people and generates more than $1.4 billion annually in tax revenue from both table games and slot machines. For more information on gaming in Pennsylvania and to read reports from the Gaming Control Board, please visit www.gamingcontrolboard.pa.gov.

State Police Accepting Applications for State Police Cadet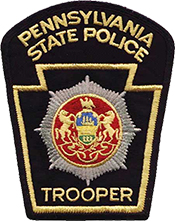 The Pennsylvania State Police is accepting applications for State Police Cadet. Information regarding the selection process and qualifications can be obtained by visiting www.patrooper.com. You may also apply online on this site.
The entry-level law enforcement examination for the position of Pennsylvania State Police Cadet is periodically administered by the Pennsylvania State Civil Service Commission (SCSC) at its computer-based testing centers. The next written examination is anticipated for August 2016. Anticipated test dates are subject to change. Applications for the position of Cadet that are received after 11:59 p.m., June 30, 2016 will be held on file for future examinations.
Qualified applicants for the position of Cadet, who submit applications before 11:59 p.m., June 30, 2016, will be notified via email after June 30, 2016, with instructions on how to register with SCSC to take the entry-level law enforcement examination when an examination is scheduled to be administered. Others who attempt to register with SCSC who have not been pre-qualified by the State Police will be denied.
Since qualified candidates will receive instructions by email, it is important that contact information is current. To update contact information, candidates may log back into the application using their email address and password.
Questions related to the written examination should be referred to the PSP Bureau of Human Resources, Officer Testing and Placement Division, by email at ra-entrylevelexam@pa.gov.

Green Tree's Live Well Health and Wellness Fair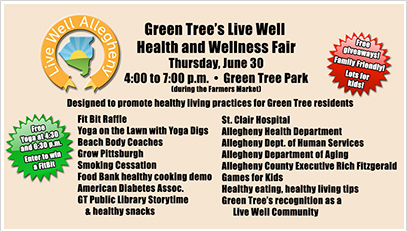 Green Tree Borough is hosting a Live Well Health and Wellness Fair this Thursday in Green Tree Park from 4 – 7 p.m. during the Farmers' Market. The Live Well Health and Wellness Fair is designed to promote healthy living practices for Green Tree residents. The event will feature free Yoga at 4:30 and 6:30 p.m. and the opportunity to enter a drawing to win a FitBit.
Representatives from the Allegheny County Health Department and Department of Human Services will be on hand to discuss various programs available to all residents from mental health to utility and food assistance, physical exercise, better eating habits, aging issues, and smoking cessation.
Green Tree Borough will also be recognized during the Fair as a Live Well Community in Allegheny County. For more information on the event please visit www.greentreeboro.com.

Summer Food Program for Children
Children ages 18 and younger can participate in the Allegheny County Summer Food program. Summer Food will run in over 80 locations in Allegheny County through August. At these locations, children can receive a free breakfast and lunch during the summer recess from school. For more information on the program, including information on locations and times, please call the Allegheny County Department of Human Services at 1-800-851-3838. You may also view a listing of Summer Food program sites by clicking here.

Fontana Fact
The Continental Congress adopted the Declaration of Independence while meeting in Philadelphia at the then Pennsylvania Statehouse, now Independence Hall on July 4, 1776. Benjamin Franklin, John Adams, Thomas Jefferson, Roger Sherman, and Robert R. Livingston comprised the committee that drafted the official Declaration. Adams and Jefferson who would go on to be the nation's second and third presidents respectively, both passed away on July 4, 1826, the 50th anniversary of the Declaration of Independence.

Offices of State Senator Wayne D. Fontana
Brookline District
932 Brookline Blvd.
Pittsburgh, PA 15226
Phone: 412-344-2551
Fax: 412-344-3400
Weekdays – 9 am – 5 pm
Harrisburg
543 Main Capitol
Box 203042
Harrisburg, PA 17120
Phone: 717-787-5300
Fax: 717-772-5484
Weekdays – 8:30 am – 5 pm
Kennedy Township
Kenmawr Plaza
524 Pine Hollow Road
Kennedy Twp, PA 15136
Phone: 412-331-1208
Fax: 412-331-2079
Weekdays – 10 am – 4 pm

Beechview Satellite
1660 Broadway Avenue
Pittsburgh, PA 15216
Phone: 412-343-2080
Fax: 412-343-2418
Tuesdays – 10 am – 4 pm
Northside (Mobile Office)
Carnegie Library
Allegheny Branch
1230 Federal Street
Pittsburgh, PA 15212
Wednesdays – 10 am – 4 pm
Lawrenceville (Mobile Office)
Carnegie Library
279 Fisk Street
Pittsburgh, PA 15201
Thursdays - 11 am - 4 pm