12th Annual FontanaFest – THIS SATURDAY!!
The 12th Annual FontanaFest is scheduled for this Saturday from 11 a.m. – 3 p.m. at Highmark Stadium, home of the Pittsburgh Riverhounds. The annual community event is perfect for families and children, promoting healthy and active lifestyles by providing many fun activities and crafts.
Once again, parking will be free in the stadium's West Lot, compliments of Forest City!
We have many exciting features planned this year beginning with students from Pittsburgh Musical Theatre joining us to perform at 11:15 a.m.! New to FontanaFest this year is a Roving Puppet Stage from 11:30 a.m. – 12:30 p.m. and three puppet shows scheduled for 1 p.m., 1:30 p.m., and 2 p.m. Kids can play soccer and get some tips on the game from Riverhounds assistant coach and former player Nikola Katic from noon – 1p.m. Also new this year, the Pittsburgh Firefighters are bringing their mobile fire safety unit to teach children and families about fire safety in the house.
Children will once again have the chance to play on several inflatables, an obstacle course, and a climbing wall and visit with a face painter and balloon maker and guests can enjoy lunch from noon – 2 p.m.
All attendees also are provided with the opportunity to engage with several organizations from around the region, participating in crafts and games, while also receiving important information on available services and programs. I'm very pleased the following organizations will be joining us this year and I encourage all guests to visit the tables: The Home Depot, Allegheny County Sheriff Bill Mullen's office; Carnegie Library of Pittsburgh; Carnegie Science Center; Children's Museum of Pittsburgh; Homeless Children's Education Fund; Pittsburgh International Children's Theater; WQED-TV; Pittsburgh Parks Conservancy; Calgon Carbon; Penn State Center Pittsburgh; Gateway Health Plan; Comcast; Duquesne Light; PA Parks and Forests Foundation; ALCOSAN; and Life's Work of Western PA.
FontanaFest would not be possible without the support of our sponsors. I want to give special thanks to the Pittsburgh Riverhounds for hosting us at Highmark Stadium, Station Square and Forest City for providing free parking to our guests, and the I.B.E.W. Local 5 for their terrific support!
The following organizations make FontanaFest possible with their tremendous support and I am very grateful for their efforts in helping us put on this great family event:
| | |
| --- | --- |
| Pennsylvania Beverage Association | |
It promises to be a great day and I hope to see everyone there!

New Date for the Free Application for Federal Student Aid

As the Vice Chairman of the Pennsylvania Higher Education Assistance Agency (PHEAA) Board of Directors, I am pleased to announce that the U.S. Department of Education is moving up when the Free Application for Federal Student Aid (FAFSA) will be available online to October 1 giving students and their families more time to consider where to go to college and how to pay for it. The FAFSA is a tool that colleges and universities use to determine how much financial aid to offer students and whether those students are eligible for federal grants, student loans and other types of federal and state aid.
Not only is completing the FAFSA required to be considered for federal student aid, such as the Pell Grant or federal student loans, it's also used to determine eligibility for many kinds of scholarships and grants, including the Pennsylvania State Grant Program.
In the past, the FAFSA wasn't available until January 1. Typically, colleges had spring deadlines for prospective students to complete their FAFSA. Then colleges would mail or email financial aid packages to prospective students they had accepted. May 1 has been the universal date by which students were supposed to let colleges know their choice. This date did not give families much time to figure out if they could afford to pay tuition once they knew what aid their student would receive.
Although the aid starts with the 2017-18 school year, families will need to use their income and tax information from 2015 to fill out the FAFSA. The FAFSA previously required income data from the tax year that had recently ended. However, since most people are not able to access the necessary tax information, like wage statements, to file their tax returns in early January, they had to complete the FAFSA using estimated data, which often needed to be amended after they filed their tax returns later in the year. Now, a key benefit of being able to use 2015 tax return data when completing the 2017-18 FAFSA is that more applicants can use the Internal Revenue Service's Data Retrieval Tool, which automatically fills in the online FAFSA form with the necessary tax information. This streamlines the process significantly and increases accuracy.
The U.S. Department of Education also made this date change to better align the financial aid application process with the actual college admissions timeline. The feds hope that colleges will provide prospective students with their own financial aid packages earlier as well.
It's important to note that if you overlook the new October kickoff and procrastinate too long, you risk losing out to others who realize that some financial aid is offered on a first-come, first-served basis.
For information on the higher education financial aid process, schedules for upcoming FAFSA Completion Sessions, reminders of financial aid deadlines, and information pertaining to planning for higher education, students can visit www.PHEAA.org. A student can also call the Federal Student Aid Information Center at 1-800-433-3243.

Flu/Pneumonia Shot & Senior Clinic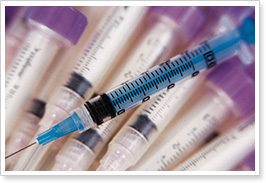 I will be hosting my annual Flu/Pneumonia Shot & Senior Clinic on Friday, Sept. 30 from 10 a.m. – 1 p.m. in Quinn Hall at the Church of the Resurrection in Brookline. American HealthCare Group will be providing free vaccinations to any senior with the Medicare Part B health insurance card. Make sure to bring your card with you.
I am also pleased that several organizations from around the region will be present to provide seniors with important information on available services and resources. Organizations scheduled to participate thus far include: AARP; Allegheny County Bar Association; Carnegie Library of Pittsburgh; Duquesne University Mylan School of Pharmacy; Office of the Consumer Advocate; Public Utility Commission; the Allegheny County Sheriff's Office; Seton Center; OASIS; and the PA Captioned Telephone Relay Service. Light refreshments will be served.

Text Message Service to Help Voters Register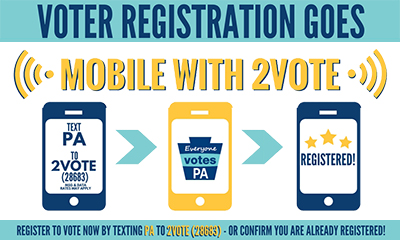 In recent weeks, the Pennsylvania Department of State launched 2Vote, a new voter registration text messaging service. Eligible Pennsylvania citizens can text the word "PA" to "2Vote" (28683) on their smartphones. The user will receive a link that provides direct access to the online voter registration application, voter registration status, polling place locator, and link to contacts for county offices and the Department of State. The Department is launching this service as part of its Everyone votesPA education initiative that was introduced in March.
The text message link also provides users with important dates and deadlines significant to the November 8 general election. Standard messaging rates may apply. To remind everyone, the voter registration deadline for the November general election is October 11.

Investigate Before You Invest

Outreach staff with the Pennsylvania Department of Banking regularly advises consumers to "investigate before you invest." Now investors can access a new online directory that provides information on how to actually proceed with investment-related research. The "Investigate Before You Invest" directory can be accessed by clicking here or visiting http://www.dobs.pa.gov/Consumers/Pages/Investigate.aspx.
"Investigate Before You Invest" is designed to help investors interested in stocks, bonds, mutual funds, annuities, crowdfunding, disciplinary actions, insurance, initial public offerings, licensing and registration issues, and commodities, by referring them to free online government and not-for-profit databases and consumer hotlines.
In addition to the "Investigate Before You Invest" online directory, consumers can also contact the Department of Banking at 1-800-PA-BANKS or 1-800-600-0007 to get answers to questions about securities offerings and investment licensing and registration issues.
Did You Know…
Did you know that from 2010-2013 there were at least 30,000 victims of commodities fraud resulting is personal losses reaching more than $1 billion?

DCNR Accepting Nominations for Trails Advisory Committee
The Pennsylvania Department of Conservation and Natural Resources (DCNR) is accepting nominations for three open positions on the 2017 Pennsylvania Trails Advisory Committee. Members will serve a three-year term starting January 1. The advisory committee is charged with implementing recommendations of the Statewide Comprehensive Outdoor Recreation Plan to develop a statewide land and water trail network to facilitate recreation, transportation, and healthy lifestyles. The 20-member DCNR- appointed committee represents both motorized and non-motorized trail users and advises the commonwealth on the use of state and federal trail funding.
All nominees must submit a cover letter and resume to RA-explorepatrails@pa.gov by October 28. For more information on the Pennsylvania Trails Advisory Committee please visit www.dcnr.state.pa.us or click here. More information on Pennsylvania trails is available at www.explorePAtrails.com.

RADical Days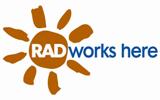 RADical Days, the annual event sponsored by the Allegheny Regional Asset District (RAD), began on Sunday and runs through October 9. In its 15th year, RADical Days is an initiative of RAD and its funded assets that thanks the public for the sales tax funds that support our region's parks, libraries, sports and civic facilities, and arts and culture organizations.
Assets are not offering free admission every day. You may visit the RADical Days page at www.radworkshere.org to view a full schedule and listing of participating venues. You may also sign up on the site to receive RADical Days text alerts. Admissions are first-come, first-served and don't offer rain checks.

Welcoming Week at Dormont Library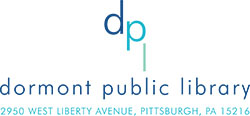 The Dormont Public Library is participating in the nationwide Welcoming Week again this year, Sept. 16 – 25. Welcoming Week was created by the Welcoming America network to bring together immigrants and visitors from other countries and those born in the United States. It encourages greater unity and acceptance of individuals from different backgrounds through programs which emphasize our similarities and the benefits of welcoming others to the United States, rather than focusing on our differences.
Dormont Library has several events scheduled during Welcoming Week including: a Melting Pot Bake Sale; interactive class to strengthen English skills; basic Spanish; global film series; an International Covered Dish Dinner on Sept. 21; and much more. For more information on Welcoming Week, the schedule of events, and how to register, please visit www.dormontlibrary.org. You may also register by stopping in the Library, emailing dormontprogramming@einetwork.net, or calling 412-531-8754.

Fontana Fact
According to FIFA, in the United States over 24.4 million Americans play soccer at some level which is second only to China among all nations. In 2014, more than 3 million youth players were officially registered with youth soccer programs, an 89 percent increase from 1990.

Offices of State Senator Wayne D. Fontana
Brookline District
932 Brookline Blvd.
Pittsburgh, PA 15226
Phone: 412-344-2551
Fax: 412-344-3400
Weekdays – 9 am – 5 pm
Harrisburg
543 Main Capitol
Box 203042
Harrisburg, PA 17120
Phone: 717-787-5300
Fax: 717-772-5484
Weekdays – 8:30 am – 5 pm
Kennedy Township
Kenmawr Plaza
524 Pine Hollow Road
Kennedy Twp, PA 15136
Phone: 412-331-1208
Fax: 412-331-2079
Weekdays – 10 am – 4 pm

Beechview Satellite
1660 Broadway Avenue
Pittsburgh, PA 15216
Phone: 412-343-2080
Fax: 412-343-2418
Tuesdays – 10 am – 4 pm
Northside (Mobile Office)
Carnegie Library
Allegheny Branch
1230 Federal Street
Pittsburgh, PA 15212
Wednesdays – 10 am – 4 pm
Lawrenceville (Mobile Office)
Carnegie Library
279 Fisk Street
Pittsburgh, PA 15201
Thursdays - 11 am - 4 pm