Senator Fontana greeted volunteers who participated in the Western Pennsylvania Red Cross Sound the Alarm program on Saturday in Knoxville. In trying to reduce the number of fire-related deaths, the Red Cross started the Sound the Alarm program that installs free smoke detectors in homes and educates residents on home fire safety. The installations on Saturday were done by Red Cross volunteers, the Pittsburgh Bureau of Fire and Pittsburgh Police.

The Fight Against Opioid Abuse
Everyday across Pennsylvania, there is an average of 13 drug overdose deaths due to opioid abuse. Opioids were responsible for more than 4,600 people dying in the commonwealth in 2016 which is a greater number than vehicular deaths. The epidemic is widespread, with 1 in 4 families struggling with an opioid-related substance abuse problem. Understanding that something needs to be done now, the State Senate passed three pieces of legislation recently that are based on the guidelines developed by Governor Wolf's Safe and Effective Prescribing Practice Task Force.
Senate Bill 472 (SB 472) will expand the current limitation on providing opioid prescriptions from minors to include all individuals. Specifically, the legislation requires a prescriber to comply with a set of procedures before issuing an individual the first prescription in a single course treatment. This includes assessing whether the individual has taken or is currently taking prescription drugs for treatment of a substance use disorder; discussing with the individual or parents/guardians of minors the risks of addiction, overdose, and associated dangers with opioid prescriptions; and obtaining written consent for the prescription from the minor's parent/guardian.
The legislation also limits a prescription for a controlled substance containing an opioid to seven days unless there is a medical need or emergency that would put the patient's health or safety at risk. SB 472 does include exceptions for cases involving acute and chronic care, cancer treatment or for hospice care when the medical treatment is rendered while the minor/individual remains admitted to a licensed health care facility; or the prescriber is continuing treatment initiated by another member of the prescriber's practice and the prescriber who is continuing the treatment is not changing the therapy in any way other than dosage.
Under Senate Bill 542 (SB 542), a pharmacist would be permitted to dispense a 30-day supply for a prescription if the prescription is not dispensed or sold in a 72-hour supply, so long as certain restrictions for an emergency prescription are met. These restrictions include: a pharmacist attempts to obtain authorization from a prescriber and cannot obtain the authorization; the drug is not a controlled substance; the drug is essential for maintenance of life; or the drug is essential for chronic conditions and the pharmacist believes that interruption might produce undesirable health consequences.
The pharmacist must also enter this prescription into the individual's record, the date and quantity of the refill, and provides only one refill that limited to a 72-hour emergency supply under SB 542.
Lastly, Senate Bill 728 (SB 728) would amend the Achieving Better Care by Monitoring All Prescription Program Act (ABC-MAP) to exempt Schedule V epilepsy drugs currently included in the Prescription Drug Monitoring Program querying requirement. These changes were needed because some medications – such as Schedule V epilepsy drugs – have inappropriately been swept up into the ABC-MAP. These medications do not contain opioids or narcotics and are not addictive or abused in the same way as those medicines in Schedules I-IV. Individuals with epilepsy must take their medications each day to control seizures. Additionally, these individuals are among the people most vulnerable to switches, changes or delays to their medication regimens. This legislation could potentially affect an estimated 209,000 Pennsylvanians living with epilepsy.
All three bills passed the Senate unanimously and are now located in the House of Representatives awaiting a vote.

Talk to Your State Senator – Video Competition
I want to again remind everyone of an initiative the Senate of Pennsylvania has organized to combat drug and alcohol addiction by encouraging middle and high school students to help find solutions to the growing heroin and opioid epidemic facing our commonwealth. "Talk To Your State Senator" is a statewide video competition sponsored by the Senate of Pennsylvania with support from the members of the Drug and Alcohol Service Providers Organization of Pennsylvania (DASPOP). It is intended to get students involved in continued legislative efforts to fight heroin and opioid abuse.
The growing heroin and opioid epidemic is taking lives every day and does not discriminate. It affects communities all across Pennsylvania, and doesn't care whether you're rich, or poor, or somewhere in between. Having hosted two town halls in the spring on this subject I have seen firsthand what this epidemic is doing to families in the 42nd senatorial district.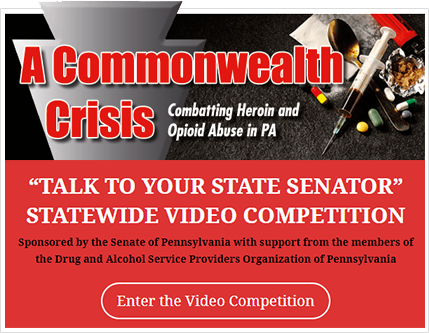 Through December 10, students can submit a video, up to five minutes in length, explaining their approach to preventing teens from using drugs and alcohol. All entries must be submitted using the registration form available by clicking here or visiting www.acommonwealthcrisis.com and clicking on the "Video Competition" tab.
The video competition is available to Pennsylvania school students in grades 6-12, in public and private schools, and will be judged in two categories: middle school, grades 6-8, and high school, grades 9-12. Students will be divided into 50 regions, competing in their home address senatorial district. From the 50 semi-finalists in each category, one first, second and third place finalist will be selected. Students may enter individually or in a group of up to five students. The video submitted must address the issue of preventing teens from starting and using drugs, legal and illegal, including underage drinking.
DASPOP is providing $10,000 that will be divided into six monetary prizes. The prizes will be $2,500 for 1st, $1,500 for 2nd, and $1,000 for 3rd place in each of the two categories. Prize money will be awarded through the PA 529 College Savings Account Program and deposited into a college savings account in the winner(s) names.
The video competition is a creative way to educate young people on the dangers associated with using drugs while offering a chance to win prize money to help pay for a post-secondary education. More information on the video competition including guidelines on submitting videos, content, judging and prizes, can be found at www.acommonwealthcrisis.com, a website established by the Senate of Pennsylvania as a tool to provide information and resources on the heroin and opioid crisis. It includes information on the signs of addiction, how to get treatment, prevention, and much more.

Absentee Ballot Deadline – Next Tuesday!

Any voter who needs an absentee ballot for the Nov. 7 General Election must complete and return an absentee ballot application to the Allegheny County Division of Elections no later than 5 p.m. next Tuesday, October 31. The Division of Elections is located in the County Office Building, 542 Forbes Avenue, Room 601 in downtown Pittsburgh. You can download and print an application by clicking here or you can pick one up at any of my district offices. Completed absentee ballots must be then received by the Division of Elections no later than 5 p.m. on Friday, Nov. 3.
Anyone voting by absentee ballot will be required to provide a PA Driver's License number, PennDOT ID number, or last four digits of your Social Security number. If you do not possess any of the aforementioned items, a copy of an acceptable ID must be provided with the application. For any questions please contact 412-350-4510 or visit www.votespa.com.

Table Games, Overall Gaming Revenue Increases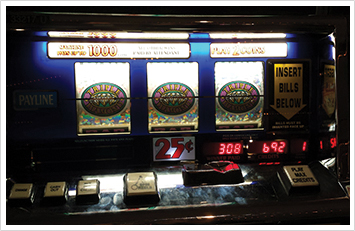 The Pennsylvania Gaming Control Board announced last week that revenue from table games play in Pennsylvania increased nearly 10 percent in September compared with September 2016. Table games revenue in September totaled more than $75.6 million, an increase of 9.9 percent over last September's table games revenue of nearly $69 million. Total tax revenue from table games play in September was more than $12.1 million.
Combined with September's slot machine revenue, total gaming revenue for the month was up by nearly four percent compared with last September.
The state's gaming industry employs over 18,000 people and generates approximately $1.4 billion annually in tax revenue from both slot machines and table games. For more information on gaming in Pennsylvania and to read reports from the Gaming Control Board, please visit them online at www.gamingcontrolboard.pa.gov.

Halloween Schedules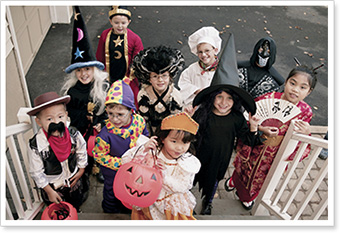 While the official date of Halloween is October 31, some communities celebrate the holiday at different times with trick-or-treat schedules varying by neighborhoods and various parades and other celebrations taking place in the days leading up to the official holiday. Please be mindful of this if you are driving through neighborhoods where children are out trick-or-treating and watch your speed.
The following is a listing of trick-or-treating schedules and other Halloween events taking place throughout the 42nd Senatorial District. The City of Pittsburgh will be holding official trick-or-treat hours on October 31 from 5:30 – 7:30 p.m. Various neighborhoods throughout the city will be holding parades and other events. For more information about city neighborhood events please call 412-255-8977 or visit http://pittsburghpa.gov/index.html.
Avalon Borough
Trick-or-treat – Oct. 31, 6 – 8 p.m.
Parade – Oct. 28, 11 a.m.

Baldwin Township
Trick-or-treat – Oct. 31, 6- 8 p.m.
Parade – Oct. 29, 1 p.m.

Bellevue Borough
Trick-or-treat – Oct. 31, 6 – 8 p.m.

Ben Avon Borough
Trick-or-treat – Oct. 31, 6 – 8 p.m.
Parade – Oct. 28, Noon

Carnegie Borough
Trick-or-treat – Oct. 31, 6 – 8 p.m.
Promenade – Oct. 28, 1 p.m.

Castle Shannon Borough
Trick-or-treat – Oct. 31, 6 – 8 p.m.
Parade – Oct. 29, 2 p.m.

Coraopolis Borough
Trick-or-treat – Oct. 26, 6 – 8 p.m.

Crafton Borough
Trick-or-treat – Oct. 31, 6 – 8 p.m.

Dormont Borough
Trick-or-treat – Oct. 31, 6 – 8 p.m.
Fall Festival – Oct. 28, 1 – 4 p.m.

Green Tree Borough
Trick-or-treat – Oct. 31, 6 – 8 p.m.
Parade – Oct. 29, 1 p.m.

Heidelberg Borough
Trick-or-treat – Oct. 31, 6 – 8 p.m.

Ingram Borough
Trick-or-treat – Oct. 28, 2 – 4 p.m.
Parade – Oct. 28, 1 – 4 p.m.

Kennedy Township
Trick-or-treat – Oct. 31, 6 – 8 p.m.

McKees Rocks Borough
Trick-or-treat – Oct. 31, 6 – 8 p.m.

Neville Township
Trick-or-treat – Oct. 26, 6 -8 p.m.

Reserve Township
Trick-or-treat – Oct. 31, 5:30 – 7:30 p.m.
Parade – Oct. 29, 1 p.m.

Scott Township
Trick-or-treat – Oct. 31, 6 – 8 p.m.

Sharpsburg Borough
Trick-or-treat – Oct. 31, 6 -8 p.m.

Stowe Township
Trick-or-treat – Oct. 31, 6 – 8 p.m.
Did You Know…
Did you know that more than 179 million Americans are expected to celebrate Halloween this year with consumers expected to spend $3.4 billion on costumes and $2.7 billion on candy?

Oasis Tutoring Program
The OASIS Intergenerational Tutoring Program is hosting training sessions in November for older adults interested in volunteering as tutors. OASIS is a non-profit organization that recruits and trains older adults (50+) to tutor children (grades K-4) in Pittsburgh Public Schools in reading and writing. OASIS has tutors in over 32 schools and serves 200 students yearly.
Training sessions will be held Monday, Nov. 6 and Thursday, Nov. 9 from 9 a.m. – 2:30 p.m. at the OASIS office, located in the Duquesne Light Building, Suite 525 at 411 Seventh Avenue in downtown Pittsburgh. All training, materials and clearances are free.
For more information on how to become an OASIS tutor, please contact John D. Spehar, Pittsburgh OASIS Tutoring Program Director at 412-393-7648 or jdspehar@oasisnet.org. OASIS is an affiliate of the Greater Pittsburgh Literacy Council.

McKees Rocks Historical Society Celebrating 10 Years
The McKees Rocks Historical Society is celebrating its 10th anniversary with a dinner dance featuring music of the 40's, 50's, and 60's. The event is scheduled for Saturday, Dec. 2 at the Kennedy Township Fire Hall, located at 1796 Pine Hollow Road, from 6 – 11 p.m. The silver anniversary celebration is BYOD and will also feature a basket raffle, 50/50 drawing, memorabilia and much more.
Reservations are required no later than Nov. 20. For information on how to purchase tickets please contact Deborah Valenti at etherbunny52@gmail.com or 412-200-2594 or call Vicki Batcha at 412-771-4266.

Fall Festival in McKees Rocks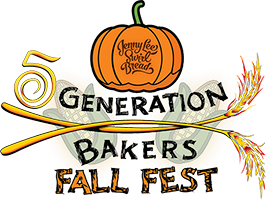 5 Generation Bakers will be hosting a Community Fall Festival this Saturday from noon – 4 p.m. in the 5 Generations parking lot, located at 1100 Chartiers Avenue in McKees Rocks.
Activities include Trick or Treating, a costume contest, and live entertainment. 5 Generation Bakers will be providing free French toast and grilled cheese samples, as well as have candy apples, cookies, brownies, and pies for sale in their retail store. Community organizations will be handing out candy as well.
For more information on the Fall Festival, please click here or visit http://jennyleeswirlbread.com/fall-festival.html.

Fontana Fact
October is National Apple Month. The United States has 7,500 apple producers who, collectively, grow 240 million bushels of apples on average each year on 322,000 total acres of land. Apples are grown commercially in 32 states and Pennsylvania produces the fourth most of any state.

Offices of State Senator Wayne D. Fontana
Brookline District
932 Brookline Blvd.
Pittsburgh, PA 15226
Phone: 412-344-2551
Weekdays – 9 am – 5 pm
Harrisburg
543 Main Capitol | Box 203042
Harrisburg, PA 17120
Phone: 717-787-5300
Fax: 717-772-5484
Weekdays – 8:30 am – 5 pm
Kennedy Township
Kenmawr Plaza
524 Pine Hollow Road
Kennedy Twp, PA 15136
Phone: 412-331-1208
Weekdays – 10 am – 4 pm

Beechview Satellite
1660 Broadway Avenue
Pittsburgh, PA 15216
By Appointment
Northside (Mobile Office)
Carnegie Library | Allegheny Branch
1230 Federal Street
Pittsburgh, PA 15212
By Appointment