Pediatric Cancer Research Funding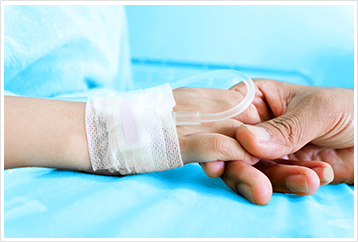 Pediatric cancer is the leading cause of death by disease among children ages one to 14 in the United States. In fact, an average of 46 children are diagnosed with cancer each day. Unfortunately, only a small percentage of cancer research funding is focused on children. For example, only four percent of the taxpayer-funded National Cancer Institute's annual budget is directed towards pediatric cancer.
The recent passage of Act 39 will amp up funding for childhood cancer research in Pennsylvania by establishing a box on state income tax forms that taxpayers may check to donate to research. The donations would be deducted from the taxpayers' refunds and would go to hospitals that are doing such research. Every year, the Pennsylvania Department of Health's Secretary will identify hospitals conducting pediatric cancer research and designate them eligible for this funding.
I am pleased with passage of this legislation since most of the money raised for fighting cancer goes towards adult cancer research. Many advocates and doctors say that children are not affected by cancer the same as way as adults are and require different types of treatments. Without more research in these areas, doctors have limited tools to help pediatric patients. Act 39 will provide additional funding specific to children fighting this disease.

Free Insurance Counseling During Medicare Open Enrollment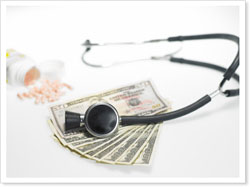 The Pennsylvania Department of Aging is reminding Medicare beneficiaries that the annual Medicare open enrollment is taking place through Dec. 7. Any new coverage selected by beneficiaries will take effect on January 1, 2018. During open enrollment, new Medicare beneficiaries can sign up for Medicare Prescription Drug coverage and health plans to compliment Medicare for the first time and current Medicare beneficiaries can review and make changes to their current coverage so that it better meets their needs.
Pennsylvania offers free, objective health benefits counseling through its APPRISE program, which is designed to help Medicare-eligible individuals, their families, and caregivers make informed decisions about their healthcare benefits. APPRISE has more than 700 trained counselors in the commonwealth who provide objective, easy-to-understand information about Medicare Supplement Insurance, Medicare Advantage Plans, and prescription drug plans in order for Medicare beneficiaries to compare the plans and determine what best meets their needs.
To learn more about the APPRISE program please call 1-800-783-7067 or visit www.aging.pa.gov/insurancce. Medicare beneficiaries can also make their own plan comparisons by using the Medicare plan finder tool at medicare.gov/find-a-plan or by calling 1-800-MEDICARE.

Health Insurance Marketplace – Open Enrollment
I want to remind everyone that the deadline for open enrollment on the health insurance marketplace is quickly approaching. Through Dec. 15 you can shop for plans, sign up, renew, or find a local navigator to assist you through the process, all by visiting www.healthcare.gov.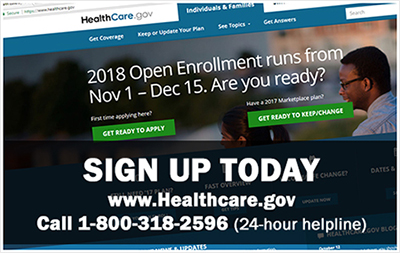 Despite President Trump's inaccurate claims that "Obamacare is dead," it is not. Over the last several months, the president and his administration have shamefully shortened the open enrollment period by more than a month, limited the hours of accessibility, and slashed the marketing budget for the enrollment period. But individuals who need health insurance can still apply and receive assistance at www.healthcare.gov.
The Senate Democratic Caucus has designed a website with information on enrollment – www.healthcareforpa.com. If you need insurance or have friends or family that do, please spread the word that open enrollment runs through Dec. 15.

LIHEAP Opens
The Pennsylvania Department of Human Services (DHS) is accepting applications for this season's Low Income Home Energy Assistance Program (LIHEAP). The program helps low income families pay their heating bills. You can apply and check the status of your application on the state's COMPASS website (www.compass.state.pa.us). You can also pick up an application in my district offices or download one yourself from the DHS LIHEAP website. Completed paper applications should be returned to the Allegheny County Assistance Office, located at 5947 Penn Avenue, 4th Floor, Pittsburgh, PA, 15206.
Funding for LIHEAP is provided by the federal government and eligibility is based on the Federal Poverty Income Guidelines. The income limits for this season are as follows:
| | |
| --- | --- |
| Household Size | Income Limit |
| 1 | $18,090 |
| 2 | $24,360 |
| 3 | $30,630 |
| 4 | $36,900 |
| 5 | $43,170 |
| 6 | $49,440 |
| 7 | $55,710 |
| 8 | $61,980 |
| 9 | $68,250 |
| 10 | $74,520 |
After your application is received you will receive a written notice explaining your eligibility and the amount of assistance you will receive. Payments are generally sent directly to a utility company or fuel provider and will be credited to your heating account. Crisis grants may also be available if you have an emergency situation and are in jeopardy of losing your heat. For more information, please contact the LIHEAP hotline at 1-866-857-7095.

Talk to Your State Senator – Video Competition
I want to again remind everyone of an initiative the Senate of Pennsylvania has organized to combat drug and alcohol addiction by encouraging middle and high school students to help find solutions to the growing heroin and opioid epidemic facing our commonwealth. "Talk To Your State Senator" is a statewide video competition sponsored by the Senate of Pennsylvania with support from the members of the Drug and Alcohol Service Providers Organization of Pennsylvania (DASPOP). It is intended to get students involved in continued legislative efforts to fight heroin and opioid abuse.
The growing heroin and opioid epidemic is taking lives every day and does not discriminate. It affects communities all across Pennsylvania, and doesn't care whether you're rich, or poor, or somewhere in between. Having hosted two town halls in the spring on this subject I have seen firsthand what this epidemic is doing to families in the 42nd senatorial district.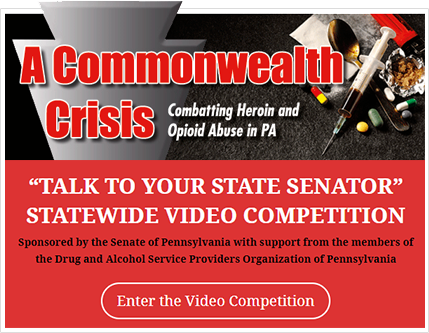 Through December 10, students can submit a video, up to five minutes in length, explaining their approach to preventing teens from using drugs and alcohol. All entries must be submitted using the registration form available by clicking here or visiting www.acommonwealthcrisis.com and clicking on the "Video Competition" tab.
The video competition is available to Pennsylvania school students in grades 6-12, in public and private schools, and will be judged in two categories: middle school, grades 6-8, and high school, grades 9-12. Students will be divided into 50 regions, competing in their home address senatorial district. From the 50 semi-finalists in each category, one first, second and third place finalist will be selected. Students may enter individually or in a group of up to five students. The video submitted must address the issue of preventing teens from starting and using drugs, legal and illegal, including underage drinking.
DASPOP is providing $10,000 that will be divided into six monetary prizes. The prizes will be $2,500 for 1st, $1,500 for 2nd, and $1,000 for 3rd place in each of the two categories. Prize money will be awarded through the PA 529 College Savings Account Program and deposited into a college savings account in the winner(s) names.
The video competition is a creative way to educate young people on the dangers associated with using drugs while offering a chance to win prize money to help pay for a post-secondary education. More information on the video competition including guidelines on submitting videos, content, judging and prizes, can be found at www.acommonwealthcrisis.com, a website established by the Senate of Pennsylvania as a tool to provide information and resources on the heroin and opioid crisis. It includes information on the signs of addiction, how to get treatment, prevention, and much more.

Governor's Awards for Environmental Excellence

The Pennsylvania Department of Environmental Protection (DEP) is accepting applications for the 2018 Governor's Awards for Environmental Excellence. The Award is open to any Pennsylvania business, farm, government agency, educational institution, non-profit organization and individual that has created, or participated in, the development of a project that promotes environmental stewardship and economic development in Pennsylvania.
Projects will be evaluated on the basis of seven criteria: protecting the environment; partnership; environmental education and outreach; economic impact; innovation; climate change; and sustainability.
The application deadline is Monday, January 8, 2018 at 5 p.m. Applications must be submitted online at http://www.ahs.dep.pa.gov/GovernorsAwardsApplication or by clicking here. Project guidelines can be found at www.dep.pa.gov.
Did You Know…
Did you know that one of last year's award winners was the City of Pittsburgh's 100 Percent Biodiesel Project? Twenty-five of the city's fleet of 1,038 vehicles were equipped with technology to optimize their performance on biodiesel fuel. Operational challenges typically associated with biodiesel, such as fuel gelling and filter clogging, were eliminated, resulting in smooth operation and a 6.44 percent reduction fleetwide in greenhouse gas emissions.

October Table Games Revenue Increases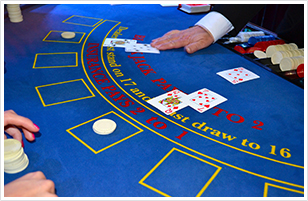 The Pennsylvania Gaming Control Board announced last week that revenue from table games play in Pennsylvania increased nearly two percent in October compared with October 2016. Table games revenue in October totaled more than $72.4 million, an increase of 1.8 percent over last October's table games revenue of nearly $71.2 million. Total tax revenue from table games play in October was more than $11.6 million.
Combined with October's slot machine revenue, total gaming revenue for the month decreased by less than one-half of one percent compared with last October.
The state's gaming industry employs over 18,000 people and generates approximately $1.4 billion annually in tax revenue from both slot machines and table games. For more information on gaming in Pennsylvania and to read reports from the Gaming Control Board, please visit them online at www.gamingcontrolboard.pa.gov.

County Holiday Project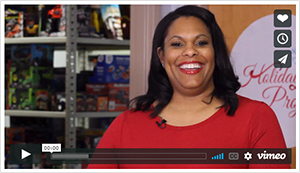 The Allegheny County Department of Human Services (DHS) is collecting new, unwrapped gifts for children and youth who receive services through the DHS Office of Children, Youth and Families as part of their annual Holiday Project. Gift donations will be collected through this Friday, Dec. 1, and can be taken to any one of 11 sites around Allegheny County. You can view locations by clicking here.
While all gift donations are appreciated, DHS has a special need for:
Warm winter wear for ages 0-18 (hats, gloves, mittens, scarves)
Board games for all ages
Puzzles for all ages
Dolls and action figures
Basketballs, footballs, soccer balls, baseball gloves, and other sports equipment
Creative kits for school-age children
Gifts for children ages 0-2
Monetary donations are also welcome. Anyone wishing to donate can make checks payable to "The DHS Donation Fund" with "Holiday Project" written in the memo line. Checks can be sent to:
Holiday Project Coordinator
Department of Human Services
One Smithfield Street, First Floor
Pittsburgh, PA 15222

Fontana Fact
In 1980, there were approximately 3,000 black bears living in Pennsylvania. Today, the number of black bears in Pennsylvania is around 20,000 and in the United States there are estimated to be over 300,000.

Offices of State Senator Wayne D. Fontana
Brookline District
932 Brookline Blvd.
Pittsburgh, PA 15226
Phone: 412-344-2551
Weekdays – 9 am – 5 pm
Harrisburg
543 Main Capitol | Box 203042
Harrisburg, PA 17120
Phone: 717-787-5300
Fax: 717-772-5484
Weekdays – 8:30 am – 5 pm
Kennedy Township
Kenmawr Plaza
524 Pine Hollow Road
Kennedy Twp, PA 15136
Phone: 412-331-1208
Weekdays – 10 am – 4 pm

Beechview Satellite
1660 Broadway Avenue
Pittsburgh, PA 15216
By Appointment
Northside (Mobile Office)
Carnegie Library | Allegheny Branch
1230 Federal Street
Pittsburgh, PA 15212
By Appointment