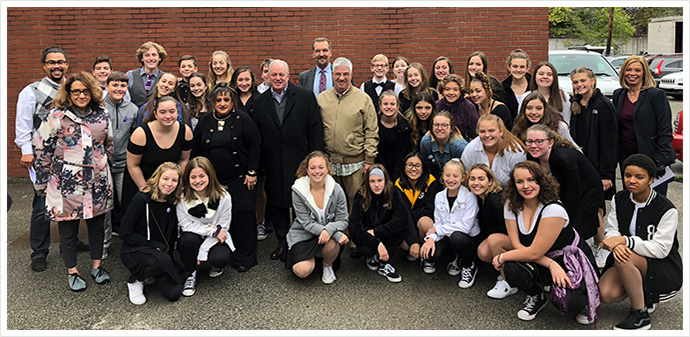 Senator Fontana attended Pittsburgh Musical Theater's annual "Dancing in the Streets" day in the West End as part of RADical Days on Saturday. He was joined at this year's event by Congressman Mike Doyle and City Councilwoman Theresa Kail-Smith and together they watched a terrific performance by Pittsburgh Musical Theater's Xtreme Teen Broadway.

It's time to Stand up for the Sex Abuse Victims
I was raised Catholic and spent all 12 years of schooling in Catholic schools. As an adult, I was married in the Catholic Church, raised my children in the faith and sent them to Catholic school.
I still firmly believe in God, but my trust and respect for the Catholic institution has been shattered.
Now that the church hierarchy has finally admitted that hundreds of priests sexually abused so many children for so many years and that church leaders took part in an elaborate coverup scheme, the church's continued resistance to changing the law to protect victims is clearly all about the money.
Church leaders are obviously more concerned about unsubstantiated claims that its dioceses will be bankrupted than making amends with the victims of their own institution. This is why the bishops support a dedicated compensation fund program run by the church and do not support the legislative remedy before the General Assembly.
There have been numerous church and school consolidations in the past several years throughout Pennsylvania -- even before the grand jury report was published. Given the Pope's outspokenness on this issue, I wonder why the Vatican cannot help Pennsylvania dioceses deal with the financial liability.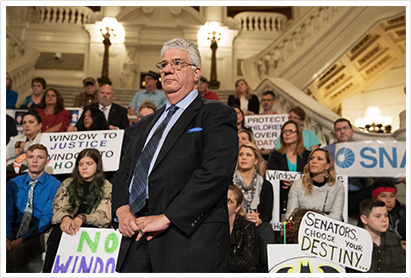 Following overwhelming passage in the House of Representatives, the Catholic Conference is now lobbying the Pennsylvania Senate to carry its water by blocking Senate Bill 261 (SB 261). The bill would eliminate the statute of limitations for criminal cases and open a two-year window allowing victims to file civil lawsuits against all perpetrators and institutions, not just the church alone.
Passage of SB 261 would be a victory for victims. The measure would ensure accountability, transparency and justice. Who could argue against that? Why would anyone oppose that?
The Catholic Church and its insurance carriers are proving that they do not support real justice for these victims. Their lobbyists in Harrisburg are trying, with some success so far, to get Senate leaders to block a vote on this version of the bill. They do not support the grand jury's recommendation for opening a two-year window to justice for past victims.
Let us remember, despite these efforts and all the money the organization is spending to derail the legislation, the House did the right thing last week and passed the bill. Let us also remember that the grand jury has recommended, and the Attorney General has concurred, that the statute of limitations should be expanded. Would they have endorsed the proposal if they believed it to be unconstitutional?
So why are Senate leaders delaying a vote? The answer is politics and the influence of powerful lobbyists, including the Catholic Conference, which once again has no problem mixing church and state when it suits their agenda. This is the sad truth. These lobbyists and special interests are being given more consideration than victims of child sex abuse.
I assume the Catholic Church wants to move forward and get this terrible episode behind it. I also know that victims and their families want to continue their healing process -- and we owe it to them to not stand in their way.
Senate inaction is doing more harm than good for everyone. Opponents of this measure are impeding justice.
The eyes of the world are on us and the right thing to do is right in front of us. Pass Senate Bill 261.

Life Insurance Policy Locator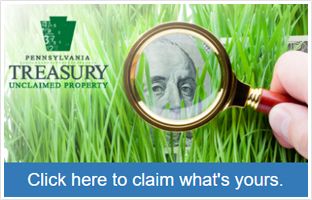 Every year, millions of dollars' worth of property ends up in the Pennsylvania Treasury Department of Unclaimed Property Bureau due to beneficiaries of life insurance policies being unaware of their existence. Dormant unclaimed insurance policies typically go to Treasury after three years and remain available for claim. Currently, the Treasury holds over 150,000 unclaimed life insurance policies, totaling more than $116 million.
In November 2016, Pennsylvania's Insurance Department implemented the National Association of Insurance Commissioner's (NAIC) Life Insurance Policy Locator. Before the inception, the department's Consumer Services Bureau could provide only limited assistance to those searching for a policy because consumers had to know the insurance company name to conduct a search. However, not all life insurance companies participate in this database making it incomplete. Even so, since the adoption of the NAIC locator two years ago, about $9.6 million has been recovered for about 1,100 state residents.
Thanks to passage of Act 48, the Insurance Department will now maintain an electronic database of companies that offer life insurance policies and annuities in the commonwealth and require these companies to participate in the NAIC locator service. The database will keep contact information like a valid email address of the insured person so that the department will be able to send requests to search for a policy. Requests can be made by a member of the decedent's family who has received a copy of the death certificate, or a representative of the estate.

Beginning in January 2019, Pennsylvanians will now be able to search for and receive money quicker to help cover such costs as funeral preparations and services. For more information regarding the locator, please visit https://www.insurance.pa.gov/Coverage/Pages/Life.aspx.

FAFSA

As the Vice-Chair of the Pennsylvania Higher Education Assistance Agency (PHEAA), I want to encourage high school seniors and their families to prepare for completing the FAFSA (Free Application for Federal Student Aid) as soon as possible. The FAFSA is the federal form that all college-bound high school seniors must submit to determine eligibility for most forms of need-based financial assistance, including the Pennsylvania State Grant, the Federal Pell Grant, work-study programs, Pennsylvania Targeted Industry Program (PA-TIP), various scholarships, some school-based aid, and federal student loans for the 2019-20 academic year. Students who are eligible for awards can reduce their family's out-of-pocket expenses and make the cost of a higher education more manageable.
The FAFSA became available on October 1 and now is the time to get a jump on the application process by preparing, before sitting down to complete the FAFSA application. Students and families are able to complete the FAFSA online at www.fafsa.ed.gov and will need the following information when beginning the application process:
Social Security Numbers
Student's driver's license
Alien registration number, if not a U.S. citizen
W-2 forms
Records of untaxed income received, including workers' compensation, child support, payments to tax-deferred pension and savings plans, etc.
Federal income tax return (1040, 1040A, 1040EZ)
Current bank statements and records of stocks, bonds and other investments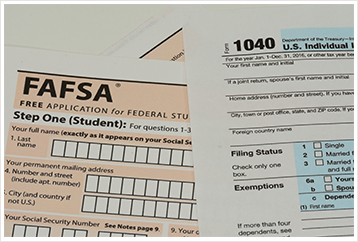 It is better to complete and submit the FAFSA as soon as possible after October 1 as schools' financial aid deadlines vary. Once again in 2018, PHEAA will host FAFSA Completion Sessions across Pennsylvania where PHEAA, in partnership with PASFAA (Pennsylvania Association of Student Financial Aid Administrators), provides free assistance to families needing help in completing the FAFSA. You can click here to view a listing of scheduled FAFSA Completion Sessions. PHEAA will continue to update this list as more sessions are added in the coming weeks.
I also want to encourage students and families to only complete the FAFSA on the www.FAFSA.gov website and to avoid any dot com sites, which often charge a fee for what can be accomplished for free.

Absentee Ballot Deadline

Any voter who needs an absentee ballot for the Nov. 6 General Election must complete and return an absentee ballot application to the Allegheny County Division of Elections no later than 5 p.m. on Tuesday, October 30. The Division of Elections is located in the County Office Building, 542 Forbes Avenue, Room 601 in downtown Pittsburgh. You can download and print an application by clicking here or you can pick one up at any of my district offices. Completed absentee ballots must be then received by the Division of Elections no later than 5 p.m. on Friday, Nov. 2.
Anyone voting by absentee ballot will be required to provide a PA Driver's License number, PennDOT ID number, or last four digits of your Social Security number. If you do not possess any of the aforementioned items, a copy of an acceptable ID must be provided with the application. For any questions please contact 412-350-4510 or visit www.votespa.com.

Statewide Video Competition Highlights School Safety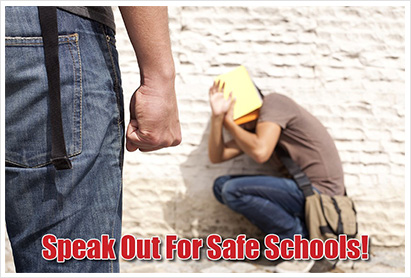 Every Pennsylvanian shares an interest in protecting our schools – especially the young people who attend classes and participate in activities there on a daily basis. A new statewide video competition encourages middle and high school students to share their perspectives on school safety and identify ways to protect against potential threats to their well-being.
The second annual "Talk To Your State Senator" statewide video competition invites students to submit a video entry of no longer than three minutes to highlight ways to improve school safety. I encourage local students to participate in the discussion and speak out for safe schools.
The contest, which is sponsored by the Senate of Pennsylvania and the Pennsylvania School Boards Association, is open to Pennsylvania students in grades 6 through 12. This includes students who attend public or private schools, as well as students who participate in homeschool programs.
A total of $10,000 in prizes will be awarded through the PA 529 College Savings Program administered by the Pennsylvania Department of Treasury. Entries will be accepted through December 7, and winners will be announced in the spring of 2019.
Contest details are available online at www.legis.state.pa.us/talk-to-your-state-senator/.

Apartment Search Tool for Renters and Landlords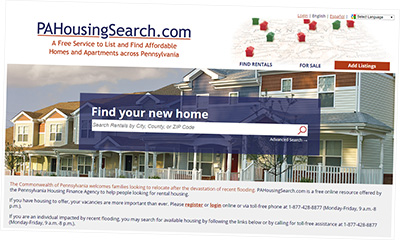 Last week, the Pennsylvania Housing Finance Agency (PHFA) relaunched their www.PAHousingSearch.com website after some extensive retooling of the site's appearance and capabilities.
First launched in 2011, the site has grown to include apartment vacancies from 3,148 landlords and listings of 115,943 available rental units. Last week's launch of the improved site takes advantage of insights gained from thousands of users over the previous eight years.
Some of the customer-focused enhancements on the new site include these features:
Users can access search results in fewer clicks with a new text search bar
Search results now include larger photos and maps
New search logic increases the results of housing searches for people with mobility issues, and accessibility options have been updated for entryways, bathrooms and more
Available units now appear sorted in search results before wait-listed units, with the option to hide wait-listed units from the results, if desired
A new, streamlined listing interface that makes it easier for apartment managers to add and update properties and photos
In addition to this major relaunch, the PAHousingSearch website is constantly being upgraded so that it offers the most thorough and accurate rental listings. PAHousingSearch continues to be backed by a call center of operators who can help users with their apartment search in Pennsylvania. Those operators are available toll-free Monday through Friday from 9 a.m. until 8 p.m. at 1-877-428-8844.
Beyond its daily use by apartment hunters, PAHousingSearch has proven its worth during natural disasters when displaced families are in desperate need of temporary housing. This was evident during its heavy use by Pennsylvania emergency response teams following Hurricane Irene and Tropical Storm Lee in 2011.
In addition to PHFA, PAHousingSearch is supported by the following partners: the Pennsylvania Emergency Management Agency, the Pennsylvania Department of Human Services, the Pennsylvania Department of Community and Economic Development, the Professional Affordable Housing Management Association, and PennDel AHMA. The site is managed by Emphasys software.

Property Tax/Rent Rebate Program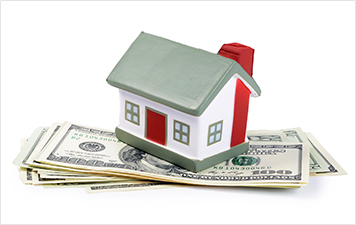 The deadline to submit an application to the Pennsylvania Department of Revenue for the 2017 Property Tax/Rent Rebate Program is Dec. 31, 2018. Applications are available at my district offices, online at www.revenue.pa.gov or by calling 1-888-222-9190. As always, my staff would be happy to assist you in preparing your application.
The Property Tax/Rent Rebate Program benefits eligible Pennsylvanians age 65 and older; widows and widowers age 50 and older; and people with disabilities age 18 and older. The income limit is $35,000 a year for homeowners and $15,000 annually for renters. Please keep in mind, half of Social Security income is excluded.
The program is funded by the Pennsylvania Lottery and revenue from slots gaming.

Fontana Fact
For over 200 years, the Library of the Pennsylvania Senate has served as a major source of information on the institution. Each record preserved in the Senate Library's collection is a valuable piece of the Senate's Institutional memory. Until 1981, the Senate Librarian was an elected Officer of the Senate, responsible for many of the Senate's legislative operations.

Offices of State Senator Wayne D. Fontana
Brookline District
932 Brookline Blvd.
Pittsburgh, PA 15226
Phone: 412-344-2551
Weekdays – 9 am – 5 pm
Harrisburg
543 Main Capitol | Box 203042
Harrisburg, PA 17120
Phone: 717-787-5300
Fax: 717-772-5484
Weekdays – 8:30 am – 5 pm
Kennedy Township
Kenmawr Plaza
524 Pine Hollow Road
Kennedy Twp, PA 15136
Phone: 412-331-1208
Weekdays – 10 am – 4 pm

Beechview Satellite
1660 Broadway Avenue
Pittsburgh, PA 15216
By Appointment