June 2020
As we continue to deal with the coronavirus pandemic, this edition of the monthly News & Views Special Edition: JOBS focuses on what sectors are looking for work at this time. I also want to use this space as an opportunity to focus on what resources are available for employers and employees.

Allegheny County Moving to Green
With more than 80 percent of the state in some phase of reopening, Governor Wolf announced on May 29 that 16 additional counties will take another step forward and move to green effective 12:01 a.m., June 5, including Allegheny County. Other counties moving to green include Armstrong, Bedford, Blair, Butler, Cambria, Clinton, Fayette, Fulton, Greene, Indiana, Lycoming, Mercer, Somerset, Washington, and Westmoreland.
With more than half the state poised to be in the green phase on June 5, the governor last week provided an updated order for counties moving to green to give businesses and residents a clearer picture of what is permitted in that phase of reopening. The order includes these highlights:
Large gatherings of more than 250 prohibited.
Restaurants and bars open at 50% occupancy.
Personal care services (including hair salons and barbershops) open at 50% occupancy and by appointment only.
Indoor recreation, health and wellness facilities, and personal care services (such as gyms and spas) open at 50% occupancy with appointments strongly encouraged.
All entertainment (such as casinos, theaters, and shopping malls) open at 50% occupancy.
Construction activity may return to full capacity with continued implementation of protocols.
Visitation to prisons and hospitals may resume subject to the discretion of the facility. Visitors who interact with residents and patients must be diligent regarding hygiene. Given the critical importance of limiting COVID-19 exposure in nursing homes, personal care home and long-term care facilities, visitation restrictions will initially remain in place.
Business frequently asked questions were also updated and are available here.
Gov. Wolf also provided more options for counties in the yellow phase by allowing outdoor dining beginning June 5 and providing Summer Camp Guidance for providers, parents and caregivers.
The Summer Camp Guidance includes information on what types of programs for children are permitted during the phased reopening, status of public playgrounds and the operation of community pools, and the status of organized team sports.
The state continues to use risk-based metrics from Carnegie Mellon University, combined with contact tracing and testing capability and a sustained reduction in COVID-19 hospitalizations, to make decisions on county moves. The 50 new cases per 100,000 population continues to be a consideration, but not a sole deciding factor.
To see up-to-date data on case counts and demographics, hospital preparedness and testing, view the COVID-19 Data Dashboard.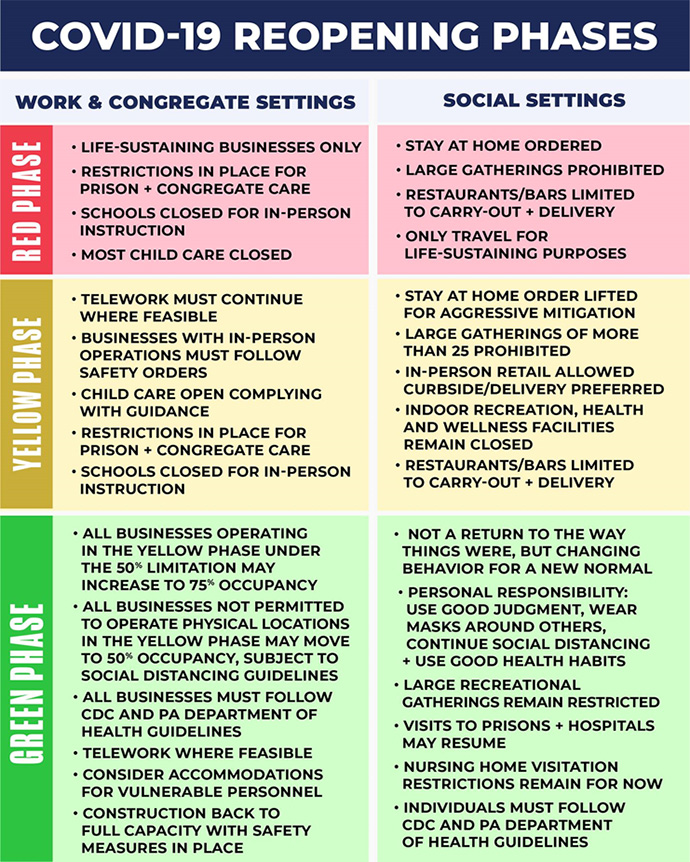 Business-to-Business Directory

DCED has created a Business-to-Business Interchange Directory to connect organizations and businesses directly to manufacturers producing COVID-19-related products and supplies. The directory can be accessed by clicking here.
Company and product information provided in the directory were gathered in good faith as a means of connecting Pennsylvania businesses and organizations that are seeking various PPE and other related items to combat the COVID-19 crisis. The information made available is from those entities who voluntarily contacted the commonwealth through the Manufacturing Call to Action Portal or the Pennsylvania Critical Medical Supplies Procurement Portal.
Currently in the directory are manufacturers of N95 masks, fabric and other masks, surgical masks, face shields, thermometers, medical gowns, and hand sanitizers. Additional supplies and materials will be added to the directory as DCED identifies potential manufacturers. Businesses that would like to be added to the directory or those with questions should contact RA-DCEDPAMCTAP@pa.gov.

Employment Opportunities

PA CareerLink, a partnership of the Departments of Labor & Industry and Human Services, has put together a listing of employers around Pennsylvania that are in need of hiring individuals for critical roles. Regardless of whether you've lost your job due to a COVID-19 related business closure and would like to work or simply are looking for employment, I encourage you to visit CareerLink's COVID-19 Employment Opportunities site which can be viewed by clicking here.
The site lists what companies are hiring, the types of positions open, business locations and provides links to apply for positions online. Employers that have openings and are interested in promoting through CareerLink can also access the site to complete an Employer Intake Form so their openings can be listed.

PA Fish & Boat Waterways Conservation Officer Opportunities
The Pennsylvania Fish & Boat Commission (PFBC) is recruiting the 23rd class of Waterways Conservation Officer (WCO) Trainees at its H.R. Stackhouse School of Fishery Conservation and Watercraft Safety.
WCOs protect, conserve, and enhance Pennsylvania's aquatic resources through law enforcement, education and community partnerships with anglers and boaters. These officers are specifically trained in all aspects of fisheries conservation and watercraft safety and work to preserve fishing and boating opportunities on Pennsylvania's 86,000 miles of rivers, streams and lakes. WCOs enjoy working outdoors and have an unmatched appreciation for the hundreds of native of species of fish, reptiles and amphibians that call Pennsylvania home.
The State Civil Service Commission (SCSC) will be accepting applications through July 18, 2020. Applications will only be accepted online. To view the announcement and apply, please visit www.employment.pa.gov.
The class of trainees is expected to report for training in January 2021 and graduate in the summer of 2021. Applicants to this class must already possess Municipal Police Officers Basic Training (Act 120) certification. Successful applicants will complete required physical testing and enter 30 weeks of training conducted at the Stackhouse school located in Bellefonte, Centre County that includes field training alongside seasoned WCOs. Trainees will assist with investigations, patrol regions, participate in public outreach events and stock waterways.
Applicants must meet the following basic criteria: Pennsylvania resident; Possess a valid driver's license; Be at least 21 years of age; High School graduate or GED; Pass a criminal background check; and Municipal Police Officers Basic Training Certification. For more information please visit www.fishandboat.com.

Housing Alliance of Pennsylvania Hiring
The Housing Alliance of Pennsylvania is currently looking for two highly motivated, self-starter individuals to be part of its Housing Capacity VISTA team, working on affordable housing, homelessness, eviction, and blight issues across Pennsylvania. The VISTA team will help the Housing Alliance build its capacity in working with rural communities and mid-size cities. The VISTA Team will receive direction and one-on-one support from the Housing Alliance staff but must be able to work independently, communicate effectively and compassionately with members of the Pennsylvania's communities, and work independently. One VISTA member will work from the Housing Alliance's Pittsburgh office and one will work from the Philadelphia office. VISTAs serve full-time for one year, beginning on September 8, 2020.
Interested applicants can submit cover letters and resumes to kate@housingalliancepa.org by June 12. Please indicate in your cover letter if you are applying for the VISTA member position located in the Housing Alliance's Philadelphia or Pittsburgh office.
The Housing Alliance of Pennsylvania is also seeking a Housing and Civic Engagement Coordinator. This position is responsible for coordinating advocacy by people with lived experience and the organizations that serve them. The position can be based in the Housing Alliance's Philadelphia, Pittsburgh or Harrisburg offices or can be a remote position located anywhere in Pennsylvania.
Interested applicants can submit a cover letter and resume to info@housingalliancepa.org.
For more information on these positions please visit https://housingalliancepa.org/.

Pandemic Emergency Unemployment Compensation Program
The Pennsylvania Department of Labor & Industry (L&I) recently launched the Pandemic Emergency Unemployment Compensation (PEUC) program to provide an additional 13 weeks of benefits to people who exhaust their regular unemployment compensation (UC).
PEUC is included in the new federal unemployment compensation benefits provided by the federal Coronavirus Aid, Relief, and Economic Security (CARES) Act. Pennsylvania has implemented all programs under the new CARES Act and paid out nearly $7.4 billion in total unemployment benefits since mid-March.
Important information about the extended benefits program follows and has also been emailed or mailed via the United States Postal Service to all individuals who potentially qualify for PEUC.
Eligibility
You are eligible for PEUC if you:
Are unemployed between March 29 through December 26, 2020;
Have exhausted your regular state or federal benefits with week ending July 6, 2019 or later;
Are currently not eligible for state or federal unemployment benefits; and
Are able and available to work and actively seeking work, except for COVID-19-related reasons including illness, quarantine, or "stay at home" orders.
How to Receive PEUC
If you have an open UC claim but exhausted all of your benefits, the 13 additional weeks will automatically be added to your existing claim. Log in this week to file biweekly claims for prior weeks, back through the week ending April 4 (if applicable).
If your benefit year has expired then you must submit an application online.
If you don't have access to computers or the internet, you can have a loved one or friend print the paper application for you to complete and submit via mail. L&I is also in the process of mailing paper copies of the application to individuals who might need them.
Biweekly claims and payments work the same way as for regular UC benefits.
PEUC Weekly Benefit Amount
Your PEUC weekly benefit amount is the same as your regular UC weekly benefit rate.
Your weekly benefit rate is based on your reported earnings during the base year (the first four of the last five completed quarters). You must also have over 18 credit weeks (weeks during which you earned $116 or more) in your base year to be eligible for UC.
Extra $600 on PEUC
You will receive an additional $600 per week from the federal Pandemic Unemployment Compensation (FPUC) program. Anyone collecting any type of UC, including PEUC, will receive the extra $600 per week in addition to your weekly benefits as calculated.
FPUC payments began the week ending April 4, 2020 and will end July 25, 2020. These payments will be backdated for eligible individuals and paid in one lump sum.
You will receive the extra $600 FPUC payments the week after your PEUC payments.

PA Treasury to Temporarily Pay All PUA Claims by Check to Combat Recent Fraud
As I wrote about in the May 26 edition of my News & Views, scammers have been trying to bilk COVID-19 unemployment benefits through the new Pandemic Unemployment Assistance (PUA) program. This is the unemployment program developed through the federal CARES Act that pays benefits to self-employed, independent contractors, and gig workers. Over the past week it has been determined that widespread fraudulent activity has taken place in at least 8 states, including Pennsylvania. As a result, the PA Treasury Department will issue payments for all PUA-related claims by paper check, delivered to the claimant's home address on file. This will include payments for PUA-associated Federal Pandemic Unemployment Compensation (FPUC) claims. No other form of unemployment compensation or associated FPUC payments will be affected, at this time.
This short-term measure substantially increases the likelihood that payments will go only to individuals who have properly applied, and been approved, for benefits. While necessary to combat the fraudulent activity, check payments delivered by mail often arrive later to the recipient than electronic deposits. Individual claimants should note that mail delivery times vary widely across the Commonwealth, and that checks will typically arrive 3 to 5 business days later than an electronic deposit would. This change in payment method will last up to two weeks, while L&I works to implement new safeguards to enable the resumption of electronic deposits.
The fraud in question is reportedly occurring at a large scale, and involves a scheme in which personal identifying information is being used to establish phony bank accounts into which criminals seek to have the state make electronic deposits of unearned PUA benefits. At this time, there is no indication that the stolen personal identifying information originated from a Commonwealth agency and is believed to have been obtained from outside sources. Treasury is currently referring an investigation of this matter to appropriate state and federal law enforcement agencies.

In some instances, Treasury routinely sends initial payments to recently approved applicants by check—regardless of the payment mode selected by the applicant—in order to accelerate the delivery of the first funding to individuals in need, since the set-up period for electronic payment can take longer. In some cases, checks were received at home addresses of innocent individuals whose identities (including the addresses, which were used in fraudulent applications for benefits) had been stolen, bringing the systematic extent of the fraud to light as many of these individuals reached out to Treasury or L&I, legislative offices, or others, to report receiving payments they had not sought.
Individuals who receive any benefit payments for which they have not been approved should do the following:
An individual who receives a paper check in the mail and did not file for unemployment benefits in Pennsylvania should not cash the checks. The checks should be returned to:
Department of Treasury Comptroller's Office
Attn: Mark Accorsi
Room 113, Finance Building
Harrisburg, PA 17120
Anyone who receives a direct deposit and did not file for unemployment benefits in Pennsylvania should not use the funds. The funds should be returned to:
Department of Labor & Industry
651 Boas St., Room 500
Harrisburg, PA 17121
Pennsylvanians who receive unemployment compensation benefits that they did not file for are encouraged to check whether their identity has been compromised; and take advantage of free credit reports offered by TransUnion, Equifax, and Experian through April of 2021, at AnnualCreditReport.com.
Labor and Industry telephone numbers:
888-313-7284 – standard Unemployment Compensation
855-284-8545 – Pandemic Unemployment Assistance (PUA)
Treasury Unemployment Compensation phone number:

Staying Safe
As Allegheny County is currenlty in the Yellow Phase, and businesses begin re-opening, please continue to observe existing worker and building safety orders.
I want to again commend all the frontline workers like health care professionals, first responders, police, firefighters, grocery and pharmacy workers among others who have been providing essential services in a dangerous environment. I thank these workers for all they are doing and encourage everyone to express your gratitude form a safe distance, when encountering these individuals.

Offices of State Senator Wayne D. Fontana
Brookline District
1039 Brookline Boulevard
Suite 2
Pittsburgh, PA 15226
Phone: 412-344-2551
Weekdays – 9 am – 5 pm
Harrisburg
543 Main Capitol | Box 203042
Harrisburg, PA 17120
Phone: 717-787-5300
Fax: 717-772-5484
Weekdays – 8:30 am – 5 pm
Kennedy Township
Kenmawr Plaza
524 Pine Hollow Road
Kennedy Twp, PA 15136
Phone: 412-331-1208
Weekdays – 10 am – 4 pm

Beechview Satellite
1660 Broadway Avenue
Pittsburgh, PA 15216
By Appointment