Tele-Town Hall on Mail-in Voting
This Friday, May 15 at 11 a.m. I will be holding a Tele-Town Hall to discuss mail-in voting, including legislation I have authored that would change Pennsylvania's voting system so that all elections are conducted entirely by mail. I will be joined by Secretary of the Commonwealth, Kathy Boockvar and Allegheny County Executive, and Chair of the County's Election Board, Rich Fitzgerald.
To particpate in Tele-Town Hall, click here.
To listen live on your phone, computer or tablet visit https://vekeo.com/senatorfontana/.

Allegheny County to Move to Yellow Phase of Reopening this Friday
Governor Wolf announced last week that Allegheny County is among 13 Pennsylvania counties that will move to the yellow phase of reopening at 12:01 a.m. on Friday, May 15, joining Armstrong, Bedford, Blair, Butler, Cambria, Fayette, Fulton, Greene, Indiana, Somerset, Washington and Westmoreland Counties.
The purpose of the Yellow Phase is to begin to power back up the economy while keeping a close eye on the public health data to ensure the spread of disease remains contained to the greatest extent possible. This phase sets the following restrictions:
Telework must continue where feasible

Businesses with in-person operations must follow businesses and building safety orders

Child care open with worker and building safety orders
Congregate care and prison restrictions in place

Schools remain closed for in-person instruction

Stay-at-home restrictions lifted in favor of aggressive mitigation

Large gatherings of more than 25 prohibited

In-person retail allowable, curbside and delivery preferable

Indoor recreation, health and wellness facilities and all entertainment remain closed
Restaurants and bars limited to carry-out and delivery only

All businesses must follow CDC and Department of Health guidance for social distancing and cleaning

Monitor public health indicators, adjust orders and restrictions as necessary
The governor's full, detailed three phase reopening plan can be viewed by clicking here.

Self-employed and Others Can Now File for Backdated PUA Benefits
Eligible self-employed, independent contractors, gig workers and others not normally eligible for regular unemployment compensation (UC) are now able to file backdated claims through the new Pandemic Unemployment Assistance (PUA) website.
The new PUA system, which launched its first phase on April 18, was completed on May 7 and is now fully operational. The Pennsylvania Department of Labor & Industry (L&I) opted to roll out the system in two phases to collect as many applications ahead of time as possible so that payments could be made quickly after the website's completion. To date, more than 174,000 new PUA claims have been filed.
Important information follows about the new PUA system and the process to file for previous weeks of unemployment and weekly certifications moving forward, and more.
Backdated PUA Claims and Payments
PUA claims can be backdated to January 27, 2020 or to the first week you were unemployed due to COVID-19, whichever of the two dates is later.
The system will backdate your claim to when you first became unemployed, as reported by you when you enter your last day of work.
You will NOT receive a confirmation email after submitting your initial PUA claim. Your determination information will be available in your dashboard on the PUA website.
Payments will be made in one lump sum either via direct deposit or to a UC-issued debit card through U.S. Bank, whichever method you chose when you applied.
If you're eligible, approved and have no issues with your PUA claim, you should receive your first lump sum payment within one week or less after filing backdated claims.
Weekly Certifications and Payments
Moving forward, claimants MUST file their PUA certifications WEEKLY to get paid. You will receive a one-week grace period if you miss filing your weekly certification.
An unemployment week is Sunday through Saturday, so the first day you can file your weekly certification is on a Sunday.
You don't have to file on Sunday – you can file your weekly certification any day Sunday through Friday.
You can't file for future weeks, only for the prior week(s).
Your very first payment – whether it's the backdated lump sum payment or a regular weekly payment – will arrive within one week or less after you file your first certification.
Your regular weekly payments will arrive within three business days after you file your weekly certification.
The maximum weekly PUA benefit rate is $572. The minimum weekly amount is $195.
Additional $600 Per Week Payments
If you receive PUA payments, you will automatically receive an extra $600 per week through the Federal Pandemic Unemployment Compensation (FPUC) program.
You will receive your first FPUC payment the week after your first PUA payment. You will receive your PUA and FPUC payments separately.
FPUC benefits are for the week ending April 4, 2020 through the week ending July 25, 2020. These payments will also be backdated and paid in one lump sum.
Important Information About the Newly Completed PUA Website
You can refer to the PUA System Guide or the following helpful screenshot guides to guide you through the process:
You do NOT need a Personal Identification Number (PIN) – you will have a username and password that you create.
Manage everything through your PUA dashboard on the website through www.uc.pa.gov/PUA – check on your claim and payment status, upload documents, etc.
Currently, questions about your claims should be emailed to UCPUA@pa.gov. You should expect to receive a response within 7 days. This email address is for PUA questions only. Any emails unrelated to PUA will not receive a response.
A new phone line will soon be available as well – please continue to check www.uc.pa.gov/PUA.
Applications Still Being Accepted for PUA Benefits
If you haven't yet applied for PUA benefits and are eligible, please apply online.
Eligible individuals who have been negatively impacted by COVID-19 include:

Self-employed;
Independent contractors;
Gig workers;
Clergy and those working for religious organizations; and
People without sufficient work history to qualify for regular UC.
PUA Benefits
In general, PUA, provides up to 39 weeks of unemployment benefits. The benefit may not be more than the state's maximum weekly benefit rate for regular UC of $572 and may not be less than half the state's average weekly benefit amount of $195. Payments will be backdated to Jan. 27, 2020 or the first week you were unable to work due to COVID-19 (whichever of the two dates is later) and benefits will not be payable for weeks of unemployment after Dec. 31, 2020.

Emergency Assistance Program to Help Low-Income Families Amidst COVID-19
The Pennsylvania Department of Human Services (DHS) has launched an Emergency Assistance Program (EAP) to help low-income families who lost wages and are experiencing financial challenges due to the COVID-19 pandemic. Families who qualify will be eligible for a one-time payment to assist them in meeting basic needs and help them secure more stable financial footing in the future.
The program will use existing Temporary Assistance for Needy Families (TANF) funds to provide support to low-income families who qualify. The program will be open to families with a child under the age of 18 or a woman who is currently pregnant. In order to qualify, families must have at least one person in the household who was employed as of March 11, 2020 and experienced an hour or wage reduction of at least 50 percent for two weeks or more or lost employment entirely due to the public health crisis.
Families must meet income limits of 150 percent of the Federal Poverty Guidelines and have no more than $1,000 in a savings or checking account.
| | | |
| --- | --- | --- |
| Household Size | Monthly Income Limit | Annual Income Limit |
| 1 | $1,595 | $19,140 |
| 2 | $2,155 | $25,860 |
| 3 | $2,715 | $32,580 |
| 4 | $3,275 | $39,300 |
| 5 | $3,835 | $46,020 |
| 6 | $4,395 | $52,740 |
| 7 | $4,955 | $59,460 |
| 8 | $5,515 | $66,180 |
| 9 | $6,075 | $72,900 |
| 10 | $6,635 | $79,620 |
| Each Additional Person | $560 | $6,720 |
Qualifying families will be issued a one-time grant equal to two months of TANF benefits. The average monthly TANF grant for a family of three is $403, so a qualifying family of three would receive a one-time grant of $806 through the program. Information on monthly grants by household size and county is available online by clicking here. Funds will be issued through an electronic benefit transfer (EBT) card.
The emergency assistance application is available online at www.compass.state.pa.us. Families should be prepared to submit all necessary documentation with their application to expedite processing and avoid having to apply again. The application window opened yesterday and will run through June 12 or until all funds are expended.
As a reminder, Pennsylvanians can apply for Medicaid, the EAP, the Supplemental Nutrition Assistance Program (SNAP), the Children's Health Insurance Program (CHIP), and other public assistance programs at any time through DHS' online COMPASS application at www.compass.state.pa.us. Those who prefer to submit paper applications can mail documents to their local County Assistance Office (CAO) or leave documents in a CAO's secure drop box, if available. CAOs are still closed to the public, but mail and drop boxes are being monitored so applications can be processed.

Voter Registration Deadline
If you are planning to vote in the upcoming June 2 primary election and you are not registered to vote, I want to remind you that the deadline to register in order to be able cast a ballot is this Monday, May18.

The quickest way to register is to do so online by visiting www.votespa.com. You may also click here to complete an online voter registration form.
I also want to remind voters that anyone who wants to vote by mail in the upcoming June 2 primary can apply for a mail-in ballot online at www.votespa.com and can track the status of their application by clicking here. The deadline to apply for mail-in ballots for the primary is May 26. Applications must be received by the Allegheny County Elections Division by 5 p.m. The deadline to return completed mail-in ballots is 8 p.m. on Election night, June. 2.
For the June 2 primary election, the Allegheny County Division of Elections will be mailing all registered voters in Allegheny County who have not yet applied for either a traditional absentee ballot or a new mail-in ballot, a mail-in ballot application. The mailing will include the mail-in ballot application and a postage-paid, addressed envelope to return that application to the Elections office.
Moving forward, as I wrote about in the April 28 edition of my News & Views, I have introduced Senate Bill 1129 (SB 1129), that would change Pennsylvania's voting system so that all elections are conducted entirely by mail beginning with this November's general election. To read more about my proposal, please click here.
Did You Know…
Did you know as of May 4, 2020 more than 948,000 applications for mail-in and absentee ballots had been received by the Pennsylvania Department of State?

Protections from Foreclosures and Evictions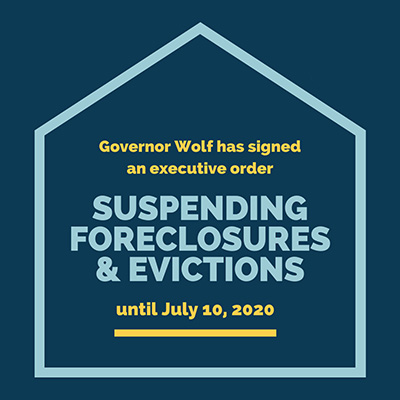 Last week, Governor Wolf along with Attorney General Josh Shapiro announced that the governor had signed an executive order that protects Pennsylvanians from foreclosures or evictions through July 10. The action builds on a Pennsylvania Supreme Court order which closed court eviction proceedings until May 11 and ensures no renter or homeowner will be removed from their home for 60 more days.
In almost all circumstances, renters and homeowners are required to continue making monthly payments. If you are a Pennsylvanian struggling to make your monthly payments, you should contact your landlord or mortgage servicer immediately.
The Wolf Administration provided recommendations last week to stem foreclosures, evictions and help people experiencing homelessness. The Department of Human Services activated the commonwealth's Sheltering Taskforce and is working with local and state partners to coordinate resources for people without housing. The Department of Community and Economic Development is also accepting applications for Emergency Solutions Grants to assist with the rapid rehousing of people experiencing homelessness, street outreach, homelessness prevention, and emergency shelter activities.
Pennsylvania Housing Finance Agency (PHFA) is also taking action to help homeowners and renters. The agency has stopped foreclosures and evictions and is offering forbearances with late fee waivers to homeowners with a PHFA mortgage who are experiencing a financial hardship because of COVID-19. PHFA also developed a list of renters' rights and responsibilities to clarify the situation for apartment residents and is working with landlords and property managers to distribute it to renters. PHFA is also encouraging Low-Income Housing Tax Credit building managers to be flexible on rent payments and to waive late fees for tenants whose employment has been affected by the crisis.
More helpful information is available from the following:

PHEAA State Grant, FAFSA Deadlines
As the Vice-Chair of the Pennsylvania Higher Education Assistance Agency (PHEAA) I want to remind student and families that the extended deadline to apply for a Pennsylvania State Grant expires this Friday, May 15. Students planning on attending in the 2020-21 Academic Year anytime during the fall, winter or spring terms are eligible to apply. Find more information at https://www.pheaa.org/about/covid-19.shtml.
In order to apply, students and families must complete the Free Application for Federal Student Aid (FAFSA) which determines eligibility for the PA State Grant Program and most other forms of student aid, including Federal Pell Grants and low-cost federal student loans, in addition to many forms of campus-based aid. The FAFSA can be applied for online by clicking here.

Commonwealth Civilian Coronavirus Corps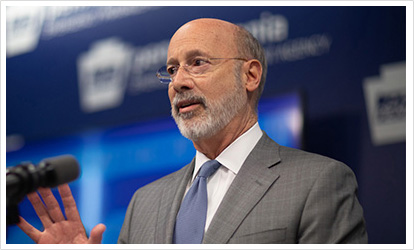 As Pennsylvania plans to safely reopen the economy and recover from COVID-19, Governor Wolf recently announced the creation of the Commonwealth Civilian Coronavirus Corps, a public service initiative that will support efforts this fall to increase testing and contact tracing and provide critical new job opportunities in the public health sector.
The Wolf Administration's continued measured and careful efforts to reopen Pennsylvania will depend on our ability to expand the availability of COVID-19 testing and develop a robust infrastructure to conduct surveillance and contact tracing. This work will allow Pennsylvanians to effectively monitor and respond to new cases and quantify mitigation efforts. It will help our phased reopening efforts while ensuring that the health care system does not become overwhelmed and that the transmission of disease continues to slow.
As Pennsylvania plans to ramp up these efforts in the coming months, the Commonwealth Civilian Coronavirus Corps would bring these efforts to fruition by:
Partnering with local public health agencies, community organizations, and the nonprofit community to expand
Pennsylvania's existing testing and contact tracing initiatives;
Leveraging additional resources to fund testing and contact tracing initiatives;
Exploring creative ways to recruit experienced Pennsylvanians with health care and public health experience to support this initiative; and
Coordinating existing resources deployed by the commonwealth, including community health nurses and county health departments who are currently conducting testing and contact tracing throughout the state.
The Commonwealth Civilian Coronavirus Corps will also provide for a unique opportunity for Pennsylvania to recruit and train COVID-19-impacted dislocated and unemployed workers into public service for contact tracing roles, which would address Pennsylvania's health and economic needs.
To foster this new workforce, the Commonwealth Civilian Coronavirus Corps would:
Engage partners in the workforce development system, existing allied health training programs, and AmeriCorps programs to build and strengthen a public health workforce across the commonwealth;
Leverage existing workforce development resources to recruit, train, and connect the public health workforce with employment opportunities; and
Engage public health and health care employers to connect trained workers with long-term career opportunities.

PWSA Provides Guidance on Reopening for Building Owners, Managers

As Pittsburgh businesses prepare to reopen, property owners may be readying their buildings for occupancy. The Pittsburgh Water & Sewer Authority (PWSA) wants to remind customers that the water quality in the pipes within their building may have degraded during vacancy, causing unsafe conditions. Under normal operations, the regular use of water maintains water quality within the building's plumbing. When not in use, the water becomes stagnant and could result in an increase in toxic metals from pipe corrosion, dissipation of disinfectant, or lack of maintenance of essential water system components.
A water management plan is an essential step in the process of reopening a business to employees and the public. Each building system is unique, and building owners may want to consult a professional to determine any necessary actions. The CDC, Environmental Science and Policy Research Institute (ESPRI), and International Code Council (ICC) each offer guidance on how to lessen the risks associated with water systems within buildings that have been temporarily vacant.
According to the Center for Disease Control (CDC), "Stagnant or standing water can cause conditions that increase the risk for growth and spread of Legionella and other biofilm-associated bacteria. When water is stagnant, hot water temperatures can decrease to the Legionella growth range (77–108°F, 25–42°C). Stagnant water can also lead to low or undetectable levels of disinfectant, such as chlorine. Ensure that your water system is safe to use after a prolonged shutdown to minimize the risk of Legionnaires' disease and other diseases associated with water."
PWSA is monitoring disinfectant levels and proactively flushing the public distribution system to maintain water quality for building systems. PWSA's drinking water treatment protocol includes filtration and disinfection procedures that are effective in removing viruses. PWSA water is safe to drink and to use for personal hygiene activities.
Internal plumbing and building system questions can be directed to the Allegheny County Health Department Plumbing Division. Water treatment questions can be directed to the PWSA.

At-Home Resources
In an effort to help parents and educators with online learning, Penn State Center Pittsburgh has launched a new webpage for their at-home student activities. The webpage, which can be accessed by clicking here includes mental health resources, science experiments, free art performances, and much more.
To learn more about Penn State Center Pittsburgh and the impact they make on our community, please visit them online at https://pittsburgh.center.psu.edu/.

Free Tax Preparation for Frontline Workers
During the month of May, H&R Block is offering their free, expert-prepared virtual tax service for all police, firefighters, emergency medical technicians and health care workers as a small thank you for the tireless work they are doing to help people and communities get through the COVID-19 crisis.
These frontline workers can file both federal and state tax returns for free through H&R Block's Tax Pro Go, their expert-prepared on-the-go service. Frontline workers can simply visit www.hrblock.com/frontline and click the banner or any price to get started. They will be asked to upload a photo of a work ID to validate they are a police officer, firefighter, EMT or health care worker, and then the tax professional will apply the offer.

Favorite Recipes?
Do you have a favorite recipe? A favorite dish you like to prepare?
As we continue to adhere to the current stay-at-home order issued by the governor, many are eating more meals at home than usual, and many are trying to stretch food out as long as possible to reduce trips to the grocery store and reduce costs. As such, maybe you are looking to try something new?
I encourage anyone who would like to share a favorite recipe with others to please do so by emailing fontana@pasenate.com and we'll share through this forum. This week, I'd like to present a recipe that was submitted by Colleen from my staff:
Blondies
-1 ½ cup light brown sugar
-1 cup butter
-2 ¼ cups flour
-¾ teaspoon baking soda
-½ teaspoon salt
-2 eggs
-1 teaspoon vanilla extract
-1 ½ cups chocolate chips
Preheat oven to 375 degrees. Grease a 9x13 inch baking dish. Put sugar in large bowl. Melt the butter and stir into the sugar until smooth.
In another bowl, whisk the flour, baking soda and salt together.
Beat the eggs and vanilla into the sugar mixture. Add the flour mixture and mix until a smooth, thick batter forms. Fold in the chocolate chips. Spoon the batter into the baking dish and spread evenly to fill the dish.
Bake for 25 minutes.
Cool and cut into squares.

Fontana Fact
For decades one of the most popular outdoor games that both children and adults alike have played in backyards and streets has been WIFFLE ball. The WIFFLE ball was invented in 1953 by David N. Mullany who one summer day in Connecticut watched his son and a friend play a game with perforated plastic golf ball and a broomstick handle. After watching the kids try to throw a curveball and strain their arms in the process, Mr. Mullany designed a plastic ball with eight oblong perforations. It was easy to make curve and harder to hit, with lots of strikeouts. In his neighborhood at the time, kids referred to strikeouts as "wiffs" so the new ball became known, and later federally trademarked, as a WIFFLE ball.

Offices of State Senator Wayne D. Fontana
Brookline District
1039 Brookline Boulevard
Suite 2
Pittsburgh, PA 15226
Phone: 412-344-2551
Weekdays – 9 am – 5 pm
Harrisburg
543 Main Capitol | Box 203042
Harrisburg, PA 17120
Phone: 717-787-5300
Fax: 717-772-5484
Weekdays – 8:30 am – 5 pm
Kennedy Township
Kenmawr Plaza
524 Pine Hollow Road
Kennedy Twp, PA 15136
Phone: 412-331-1208
Weekdays – 10 am – 4 pm

Beechview Satellite
1660 Broadway Avenue
Pittsburgh, PA 15216
By appointment