Mail-in Ballot Deadlines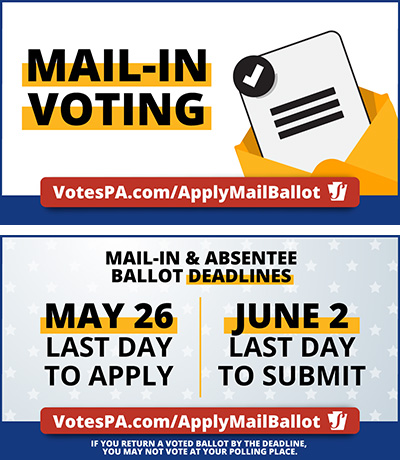 I want to remind voters that anyone who wants to vote by mail in the upcoming June 2 primary can apply for a mail-in ballot online at www.votespa.com.  The deadline to apply for mail-in ballots for the primary is next Tuesday, May 26. Applications must be received by the Allegheny County Elections Division by 5 p.m.  The deadline to return completed mail-in ballots is 8 p.m. on Election night, June. 2.
For the June 2 primary election, the Allegheny County Division of Elections will be mailing all registered voters in Allegheny County who have not yet applied for either a traditional absentee ballot or a new mail-in ballot, a mail-in ballot application. The mailing will include the mail-in ballot application and a postage-paid, addressed envelope to return that application to the Elections office.
Anyone who has requested a mail-in ballot or has already voted by mail, can track the status of their ballot at www.votespa.com or by clicking here. Simply enter your name, date of birth and county of residence and you can view the status of your ballot.
Moving forward, as I wrote about in the April 28 edition of my News & Views, I have introduced Senate Bill 1129 (SB 1129), that would change Pennsylvania's voting system so that all elections are conducted entirely by mail beginning with this November's general election. To read more about my proposal, please click here.

New Polling Places
While voting by mail is an option for any voter in Pennsylvania, and is being encouraged, the Allegheny County Elections Division issued a list last week of consolidated polling place locations for the June 2 primary election. The Elections Division had submitted a resolution passed by the Board of Elections to the Pennsylvania Department of State with its outline of a consolidation plan on April 28.
As determined by the Board of Elections, while there is one location listed, sites may include multiple polling places within that location so that physical distancing and other mitigation measures may be followed on Election Day.
Below is a listing of consolidated polling place locations for municipalities within the 42nd Senatorial District that will be used for the June 2 primary election. Households with eligible voters will receive a postcard prior to Election Day advising of their specific polling place location. For additional information and detail as it becomes available, please visit www.alleghenycounty.us/elections and select the June 2 Primary Election Information tile. Election updates are also provided through Allegheny Alerts. You can create a free subscription at https://alleghenycounty.us/alerts and select the "Elections" subscription.
| | | |
| --- | --- | --- |
| Municipality | Polling Place Location | Street Address |
| Avalon | Avalon Middle School | 721 California Ave. |
| Baldwin Twp. | Baldwin Twp. Municipal Building Upper Level | 10 Community Park |
| Bellevue | Bellevue Municipal Building | 537 Bayne Ave. |
| Ben Avon | Ben Avon Vol. Fire Dept. | 7219 Church Ave. |
| Carnegie | Carnegie Municipal Building | One Veterans Way |
| Castle Shannon | Myrtle Avenue Elementary School | 3724 Myrtle Ave. |
| Coraopolis | Keith-Holmes VFW Post 402 | 412 Mulberry St. |
| Crafton | American Legion Frank R. Kirk Post 145 | One American Legion Plaza |
| Dormont | Thomas R. Lloyd Recreation Center | 1801 Dormont Ave. |
| Green Tree | Green Tree Volunteer Fire Department | 825 Poplar St. |
| Heidelberg | Heidelberg Volunteer Fire Department | 456 First St. |
| Ingram | Ingram Municipal Building | 40 West Prospect Ave. |
| Kennedy | David E. Williams Middle School | 60 Gawaldo Dr. |
| McKees Rocks | Holy Ghost Byzantine Catholic | 225 Olivia St. |
| Neville | Neville Island Volunteer Fire Department | 5009 Grand Ave. |
| Reserve | Reserve Township Volunteer Fire Department | 33 Lonsdale St. |
| Scott | Chartiers Valley Intermediate School | 2030 Swallow Hill Rd. |
| Sharpsburg | Sharpsburg Municipal Building | 1611 Main St. |
| Stowe | Stowe Municipal Building | 555 Broadway Ave. |
| | | |
| City of Pittsburgh | Polling Place Location | Street Address |
| 1st Ward | Ebeneezer Baptist Church | 2001 Wylie Ave. |
| 2nd Ward | Ebeneezer Baptist Church | 2001 Wylie Ave. |
| 3rd Ward | Ebeneezer Baptist Church | 2001 Wylie Ave. |
| 5th Ward | Pittsburgh Weil School | 2250 Centre Ave. |
| 6th Ward | Teamsters Temple Banquet Hall | 4701 Butler St. |
| 9th Ward | Teamsters Temple Banquet Hall | 4701 Butler St. |
| 10th Ward | Pittsburgh Sunnyside School | 4801 Stanton Ave. |
| 18th Ward | Carrick High School | 125 Parkfield St. |
| 19th Ward | Brashear High School | 590 Crane Ave. |
| 20th Ward | Langley High School | 2940 Sheraden Blvd. |
| 21st Ward | Pittsburgh Manchester | 1612 Manhattan St. |
| 22nd Ward | Pittsburgh Manchester | 1612 Manhattan St. |
| 23rd Ward | Perry Traditional Academy | 3875 Perrysville Ave. |
| 24th Ward | Perry Traditional Academy | 3875 Perrysville Ave. |
| 25th Ward | Perry Traditional Academy | 3875 Perrysville Ave. |
| 26h Ward | Perry Traditional Academy | 3875 Perrysville Ave. |
| 27th Ward | Perry Traditional Academy | 3875 Perrysville Ave. |
| 28th Ward | Langley High School | 2940 Sheraden Blvd. |
| 30th Ward | Carrick High School | 125 Parkfield St. |
| 32nd Ward | Carrick High School | 125 Parkfield St. |
Legislation to Assist Nursing Homes, Fire Companies, EMS
Last week, the Pennsylvania Senate unanimously passed Senate Bill 1122 (SB 1122) which appropriated over $500 million for Medical Assistance Long-Term Care, Long-Term Managed Care and Community HealthChoices. Additionally, the legislation creates a COVID-19 Crisis Fire Company and Emergency Medical Services (EMS) Grant Program that would appropriate federal emergency funding to be administered by the Pennsylvania Emergency Management Agency (PEMA).  This emergency funding is needed because fire companies across the commonwealth are unable to conduct their normal fundraising activities, which are credited with keeping fire companies afloat, because of the pandemic. Grants provided under this program will be used by fire and EMS companies to provide services during the pandemic.  Funds of any volunteer firefighters' relief association may be spent to pay for expenses of cleaning, sanitizing and disinfecting equipment and property. 
The grants will be given to every eligible fire and EMS company that received a grant award during the 2019-20 fiscal year under the Fire Company Grant Program.  A fire or EMS company that did not apply for or receive a Fire Company Grant during the last fiscal year can still apply for and will receive a COVID-19 Crisis grant. Whatever the grant amount was that a company received under the Fire Company Grant Program will be what they are given under the crisis grant which usually range between $9,000 and $12,000.
The bill is currently in the House Appropriations Committee awaiting consideration.         
Pandemic Emergency Unemployment Compensation Program Launches
The Pennsylvania Department of Labor & Industry (L&I) has launched the Pandemic Emergency Unemployment Compensation (PEUC) program to provide an additional 13 weeks of benefits to people who exhaust their regular unemployment compensation (UC). 
PEUC is included in the new federal unemployment compensation benefits provided by the federal Coronavirus Aid, Relief, and Economic Security (CARES) Act. Pennsylvania has implemented all programs under the new CARES Act and paid out nearly $7.4 billion in total unemployment benefits since mid-March.
Important information about the extended benefits program follows and has also been emailed or mailed via the United States Postal Service to all individuals who potentially qualify for PEUC.  
Eligibility 
You are eligible for PEUC if you:
Are unemployed between March 29 through December 26, 2020;
Have exhausted your regular state or federal benefits with week ending July 6, 2019 or later;
Are currently not eligible for state or federal unemployment benefits; and
Are able and available to work and actively seeking work, except for COVID-19-related reasons including illness, quarantine, or "stay at home" orders.       
How to Receive PEUC
If you have an open UC claim but exhausted all of your benefits, the 13 additional weeks will automatically be added to your existing claim. Log in this week to file biweekly claims for prior weeks, back through the week ending April 4 (if applicable).
If your benefit year has expired then you must submit an application online.
If you don't have access to computers or the internet, you can have a loved one or friend print the paper application for you to complete and submit via mail. L&I is also in the process of mailing paper copies of the application to individuals who might need them.
Biweekly claims and payments work the same way as for regular UC benefits.
PEUC Weekly Benefit Amount:
Your PEUC weekly benefit amount is the same as your regular UC weekly benefit rate.
Your weekly benefit rate is based on your reported earnings during the base year (the first four of the last five completed quarters). You must also have over 18 credit weeks (weeks during which you earned $116 or more) in your base year to be eligible for UC.
Extra $600 on PEUC:
You will receive an additional $600 per week from the federal Pandemic Unemployment Compensation (FPUC) program. Anyone collecting any type of UC, including PEUC, will receive the extra $600 per week in addition to your weekly benefits as calculated.
FPUC payments began the week ending April 4, 2020 and will end July 25, 2020. These payments will be backdated for eligible individuals and paid in one lump sum.
You will receive the extra $600 FPUC payments the week after your PEUC payments.
Pennsylvania Receiving $523 Million in Federal Emergency Funds to Support Schools
The U.S. Department of Education (USDE) has approved Pennsylvania's application for $523.8 million in one-time federal emergency funds to help schools respond to COVID-19 impacts. The Pennsylvania Department of Education (PDE) submitted its Elementary and Secondary School Emergency Relief (ESSER) Fund application to USDE two weeks ago.
Local education agencies (LEAs) can apply to receive their allocation of the funding by clicking here, and can expect to start receiving funds within the next several weeks.
Under the federal Coronavirus Aid, Relief and Economic Security (CARES) Act, at least 90 percent, or $471 million, of the funds will flow through to traditional public schools and charter schools. Each entity will receive an amount proportional to federal Title I-A funds received in 2019 under the Every Student Succeeds Act (ESSA).
LEAs may use ESSER funding for a wide range of purposes, including food service, professional training, technology purchases, sanitization and cleaning supplies, summer and after-school programs, and mental health supports. Funds must be used by September 2022. PDE is urging school entities to prioritize investments for vulnerable students and families, including those living in the deepest poverty, students with disabilities, English learners, migrant students, students experiencing homelessness, and children in foster care.
A list of what each school district and charter school will receive in ESSER can be viewed by clicking here. The remaining ESSER funds will be used for state-level activities to address issues caused by COVID-19. PDE plans to use the funds to support initiatives, including remote learning, that can be designed and implemented with greater economy of scale at the state level than would be possible or practical for LEAs to pursue individually.
PennDOT Using Existing Photos for Driver License, ID Card Renewals
The Pennsylvania Department of Transportation (PennDOT) announced last week that they will use existing photos on file for customers who renew their driver's license and identification card. All customers who renew their driver's license or photo ID card online or through the mail will receive a new product using the most recent photo of that individual that exists in PennDOT's system. No camera cards will be issued to these customers, and they will receive their new product by mail within 15 days. The renewal process is complete when the final product is received.
Non-commercial driver's license and photo ID card holders may renew their product online, providing there are no corrections or changes other than a change of address, by visiting www.dmv.pa.gov. Both non-commercial and commercial drivers may renew their products through the mail.
Individuals who renewed their product on or before May 10, 2020 will receive a camera card in the mail and will need to visit a PennDOT Photo License Center to obtain an updated photo. Additionally, non-U.S. citizens must also visit a driver's license center in person to complete a transaction. For a list of reopened locations, please visit www.dmv.pa.gov.
Expiration dates on driver's licenses, photo ID cards, learner's permits and camera cards scheduled to expire from March 16, 2020 through May 31, 2020, have been extended until June 30, 2020. A Pennsylvania driver's license is valid for four years, expiring on the day after the driver's birthday. PennDOT will continue to send an Invitation to Renew to each driver three months prior to license expiration. Individuals 65 or older have the option of renewing their license every two years, instead of the standard four years.
If a customer's license is nearing expiration and they were planning to get a REAL ID at their time of renewal, they can renew their license or ID and get a standard, "NOT FOR REAL ID PURPOSES" product. The issuance of REAL ID is currently suspended as a mitigation effort in preventing the spread of COVID-19. The U.S. Department of Homeland Security has extended the REAL ID enforcement deadline until Oct. 1, 2021.
Once REAL ID issuance has resumed, customers with a non-REAL ID product can upgrade to a REAL ID and their new product will include any time remaining on their current product, plus an additional four years - customers won't "lose" time that they've already paid for, and after the initial REAL ID product expires, there is no additional fee (beyond regular renewal fees) to renew a REAL ID product.
Driver and vehicle online services at www.dmv.pa.gov are available 24 hours a day, seven days a week and include driver's license, photo ID and vehicle registration renewals; driver-history services; changes of address; driver license and vehicle registration restoration letters; ability to pay driver license or vehicle insurance restoration fee; and driver license and photo ID duplicates. There are no additional fees for using online services.
PennDOT will continue to evaluate these processes and will communicate any changes with the public.
PennDOT Extends Expiration Dates on Vehicle Registrations, Inspections
PennDOT also announced last week that expiration dates for vehicle registrations and safety and emission inspections will be extended for Pennsylvania residents in response to statewide COVID-19 mitigation efforts.
Deadlines on the following products were extended effective May 12, 2020:
Vehicle registrations of all classes which includes, but not limited to, mass transit vehicle registrations, apportioned vehicle registrations, fleet vehicle registrations, dealer plate registrations, temporary registrations and farm exemption certificates scheduled for expire from March 16 through May 31, 2020, the expiration date is now extended through June 30, 2020.
Safety inspections and emissions inspections scheduled to expire from March 16 through May 31, 2020, the expiration date is now extended through June 30, 2020.
Persons with Disabilities parking placards scheduled to expire from March 16 through May 31, 2020, the expiration date is now extended through June 30, 2020.
These extensions are in addition to those announced earlier, related to driver's licenses, photo ID cards, and learner's permits that I wrote about in the May 5 edition of my News & Views.
Additionally, limited services are available at some Driver License and Photo License Centers. For a list of open driver license and photo license centers and the services provided, as well as their hours of operation, please visit www.dmv.pa.gov.
Census Reminder
I want to remind everyone the 2020 Census is ongoing. The Census determines how $675 million in federal funding will be distributed across neighborhoods, towns and cities across the country. That means for every Pennsylvanian who completes the Census brings about $2,000 into our state. Making sure that every person is accurately counted in the Census assures that funds will be available for community grants, Medicaid, the Supplemental Nutrition Assistance Program (SNAP).
The Census also determines electoral districts at the local, state, and federal levels for the next 10 years.
Filling out the 2020 Census has never been easier. In about 10 minutes, the Census can be completed online at www.my2020census.gov, by phone at 1-844-330-2020 or by mail to:
U.S. Census Bureau National Processing Center
National Processing Center
1201 E 10th Street
Jeffersonville, IN 47144
Data collected by the Census is extremely valuable and strong security measures are employed to keep that data safe. When completing the Census, make sure that you are giving your information to the right people. If you are asked for your social security number (SSN), bank or credit card information, money or donations, or anything on behalf of a political party you should be highly suspicious.
All 2020 Census activity is scheduled to be completed by July 31, 2020. With the COVID-19 pandemic effecting the everyday lives of all Americans, it is encouraged that all Pennsylvanians complete the census from their homes online, by mail, or by phone to prevent the need for Census takers to go door to door.
For more information about the 2020 Census in Pennsylvania, visit pa.gov/census.
Did You Know…
Did you know the response rate in Allegheny County thus far to the 2020 Census is roughly 65 percent?
LCB Begins Limited in-Store Public Access
On Friday, as Allegheny County began the Yellow Phase of COVID-19 mitigation efforts, the Pennsylvania Liquor Control Board (LCB) opened Fine Wine & Good Spirits stores with limited in-store public access. A total of 232 Fine Wine & Good Spirits stores in 36 counties are allowing limited in-store public access, including 71 stores in Allegheny County.
The following mitigation efforts will be in place as these stores resume limited in-store public access:
Stores will limit the number of customers in a store at any time, allowing no more than 25 people (employees and customers) in any location and further restricting numbers of customers in smaller stores.
The first hour each store is open each day will be reserved for customers at high risk for COVID-19, including those 65 years of age and older. Voluntary compliance from all customers is encouraged in the interest of protecting the health and safety of our most vulnerable community members.
 Customers and employees will be required to wear masks and practice social distancing, guided by signage throughout the stores. 
Signage will also direct customers to follow one-way patterns to avoid cross-traffic and encourage them to refrain from touching products unless they intend to buy them.
Store employees will perform enhanced and frequent cleaning and disinfecting, and store hours will be modified to ensure appropriate time for cleaning and restocking.
All sales are final, and no returns will be accepted until further notice.
Prior to opening to the public, each location was professionally sanitized, and Plexiglas was installed at registers to provide a physical barrier between employees and customers at checkout. All Fine Wine & Good Spirits employees are being provided masks, gloves and frequent opportunities to wash hands.
Stores that have in-store public access can be viewed by clicking here.
Stores reopening to limited public access will continue offering curbside pickup to the best of their ability, as they operate with limited staff. The LCB will also continue accepting online orders at www.FineWineandGoodSpirits.com.
Favorite Recipes?
Do you have a favorite recipe? A favorite dish you like to prepare?
As we continue mitigation efforts, many are eating more meals at home than usual, and many are trying to stretch food out as long as possible to reduce trips to the grocery store and reduce costs. As such, maybe you are looking to try something new?
I encourage anyone who would like to share a favorite recipe with others to please do so by emailing fontana@pasenate.com and we'll share through this forum. This week, I'd like to present a recipe that was submitted by Jess from my staff:
Roast Chicken - Ingredients:
One 6-8 lb. whole roasting chicken, insides discarded
½ cup low-sodium chicken broth
½ cup dry white wine
¼ cup butter, softened
1 ½ tsp minced garlic
1 tbsp fresh rosemary, minced
1 tbsp fresh thyme, minced
Salt and pepper to taste
½ yellow onion, cut in half
1-2 stalks celery, cut into two-three pieces each
Instructions:
Pre-heat oven to 375. Pat the chicken dry and place in roasting pan. Combine butter, garlic, rosemary, thyme, and desired amount of salt and pepper. Spread butter mixture so it coats the chicken skin. Combine the chicken broth and white wine and poor over the chicken. Place onion and celery inside the chicken cavity. Place in the over to roast, basting the chicken with pan juices periodically, until the chicken reaches an internal temperature of 165 degree F, approx. 2 to 2 ½ hours depending on the size of the chicken.
Fontana Fact
At one time, there were as many as 17 inclines in the City of Pittsburgh. Today, two of them, the Monongahela Incline and the Duquesne Incline are still in operation.
Offices of State Senator Wayne D. Fontana
Brookline District
1039 Brookline Boulevard
Suite 2
Pittsburgh, PA 15226
Phone: 412-344-2551
Weekdays – 9 am – 5 pm
Harrisburg
543 Main Capitol | Box 203042
Harrisburg, PA 17120
Phone: 717-787-5300
Fax: 717-772-5484
Weekdays – 8:30 am – 5 pm
Kennedy Township
Kenmawr Plaza
524 Pine Hollow Road
Kennedy Twp, PA 15136
Phone: 412-331-1208
Weekdays – 10 am – 4 pm

Beechview Satellite
1660 Broadway Avenue
Pittsburgh, PA 15216
By appointment