Allegheny County Progressing in COVID-19 Mitigation Plan
On Friday, Governor Wolf announced that 17 counties would be moving into the green phase of gradual reopening on Friday, May 29. All businesses in these counties will be permitted to reopen – with social distancing measures remaining – however, there will be no limits on social gathering. Several other counties in Southeastern Pennsylvania will be moved from red to yellow status on Friday joining the 49 out of the state's 67 counties that are currently in the yellow phase.
With no new deaths reported on Monday in Allegheny County, I am encouraged and hopeful that Governor Wolf will consider moving our county into the green phase over the next two weeks. It appears that Allegheny County has taken the pandemic seriously as well as the precautions necessary to keep this virus at bay and our numbers prove it. I believe that all businesses can successfully follow guidelines and have ready mitigation plans that keep both their employees and customers safe.
Another thing that should be taken into consideration to place more counties into green should be the state's unemployment rate. The COVID-19 pandemic has not only killed thousands of residents in Pennsylvania but also our jobs. The Commonwealth's unemployment rate was the highest rate in over four decades in April, which equated to almost one-third of our state's labor force.
I understand that many Pennsylvanians are growing frustrated by all of this because I am too. However, this is an unknown territory we are in and many of the elected officials are just trying to do what is best to keep our constituents safe and healthy to the best of our ability. With that being said, I'm growing more and more disappointed at the antics that are taking place in Harrisburg by the Majority Party. They continue to play politics by hand picking select businesses they feel should be allowed to reopen. It is no secret that Governor Wolf will continue to veto those bills because they are unconstitutional. So why does the Majority Party keep wasting the taxpayers time and money? More than ever, this is a time that all political parties should be working together to safely reopen all businesses across Pennsylvania while doctors figure out a way to rid our state of the horrid pandemic.

Main Street Business Revitalization Initiative
Last week, I was proud to co-sponsor a piece of legislation that will direct money received by the Commonwealth to protect small businesses and Pennsylvania jobs.
The proposed legislation will direct $425 million of federal CARES Act funds received by the commonwealth to Pennsylvania Community Development Financial Institutions (CDFIs) to implement a Main Street Business Revitalization Initiative to support small businesses in all 67 counties in Pennsylvania. Grant funding provided to small businesses through local CDFIs would focus on small businesses in the food, hospitality, health and wellness, personal and professional services, retail and childcare sectors. Grant funds to awarded to eligible, main street small businesses can be used by business owners to pay rent, insurance premiums, local taxes, health care premiums as well as for equipment or materials they may need to protect both workers and customers as these small businesses are permitted to reopen.
Many small businesses who have a small number of employees have struggled to get the assistance they need. CDFIs are well-positioned to get these funds into the hands of small business owners quickly, saving the most vulnerable main street businesses that have been shut out of other programs and have been hit hardest by the COVID-19 pandemic.

Property Tax/Rent Rebate Funds Being Distributed Early
The General Assembly recently passed legislation that was signed by the governor that allow rebates from the Property Tax/Rent Rebate program to be distributed early. House Bill 1076 (HB 1076) allows rebates to be issued beginning May 20 to approved applicants instead of the traditional July 1 date of distribution.
The distribution of rebates by the Department of Revenue and Treasury is different than prior years. Rather than a large distribution of rebates on July 1, rebates will be processed and distributed on a first-in-first-out basis. This gradual process means some claimants will receive their rebates earlier than others.
Applicants who included their bank account information on their Property Tax/Rent Rebate application form (PA-1000) will receive their rebates through direct deposit. Applicants who requested a paper check to be mailed to them should expect to receive their payment in the mail.
The Department of Revenue is asking claimants to keep in mind that its main call centers are operating in a limited capacity due to the efforts to prevent the spread of COVID-19 in Pennsylvania. As a result, claimants are encouraged to use online tools and other automated resources to check the status of their rebates or ask a question.
Claimants who already applied for rebates may use the Where's my PA Property Tax/Rent Rebate? tool to check the status of their rebate. You will need your Social Security number, claim year and date of birth to use this tool.
Call 1-888-PATAXES to check the status of your rebate. This automated toll-free service is available 24 hours a day. You will need your Social Security number, date of birth and the anticipated amount of your rebate to use this service.
Claimants who included their phone number on their Property Tax/Rent Rebate Program application form (PA-1000) will receive automated calls from the Department of Revenue updating them on the status of their claim. Claimants should know that these automated phone calls require no further action. They will not be asked to key in any numbers or to provide any additional information.
Claimants can visit the department's Online Customer Service Center to find helpful tips and answers to commonly asked questions about the Property Tax/Rent Rebate Program. The Online Customer Service Center also allows you to submit a question to a Department of Revenue representative through a secure process that is similar to sending an email.
For eligible applicants who have yet to file their Property Tax/Rent Rebate Program application, the Department of Revenue is offering help for those who need it. Eligible claimants are encouraged to call 1-888-222-9190 for guidance.
As a reminder, the deadline for older adults and Pennsylvania residents with disabilities to apply for rebates on rent and property taxes paid in 2019 was extended from June 30 to Dec. 31, 2020.
The rebate program benefits eligible Pennsylvanians age 65 and older; widows and widowers age 50 and older; and people with disabilities age 18 and older. The income limit is $35,000 a year for homeowners and $15,000 annually for renters, and half of Social Security income is excluded. It is free to apply for a rebate. The maximum standard rebate is $650, but supplemental rebates for certain qualifying homeowners can boost rebates to $975. The Department of Revenue automatically calculates supplemental rebates for qualifying homeowners.
Did You Know…
Did you know the Property Tax/Rent Rebate Program is one of five programs supported by the Pennsylvania Lottery and that since the program's 1971 inception, older and disabled adults have received more than $6.9 billion in property tax and rent relief? The rebate program also receives funding from slots gaming.

Mail-in Ballot Application Deadline – TODAY!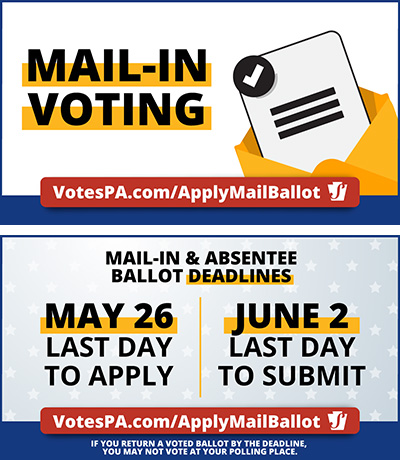 I want to remind voters that anyone who wants to vote by mail in the upcoming June 2 primary can apply for a mail-in ballot online at www.votespa.com. The deadline to apply for mail-in ballots for the primary is today. Applications must be received by the Allegheny County Elections Division by 5 p.m. The deadline to return completed mail-in ballots is 8 p.m. on Election night, June. 2.
Anyone who has requested a mail-in ballot or has already voted by mail, can track the status of their ballot at www.votespa.com or by clicking here. Simply enter your name, date of birth and county of residence and you can view the status of your ballot.
Moving forward, as I wrote about in the April 28 edition of my News & Views, I have introduced Senate Bill 1129 (SB 1129), that would change Pennsylvania's voting system so that all elections are conducted entirely by mail beginning with this November's general election. To read more about my proposal, please click here.

New Polling Places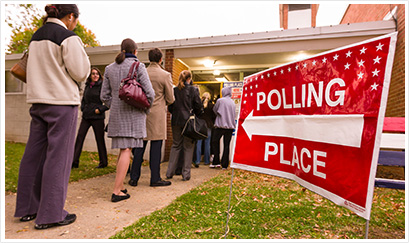 While voting by mail is an option for any voter in Pennsylvania, the Allegheny County Elections Division issued a list last week of consolidated polling place locations for the June 2 primary election. The Elections Division had submitted a resolution passed by the Board of Elections to the Pennsylvania Department of State with its outline of a consolidation plan on April 28.
As determined by the Board of Elections, while there is one location listed, sites may include multiple polling places within that location so that physical distancing and other mitigation measures may be followed on Election Day.
Below is a listing on consolidated polling place locations for municipalities within the 42nd Senatorial District that will be used for the June 2 primary election. Households with eligible voters will receive a postcard prior to Election Day advising of their specific polling place location. For additional information and detail as it becomes available, please visit www.alleghenycounty.us/elections and select the June 2 Primary Election Information tile. Election updates are also provided through Allegheny Alerts. You can create a free subscription at https://alleghenycounty.us/alerts and select the "Elections" subscription.
| | | |
| --- | --- | --- |
| Municipality | Polling Place Location | Street Address |
| Avalon | Avalon Middle School | 721 California Ave. |
| Baldwin Twp. | Baldwin Twp. Municipal Building Upper Level | 10 Community Park |
| Bellevue | Bellevue Municipal Building | 537 Bayne Ave. |
| Ben Avon | Ben Avon Vol. Fire Dept. | 7219 Church Ave. |
| Carnegie | Carnegie Municipal Building | One Veterans Way |
| Castle Shannon | Myrtle Avenue Elementary School | 3724 Myrtle Ave. |
| Coraopolis | Keith-Holmes VFW Post 402 | 412 Mulberry St. |
| Crafton | American Legion Frank R. Kirk Post 145 | One American Legion Plaza |
| Dormont | Thomas R. Lloyd Recreation Center | 1801 Dormont Ave. |
| Green Tree | Green Tree Volunteer Fire Department | 825 Poplar St. |
| Heidelberg | Heidelberg Volunteer Fire Department | 456 First St. |
| Ingram | Ingram Municipal Building | 40 West Prospect Ave. |
| Kennedy | David E. Williams Middle School | 60 Gawaldo Dr. |
| McKees Rocks | Holy Ghost Byzantine Catholic | 225 Olivia St. |
| Neville | Neville Island Volunteer Fire Department | 5009 Grand Ave. |
| Reserve | Reserve Township Volunteer Fire Department | 33 Lonsdale St. |
| Scott | Chartiers Valley Intermediate School | 2030 Swallow Hill Rd. |
| Sharpsburg | Sharpsburg Municipal Building | 1611 Main St. |
| Stowe | Stowe Municipal Building | 555 Broadway Ave. |
| | | |
| City of Pittsburgh | Polling Place Location | Street Address |
| 1st Ward | Ebeneezer Baptist Church | 2001 Wylie Ave. |
| 2nd Ward | Ebeneezer Baptist Church | 2001 Wylie Ave. |
| 3rd Ward | Ebeneezer Baptist Church | 2001 Wylie Ave. |
| 5th Ward | Pittsburgh Weil School | 2250 Centre Ave. |
| 6th Ward | Teamsters Temple Banquet Hall | 4701 Butler St. |
| 9th Ward | Teamsters Temple Banquet Hall | 4701 Butler St. |
| 10th Ward | Pittsburgh Sunnyside School | 4801 Stanton Ave. |
| 18th Ward | Carrick High School | 125 Parkfield St. |
| 19th Ward | Brashear High School | 590 Crane Ave. |
| 20th Ward | Langley High School | 2940 Sheraden Blvd. |
| 21st Ward | Pittsburgh Manchester | 1612 Manhattan St. |
| 22nd Ward | Pittsburgh Manchester | 1612 Manhattan St. |
| 23rd Ward | Perry Traditional Academy | 3875 Perrysville Ave. |
| 24th Ward | Perry Traditional Academy | 3875 Perrysville Ave. |
| 25th Ward | Perry Traditional Academy | 3875 Perrysville Ave. |
| 26h Ward | Perry Traditional Academy | 3875 Perrysville Ave. |
| 27th Ward | Perry Traditional Academy | 3875 Perrysville Ave. |
| 28th Ward | Langley High School | 2940 Sheraden Blvd. |
| 30th Ward | Carrick High School | 125 Parkfield St. |
| 32nd Ward | Carrick High School | 125 Parkfield St. |

COVID-19 Unemployment Scams
The Pennsylvania Department of Labor & Industry's (L&I) anti-fraud division has discovered attempts by scammers to try and bilk COVID-19 unemployment benefits using personal information obtained from sources outside of L&I. The scammers are using this personal information to apply for Pandemic Unemployment Assistance (PUA) benefits – no L&I systems or data have been compromised.
L&I will be sending additional information to all PUA claimants via U.S. Postal Service to ensure they applied and confirm that their personal information has not been compromised.
Anyone who receives a paper check in the mail and did not file for unemployment benefits in Pennsylvania should not cash the checks. The checks should be returned to:
Department of Treasury Comptroller's Office
Attn: Mark Accorsi
Room 113, Finance Building
Harrisburg, PA 17120
Anyone who receives a direct deposit and did not file for unemployment benefits in Pennsylvania should not use the funds. The funds should be returned to:
Department of Labor & Industry
651 Boas St., Room 500
Harrisburg, PA 17121
Payments must be made by personal check, cashier's check, certified check, or money order to the "PA UC Fund". Please include a brief signed statement with the reason you are sending in the payment and include your printed name, address, last four of your social security number, phone number and email address.
Cashing the checks or using direct deposited funds knowing that you have not applied for PUA or any other UC program may be deemed fraud and repayment will be required.
L&I will provide important information and alerts for Pennsylvanians as this situation evolves.
L&I's anti-fraud division remains committed to preventing, identifying, and blocking scams and is continuing its aggressive efforts to do so, including:
Cross matching data with other state agencies and across the country to detect fraud activity.
Working with the U.S. Department of Labor to prevent and detect fraudulent activities related to UC.
Report Fraud
Report fraudulent activity regarding Pennsylvania's UC benefits:
Online
Identity theft – if you suspect or know that someone is using your personal information such as your name, Social Security number, or date of birth without your knowledge or consent to file for UC benefits, complete and submit the Identity Theft Form.
Unemployment claims fraud – if you know of individuals who are collecting UC benefits illegally, including people who are working and not reporting their wages for PA UC benefit purposes; or people who cannot work due to an illness, disability or incarceration, complete and submit the Unemployment Claims Fraud Form.
Phone
PA Fraud Hotline – 1-800-692-7469
Police
File a police report with the municipality you resided in at the time the unemployment benefits in question were paid. A copy of the police report must be provided to the Office of Unemployment Compensation.
If you are a victim of identity theft you may also report it to the Federal Trade Commission and start a recovery plan at https://www.identitytheft.gov/.
The Pennsylvania Attorney General's Office has also provided some helpful tips and instructions to consumers to check your credit more often through the COVID-19 emergency.
Recognize and Avoid General UC Scams
Take these additional steps to protect yourself against general unemployment scams:
Never give out your personal information over email or text message.
Don't wire money, and always ignore the following requests:
Communications related to your UC benefits from someone asking for money;
Someone who says they can help you file for your benefits for a fee; and
Anyone claiming to work for L&I who says they need a fee to complete your application.
Don't open or respond to unsolicited emails or text messages.
Never give out your personal information on websites or social media channels – especially those that claim they can help you apply for UC benefits. Third parties can't apply for your benefits.
Don't trust or rely on UC info from unofficial websites – always visit www.uc.pa.gov for Pennsylvania unemployment program information.
L&I may need to call you. If you file a claim, save the following unemployment phone numbers to your phone so you know you're receiving a legitimate call from L&I:
888-313-7284 –

regular UC

855-284-8545 – Pa

ndemic Unemployment Assistance (PUA) phone number
L&I will ask you for some personal identification information including the last four digits of your Social Security number, but they will not ask for your full SSN.

COVID-19 Testing
I want to remind everyone that anyone with symptoms you worry are related to COVID-19 should contact their health care provider. In the event you don't have a health care provider, you can call the Pennsylvania Department of Health at 1-877-PA-HEALTH.
People with COVID-19 have had a wide range of symptoms reported – ranging from mild symptoms to severe illness. These symptoms may appear 2-14 days after exposure to the virus and can include: fever; cough; shortness of breath or difficulty breathing; diarrhea; chills; repeated shaking with chills; muscle pain; headache; sore throat; or new loss of taste or smell.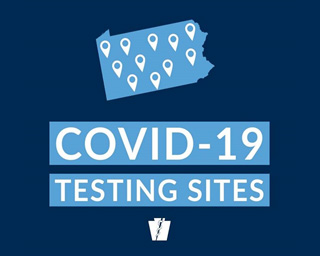 The Pennsylvania Department of Health has put together an online map of testing sites across Pennsylvania that can be viewed by clicking here. Additionally CVS Health announced last week that they are opening 27 additional drive-thru testing sites in Pennsylvania, including five in Allegheny County. These new sites will utilize self-swab tests. The Allegheny County locations added are as follows:
CVS Pharmacy, 5703 Steubenville Pike, McKees Rocks, PA 15136
CVS Pharmacy, 3893 William Penn Highway, Monroeville, PA 15146
CVS Pharmacy, 328 Cochran Road, Mt. Lebanon, PA 15228
CVS Pharmacy, 1740 Washington Road, Pittsburgh, PA 15241
CVS Pharmacy, 4664 Browns Hill Road, Pittsburgh, PA 15217
The CVS self-swab tests will be available to individuals meeting the CDC criteria, in addition to age guidelines. Patients must register in advance at www.CVS.com to schedule an appointment.

PHEAA Hosting "FinAid Fridays" Series of Online Q&A Sessions
As Vice-Chair of the Pennsylvania Higher Education Assistance Agency (PHEAA) board of directors, I want to alert students and families that PHEAA's Higher Education Access Partners began hosting statewide virtual financial aid question and answer sessions.
PHEAA's FinAid Fridays will provide Pennsylvania students and families with an easily accessible conversation that can assist them as they struggle to plan for college while dealing with various uncertainties created by the COVID-19 pandemic.
The next event is scheduled for this Friday, May 29 at 1 p.m. PHEAA Higher Education Access Partners Robin Walker and Michael Burke will present, Avoiding Summer Melt: How to Stay On-Task & Focused on Your Student Aid.
Students and families can participate by following PHEAA on Facebook at facebook.com/pheaa.aid or Twitter at twitter.com/pheaaaid and joining the conversation with the hashtag #PHEAAFinAid. PHEAA's Facebook page is an excellent resource to learn more about the student financial aid process, to discover what's needed to successfully plan for higher education, and to sign-up for reminders of financial aid deadlines. Additionally, video tutorials explaining the student aid process and types of aid available can be found at YouTube.com/PHEAAstudentaid.
PHEAA also created an online archive of its recent virtual financial aid events at pheaa.org/virtual so students and families can learn timely information about higher education funding and planning at their convenience.

$51 Million in CARES Funding Being Distributed to Support Child Care Providers
Governor Wolf last week announced an initial distribution of $51 million of funding from the federal Coronavirus Aid, Relief, and Economic Security (CARES) Act funding to support child care providers around Pennsylvania. Distributed in partnership with the General Assembly, this initial funding will reach nearly 7,000 child care centers. Allegheny County will be receiving more than $4.2 million of this funding.
Pennsylvania received $106 million in funding to support child care providers through the CARES Act that will be distributed to providers in two waves. The first wave of $51 million will be distributed to all eligible, licensed child care providers and is designed to help providers preparing to reopen as counties move to the yellow phase. The remaining funding will be allocated following the completion of a study by the Department of Human Resources (DHS) Office of Child Development and Early Learning (OCDEL) and Penn State Harrisburg's Institute of State and Regional Affairs assessing the economic impact of the COVID-19 pandemic on Pennsylvania's child care providers.
Funds will be distributed to eligible, certified child care providers through regional Early Learning Resource Centers (ELRCs). OCDEL determined eligibility for funding and amount of award based on the type and size of provider, number of active enrollments in Child Care Works (CCW) subsidized child care, child care capacity, and licensure status. A base payment is set by licensure type and capacity and providers can receive additional funding for CCW enrollments and if they operate in a county determined to have moderate or acute capacity issues. Twenty-seven counties in Pennsylvania can be considered moderate or acute child care deserts based on capacity of licensed child care providers compared to projections from census data on the number of children needing care. Providers suspended for a tax lien, welfare fraud or providers whose licenses have been revoked or not renewed were disqualified from receiving CARES funding.
OCDEL has continued to pay child care providers with CCW, Pre-K Counts, and Head Start State Supplemental Assistance Program enrollments during the closure period. OCDEL recognizes that providers have or will experience increased costs associated with additional staffing, cleaning and sanitation to ensure a safe environment for children. This funding is being provided to support the continuum of child care business operations that are so very necessary to Pennsylvania's parents.
The attestation form and process for the CARES Act funds for child care providers can be found here.

Cocktails-to-Go Legislation
Last week, Governor Wolf today signed House Bill 327 (HB 327), now Act 21 of 2020, allowing for the temporary sale of cocktails-to-go from bars, restaurants or hotels with a liquor license. The law took effect immediately.
The law applies to bars, restaurants and hotels that have lost 25 percent of average monthly total sales during the COVID-19 emergency. The beverages must be sold in containers with a secure lid in quantities from 4 oz. to 64 oz. before 11 p.m. An additional seal is required on the straw opening of a lid. Within 60 days, bars and restaurants must use a transaction scan device to verify a consumer's age if the person appears to be younger than 35 years of age.
The temporary rule expires after the COVID-19 disaster emergency ends and a business reaches 60 percent capacity.
Pennsylvania's open container law applies.
For more information on this new law from the PA Liquor Control Board, please click here.

Summer Camp & Recreation Guidance
The Wolf Administration last week issued frequently asked questions to provide guidance to parents, summer camp operators, public bathing places, part-day school-age programs, and other entities that provide necessary child care and enrichment and recreational activities for children and youth during the summer months.
The Pennsylvania Department of Health issued the FAQs that include guidance on:
The types of summer programs for children and youth permitted to operate during Gov. Wolf's phased-in reopening plan.
Additional requirements for summer programs operating in counties in yellow and green phases beyond what is required by the CDC guidance for youth programs and camps.
The summer programs operating in counties in yellow and green phases that are permitted to operate fully indoor, fully outdoor, or a combination of indoor and outdoor.
Group sizes for summer programs that are permitted to operate in counties in the yellow phase.
Requirements on staff and youth face-coverings in child care and summer programs permitted to operate in yellow phase counties.
Enrollment restrictions on summer programs in counties in yellow or green phase.
Status of public playgrounds during the phased reopening.
Status of organized team sports during the phased reopening.
Operation of public bathing places and community pools during the phased reopening.
Operation of camping, campgrounds and group camping separate from organized summer camps for youth.
Status of Department of Conservation and Natural Resources facilities during the various phases of reopening.
The FAQs can be viewed by clicking here.
The guidance does not apply to public school-operated summer programs or extended school year services. Guidance related to reopening public schools will be released by the Pennsylvania Department of Education later.

Lyme Disease Awareness
With May being Lyme Disease Awareness Month and as many people are spending more time now in their yards or local parks, it's a good time to check yourself and your pets for ticks before returning inside. Lyme disease is caused by the bacterium Borrelia burgdorferi and is transmitted to humans through the bite of infected blacklegged ticks. Deer ticks are in their active nymph stage at this time. They are about the size of a poppy seed, making them difficult to find on your body.
Some tips offered by the Pennsylvania Department of Health to prevent tick bites include:
Know where to expect ticks. Ticks live in grassy, brushy, or wooded areas, or even on animals. Many people get ticks in their own yard or neighborhood.
Treat clothing and gear with products containing 0.5% permethrin.
Use Environmental Protection Agency (EPA)-registered insect repellents containing DEET, picaridin, IR3535, Oil of Lemon Eucalyptus (OLE), para-menthane-diol (PMD) or 2-undecanone.
Check clothing, gear and pets for ticks after going indoors.
Shower within 2 hours of being outdoors.
Check your entire body for ticks and immediately remove any that you find.
If you do experience a tick bite, the Centers for Disease Control and Prevention (CDC) recommends these steps to remove a tick:
Use fine-tipped tweezers to grasp the tick as close to the skin's surface as possible.
Pull upward with steady, even pressure. Don't twist or jerk the tick; this can cause the mouth-parts to break off and remain in the skin. If this happens, remove the mouth-parts with tweezers. If you are unable to remove the mouth easily with clean tweezers, leave it alone and let the skin heal.
After removing the tick, thoroughly clean the bite area and your hands with rubbing alcohol or soap and water.
Never crush a tick with your fingers. Dispose of a live tick by putting it in alcohol, placing it in a sealed bag/container, wrapping it tightly in tape, or flushing it down the toilet.
Lyme disease affects thousands of Pennsylvanians each year. Early symptoms of Lyme disease which usually appear anywhere from 3 to 30 days after a tick bite include: fever; fatigue; headache; muscle aches; joint pain; skin rash that looks like a bull's eye; and other general symptoms that may occur in the absence of a rash.
When detected early, Lyme disease can be treated with antibiotics. People treated with appropriate antibiotics in the early stags of Lyme disease usually recover rapidly and completely. Left untreated, the disease can spread to the joints, heart and nervous system. To learn more about Lyme disease, please visit www.health.pa.gov.

Favorite Recipes?
Do you have a favorite recipe? A favorite dish you like to prepare?
As we continue to adhere to mitigation efforts, many are eating more meals at home than usual, and many are trying to stretch food out as long as possible to reduce trips to the grocery store and reduce costs. As such, maybe you are looking to try something new?
I encourage anyone who would like to share a favorite recipe with others to please do so by emailing fontana@pasenate.com and we'll share through this forum. This week, I'd like to present a recipe that was submitted by Brittany from my staff:
Rigatoni with Hot Italian Sausage and Mushrooms
6 servings:
-16 oz package of sliced fresh mushrooms
-1 tablespoon of butter
-1 large onion finely chopped
-1 ¼ pounds hot Italian sausage
-½ cup dry white wine
-1 cup canned beef broth
-1 box rigatoni
-1 cup half and half
-½ cup grated parmesan cheese
-8oz. Shredded mozzarella cheese
Melt butter in a large skillet over medium heat. Add onion and cook until it begins to soften, stirring occasionally for about 5 minutes Remove casings from sausage and cut up in chunks. Add sausage into pan, increase heat to high and cook until no longer pink. Add fresh mushrooms and stir until they begin to soften for about 5 minutes. Add wine and let cook for about 4 minutes then add beef broth and allow it to cook for about 5 minutes. Simmer all ingredients on low for about 15 additional minutes. (This portion of the recipe can be made 2 days ahead of serving, cooled and then refrigerated.)
Pour items from skillet into a large pot that contains the cooked rigatoni. Put on medium heat and stir/combine ingredients. Add half and half, parmesan cheese and mozzarella cheese and once again stir /combine until cheese melts.
Now it's time to eat!

Fontana Fact
National Military Appreciation Month is celebrated every May and is a declaration that encourages U.S. citizens to observe the month in a symbol of unity and honors the current and former members of the U.S. Armed Forces, including those who have died in the pursuit of freedom. The month of May is characterized by six national observances which highlight the contributions of those who have served. In 1999 Senator John McCain introduced legislation to designate the month of May as National Military Appreciation Month. Both the Senate and House of Representatives adopted resolutions calling for Americans to recognize and honor U.S. Service Members during this month. These proclamations also urge the President to issue a proclamation calling on the people of the United States to observe National Military Appreciation Month.

Offices of State Senator Wayne D. Fontana
Brookline District
1039 Brookline Boulevard
Suite 2
Pittsburgh, PA 15226
Phone: 412-344-2551
Weekdays – 9 am – 5 pm
Harrisburg
543 Main Capitol | Box 203042
Harrisburg, PA 17120
Phone: 717-787-5300
Fax: 717-772-5484
Weekdays – 8:30 am – 5 pm
Kennedy Township
Kenmawr Plaza
524 Pine Hollow Road
Kennedy Twp, PA 15136
Phone: 412-331-1208
Weekdays – 10 am – 4 pm

Beechview Satellite
1660 Broadway Avenue
Pittsburgh, PA 15216
By appointment