Overdue Need for Law Enforcement Reform
Last week, I participated in a two-day hearing held by the Senate's Judiciary and Law and Justice Committees regarding potential changes to Pennsylvania law in light of the recent murder of George Floyd. For weeks now, protests have been taking place statewide highlighting the need for reform in law enforcement operations and how to best move the commonwealth forward. Overall, I was pleased with the vast representation from all sides of the issues we are currently facing which I am convinced will help lawmakers develop policies that will help our communities come together.
The panel heard thoughtful testimony from dozens of stakeholders including from the Pennsylvania Attorney General, Pennsylvania District Attorney Association, Pennsylvania NAACP, ACLU Pennsylvania, Pennsylvania State Troopers Association, Fraternal Order of Police, Emergency Response Training and Certification Association, International Brotherhood of Teamsters, Juvenile Law Center, prosecutors, activists and community organizers, criminal defense lawyers, and Pennsylvania Chiefs of Police Association among many others. Testifiers exposed the systematic problems and policies that permit conflict in our communities with many expressing a desire for transparency and accountability.
Topics that were discussed over the two-day hearing included: statewide use of force policies; creating a statewide electronic database of police personnel files that would include substantiated claims of excessive force and misconduct; the use of force and de-escalation in police training; instituting a more rigorous hiring practice; investing more public safety monies into community relations and continuing education; an independent oversight committee; body cameras; and adding diversity into law enforcement agencies.
Several of these issues enjoyed widespread support and I am optimistic that we will pass initiatives in the next few days that help bring us closer to where we should be and will bring much needed improvement throughout law enforcement. Real reform that will bridge the gap between the departments and the communities they are sworn to protect and serve.
I was encouraged to hear that some local police departments throughout the state, including the State Troopers, are willing to make changes internally. However, I still feel that it is necessary to pass additional laws to ensure that true reform is adopted statewide so that there is uniformity. Additionally, while I am optimistic, I remain frustrated that I and many of my colleagues have proposals that have been introduced for a number of years that up until now, haven't been given committee consideration. We cannot continue to delay on needed reform. The General Assembly should be exploring and enacting ways to protect and prevent unnecessary lives from being lost. Hopefully that will change soon.

Senate Democrats Call for Special Session on Police Reform
Last week, members of the Senate Democratic Caucus wrote the governor, requesting a special session specifically on police reform. The letter was sent on June 15 and can be read by CLICKING HERE.

COVID-19 Relief Statewide Small Business Assistance Grants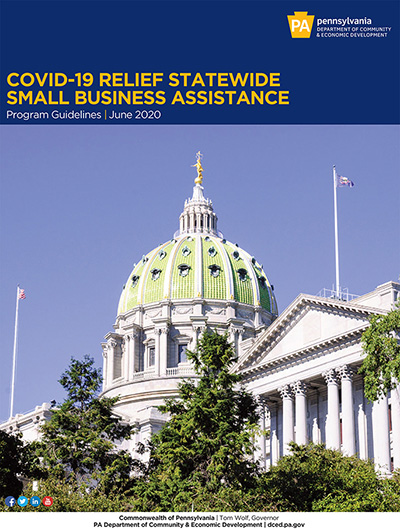 The Pennsylvania Department of Community & Economic Development (DCED) has issued program guidelines and additional details for the COVID-19 Relief Statewide Small Business Grants on DCED's website.
Under the program, $225 million is available for COVID-19 relief to small businesses through a distribution to Community Development Financial Institutions (CDFIs) for loan payment deferment and portfolio loan loss reserves, main street business revitalization grants, and historically disadvantaged business revitalization grants.
The funds will be available through three programs:
$100 million for the Main Street Business Revitalization Program for small businesses that experienced loss as a result of the governor's March 19, 2020 order relating to the closure of all non-life-sustaining businesses and have or will incur costs to adapt to new business operations related to COVID-19;
$100 million for the Historically Disadvantaged Business Revitalization Program for small businesses that experienced loss as a result of the business closure order, have or will incur costs to adapt to new business operations related to COVID-19, and in which socially and economically disadvantaged individuals own at least a 51 percent interest and also control management and daily business operations.
$25 million for the Loan Payment Deferment and Loss Reserve Program, which will allow the CDFIs the opportunity to offer forbearance and payment relief for existing portfolio businesses that are struggling due to the impact of COVID, as well as shore up the financial position of the CDFIs that are experiencing significant increased defaults in their existing loan portfolios.
Eligible businesses with 25 or fewer employees may receive a maximum grant of $50,000 so long as the business was in operation on February 15, 2020 and, if required, paid income taxes to the state and federal government, as reported on individual or business tax returns; COVID-19 has had an adverse economic impact and makes this grant request necessary to support the ongoing operations of the applicant; the grant will be used cover COVID-19 related costs; and during the period beginning on June 1, 2020 and ending on December 31, 2020, the applicant has not and will not receive another grant under this state program.
As the program is still in development, any small business that wishes to apply or learn more eligibility can sign up with one of the CDFIs who will be implementing the program in Allegheny County to receive notifications and updates. Click on one of the CDFIs below to learn more:
For more information about the program, you can also visit the Department of Community and Economic Development (DCED) website at https://dced.pa.gov/ and can sign up with DCED to get on their email list by clicking here.
Did You Know…
Did you know small companies employee roughly 47 percent of all American workers?

CARES Act Funding to Help People with Intellectual Disabilities, Autism
Last week, Governor Wolf announced that people with intellectual disabilities and autism and the providers of support services for these vulnerable Pennsylvanians will receive $260 million in CARES Act funding to help continue to provide services during the COVID-19 pandemic.
The $260 million will be allocated as follows:
$90 million to providers of residential, respite, and shift nursing services;
$80 million to providers of Community Participation Support services for 120 days of retainer payments, covering operations from March through June; and,
$90 million to providers of in-home and community, supported and small group employment, companion, and transportation trip services for 120 days of retainer payments, covering operations from March through June.

Department of State License Renewal Deadline Extensions
Due to COVID-19, additional health care practitioners will be needed to treat ill Pennsylvanians. This need may extend beyond the capacity of the professionals currently listed by Pennsylvania's health-licensing boards. To increase the available number of practitioners, the Pennsylvania Department of State has requested a suspension from Governor Wolf to several provisions that create barriers to temporary licensure. To view a listing of suspensions granted by the governor and for additional information for health care professionals on how to obtain temporary licenses please click here.

PUC Announces Public Input Hearings for PSWA Rate Increase Requests
The Pennsylvania Public Utility Commission (PUC) has announced six telephonic hearings in early July to gather public input on rate increases proposed by the Pittsburgh Water & Sewer Authority (PWSA) – for water and wastewater services to approximately 80,000 residential, commercial and industrial customers in Pittsburgh and surrounding communities.
Telephonic public input hearings for PWSA's requests are scheduled for the following dates and times:
Tuesday, July 7, 2020 – Hearings will begin at 1 p.m. and 6 p.m.
Wednesday, July 8, 2020 – Hearings will begin at 1 p.m. and 6 p.m.
Thursday, July 9, 2020 – Hearings will begin at 1 p.m. and 6 p.m.
Administrative Law Judges Mary Long and Emily DeVoe will preside over the hearings.

Individuals who wish to testify at the telephonic public input hearings must register by Monday, July 6 at 1 p.m., either by calling Pennsylvania Office of Consumer Advocate (OCA) toll free at 1-800-684-6560, or by logging onto PWSA's hearing registration website and completing the registration form. On the day of the hearings, consumers will testify in the order they signed up.

If you do not wish to testify, but want to listen to the public input hearings, you may contact OCA by 1 p.m. on Monday, July 6 to obtain call-in information or use PWSA's hearing link at any time to listen to any of the public input hearings.

Under the request filed by PWSA, a multi-year rate increase for water service would increase total annual operating revenues for water service by approximately $30.2 million (27.5%), effective January 1, 2021, and by approximately $7.2 million (5.7%), effective January 1, 2022.

PWSA has also filed a multi-year request to increase rates for wastewater service, increasing total annual operating revenues for wastewater service by approximately $13.6 million (21.8%), effective January 1, 2021, and by approximately $6.7 million (9.7%), effective January 1, 2022.

The combined proposals submitted by PWSA would increase the typical residential water and wastewater bill (for a customer using 3,000 gallons per month) from $72.49 to $86.31 per month (19.1%) in 2021.

In 2022, the PWSA proposals would increase that same monthly residential water and wastewater bill from $86.31 to $91.71 (6.26%).
The PUC offers tips on how to participate in a public input hearing, including:

Prepare what you are going to say beforehand. Even though it is not required, you may want to write out your statement, which can be read.
Any formal testimony that is offered during the hearing will become part of the record on which the PUC will issue its final decision.
Understand that parties in the case may want to ask you a question to clarify something you said.
The Pennsylvania Public Utility Commission balances the needs of consumers and utilities; ensures safe and reliable utility service at reasonable rates; protects the public interest; educates consumers to make independent and informed utility choices; furthers economic development; and fosters new technologies and competitive markets in an environmentally sound manner.

Visit the PUC's website at www.puc.pa.gov for recent news releases and video of select proceedings.

Senior Farmers' Market Nutrition Program
The Senior Farmers' Market Nutrition Program provides $24 in vouchers to eligible Allegheny County residents, aged 60 and older (60 years of age or older by Dec. 31, 2020) on a first-come, first-served basis. The vouchers are redeemable through November at participating farmers' markets and farm stands for Pennsylvania grown produce.
Because of the COVID-19 pandemic, vouchers will not be distributed at senior centers. Instead, applications for the vouchers can be completed online or requested in hard copy by email or phone.
Beginning June 16, and continuing until the supply is exhausted, vouchers will be sent by mail to eligible Allegheny County residents who complete an application by Sept. 24.
Applications can be requested by email at AAA-SFMNP@alleghenycounty.us or by phone at 412-350-4219. Applications can also be downloaded by clicking here. Applications downloaded and completed can be scanned and emailed or mailed to: Area Agency on Aging, SFMNP, 2100 Wharton Street, 2nd Floor, Pittsburgh, PA 15203.
Income guidelines for a one-person household are $23,606 and for a two-person household, $31,894. Married couples may each receive one set of checks.
To learn more about the program including a listing of eligible fruits and vegetables and to locate nearby farmers' markets, please click here.

Drive-Up Food Distribution Event – This Thursday!
In conjunction with the Pittsburgh Riverhounds, the Greater Pittsburgh Community Food Bank will be hosting a Drive-Up Food Distribution this Thursday, June 25 from 10 a.m. – noon at Highmark Stadium, located at 510 West Station Square Drive.
The event is part of the Food Bank's new drive-up distribution model. Each vehicle will receive one food share (at least 50 pounds of food) per vehicle. Due to the high demand for assistance and to ensure as many people receive food as possible, the Food Bank developed this policy. The Food Bank will be able to serve up to 400 vehicles at this distribution.
For the safety of the staff and volunteers working to set-up the event, those attending are asked to arrive no earlier than when the event starts, at 10 a.m. Those who arrive prior to 10 a.m. may be asked to return at that time. The distribution will end promptly at noon. Drive-Up service will be discontinued at that time.
The Food Bank is asking individuals to follow these guidelines:
For everyone's safety, individuals attending the distribution must stay in their vehicles at all times. This will help maintain six-foot social distancing guidelines. Leaving cars to socialize is strictly prohibited.
After pulling into "distribution row," please put your vehicle in park and unlock your trunk or backseat for food to be loaded. Volunteers will not load food into vehicles until they are in park. Please stay in your vehicle.
Attendees will not be required to fill out a registration form in order to receive food.

Fontana Fact
June is National Dairy Month. Pennsylvania ranks sixth nationally in total milk production, with the commonwealth's 250,000 cows producing more than 10.8 billion pounds of milk annually.

Offices of State Senator Wayne D. Fontana
Brookline District
1039 Brookline Boulevard
Suite 2
Pittsburgh, PA 15226
Phone: 412-344-2551
Weekdays – 9 am – 5 pm
Harrisburg
543 Main Capitol | Box 203042
Harrisburg, PA 17120
Phone: 717-787-5300
Fax: 717-772-5484
Weekdays – 8:30 am – 5 pm
Kennedy Township
Kenmawr Plaza
524 Pine Hollow Road
Kennedy Twp, PA 15136
Phone: 412-331-1208
Weekdays – 10 am – 4 pm

Beechview Satellite
1660 Broadway Avenue
Pittsburgh, PA 15216
By appointment