July 2020
As we continue to deal with the coronavirus pandemic, this edition of the monthly News & Views Special Edition: JOBS focuses on the new small business grant program, available resources for employers and employees and what sectors are looking for workers at this time.

COVID-19 Relief Statewide Small Business Assistance Grant Program Opens!
The Pennsylvania Department of Community & Economic Development (DCED) has opened the COVID-19 Relief Statewide Small Business Grant Program, which will provide grants ranging from $5,000 to $50,000 to small businesses that have been economically impacted by COVID-19.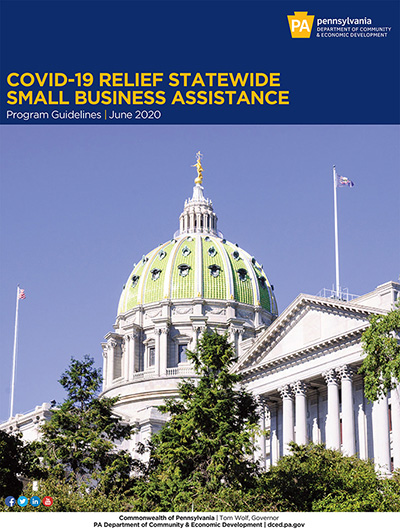 Applications can be submitted online at https://pabusinessgrants.com/ or through one of the Community Development Financial Institutions (CDFIs) listed further down. The application window for the first round of funding is expected to remain open for 10 business days. Applications will continue to be accepted after 10 business days but will be considered for future rounds of funding.
Under the program, $225 million is available for COVID-19 relief to small businesses through a distribution to Community Development Financial Institutions (CDFIs) for loan payment deferment and portfolio loan loss reserves, main street business revitalization grants, and historically disadvantaged business revitalization grants.
The funds are available through three programs:
$100 million for the Main Street Business Revitalization Program for small businesses that experienced loss as a result of the governor's March 19, 2020 order relating to the closure of all non-life-sustaining businesses and have or will incur costs to adapt to new business operations related to COVID-19;
$100 million for the Historically Disadvantaged Business Revitalization Program for small businesses that experienced loss as a result of the business closure order, have or will incur costs to adapt to new business operations related to COVID-19, and in which socially and economically disadvantaged individuals own at least a 51 percent interest and also control management and daily business operations.
$25 million for the Loan Payment Deferment and Loss Reserve Program, which will allow the CDFIs the opportunity to offer forbearance and payment relief for existing portfolio businesses that are struggling due to the impact of COVID, as well as shore up the financial position of the CDFIs that are experiencing significant increased defaults in their existing loan portfolios.
Eligible businesses with 25 or fewer employees may receive a maximum grant of $50,000 so long as the business was in operation on February 15, 2020 and, if required, paid income taxes to the state and federal government, as reported on individual or business tax returns; COVID-19 has had an adverse economic impact and makes this grant request necessary to support the ongoing operations of the applicant; the grant will be used cover COVID-19 related costs; and during the period beginning on June 1, 2020 and ending on December 31, 2020, the applicant has not and will not receive another grant under this state program.
The CDFIs who will be implementing the program in Allegheny County are:
For more information about the program, you can also visit the Department of Community and Economic Development (DCED) website at https://dced.pa.gov/ and can sign up with DCED to get on their email list by clicking here.

Pittsburgh Passport
The Allegheny Conference on Community Development has created a program for recent graduates or current students to connect with future employers this summers. The Pittsburgh Passport provides an opportunity to discover, virtually, what it is like to live, work and play in Pittsburgh.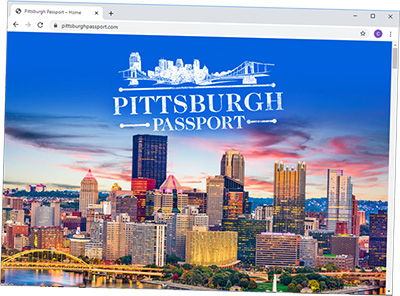 The Pittsburgh Passport Summer Internship Series is an initiative of the Allegheny Conference in collaboration with regional employers and schools to give college students a complete immersion into the Pittsburgh region. The program launched in 2019 with over 1,500 interns from around the country and world participating in activities like a kick-off celebration at Heinz Field, kayaking on the Allegheny River, volunteer opportunities, professional development seminars, Warhol Museum nights, and corporate open houses.
In 2020, the Conference has pivoted to a virtual experience with the opportunity to engage a much broader audience of students, interns, and recent grads.

Participants can: network with hiring managers and learn about local companies and job opportunities; explore Pittsburgh's arts and culture scene with live musical performances, cooking demonstrations, and more; compete for cash prizes and contribute to moving the region forward; and hear from local innovators working on cutting-edge technology and what's next.
Anyone interested in participating in this program, can register by clicking here.

Pennsylvania Extends Unemployment Compensation Benefits 13 More Weeks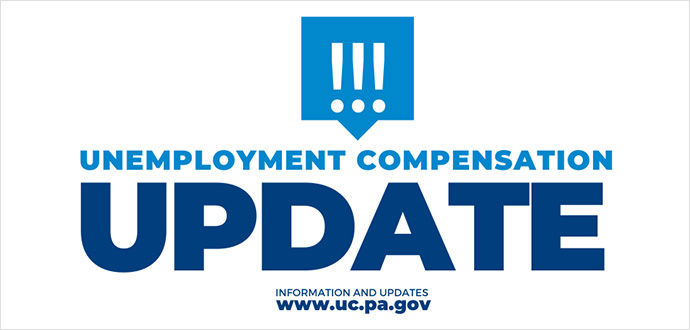 The Pennsylvania Department of Labor & Industry (L&I) announced this week that people who exhaust their regular unemployment compensation (UC) and federal Pandemic Emergency Unemployment Compensation (PEUC) may now qualify for 13 additional weeks of payments through the state's Unemployment Compensation Extended Benefits program.

Extended Benefits (EB) are additional UC benefits payable to qualified workers whenever the state's unemployment rate reaches a certain level determined by law. The last time the EB program was triggered in Pennsylvania was 2009.

The current EB period began May 3, 2020, but benefits are not payable until an individual has exhausted PEUC benefits. EB payments will begin with the week ending July 4, 2020 and are payable only for weeks of unemployment during an EB period.

Important information about the EB program follows and will be sent by mail to all individuals who potentially qualify for the additional benefits.

Eligibility

You may be eligible for EB if:

You are totally or partially unemployed;
You have exhausted your regular state benefits on your most recent UC claim, or your most recent UC benefit year has ended; and
You have received the maximum amount of PEUC that you were eligible to receive.

Additional eligibility information is available here.

How to Receive EB

If you collect the maximum amount of PEUC that you are eligible to receive, an EB Notice of Financial Determination will be mailed to you.
You must complete your weekly EB online certification in order to claim EB for weeks that you are totally or partially unemployed.
Each EB online certification corresponds to one specific week, as indicated on the web form. Individuals who opt to use paper claim forms should only use the form that is specifically dated for the week of unemployment you are claiming.
If you do not receive your Financial Determination within two weeks after you receive your final PEUC payment, call the UC Service Center at 1-888-313-7284.

EB Weekly Benefit Amount

EB weekly benefit payments are the same as regular UC.
The total amount of EB that you may receive is 50 percent of the amount of regular UC you were financially eligible to receive on your most recent claim. Example:

If you were financially eligible for 26 weeks of regular UC, you may receive up to 13 weeks of EB.

There is an additional wage test for EB eligibility, so not all individuals will financially qualify.
EB may only be paid for weeks ending during an EB period.
If you are entitled to Trade Readjustment Allowances, you may receive fewer weeks of EB.

EB is currently fully federally-funded through the Families First Coronavirus Response Act, Public Law (Pub. L.) 116-127, specifically Division D, the Emergency Unemployment Insurance Stabilization and Access Act of 2020 (EUISAA).

Business to Business Directory

DCED has created a Business-to-Business Interchange Directory to connect organizations and businesses directly to manufacturers producing COVID-19-related products and supplies. The directory can be accessed by clicking here.
Company and product information provided in the directory were gathered in good faith as a means of connecting Pennsylvania businesses and organizations that are seeking various PPE and other related items to combat the COVID-19 crisis. The information made available is from those entities who voluntarily contacted the commonwealth through the Manufacturing Call to Action Portal or the Pennsylvania Critical Medical Supplies Procurement Portal.
Currently in the directory are manufacturers of N95 masks, fabric and other masks, surgical masks, face shields, thermometers, medical gowns, and hand sanitizers. Additional supplies and materials will be added to the directory as DCED identifies potential manufacturers. Businesses that would like to be added to the directory or those with questions should contact RA-DCEDPAMCTAP@pa.gov.

Employment Opportunities Through CareerLink

PA CareerLink, a partnership of the Departments of Labor & Industry and Human Services, has put together a listing of employers around Pennsylvania that are in need of hiring individuals for critical roles. Regardless of whether you've lost your job due to a COVID-19 related business closure and would like to work or simply are looking for employment, I encourage you to visit CareerLink's COVID-19 Employment Opportunities site which can be viewed by clicking here.
The site lists what companies are hiring, the types of positions open, business locations and provides links to apply for positions online. Employers that have openings and are interested in promoting through CareerLink can also access the site to complete an Employer Intake Form so their openings can be listed.

Staying Safe
As Allegheny County continues in the green phase, please continue to observe existing worker and building safety orders. All businesses must follow CDC and Pennsylvania Department of Health guidance for social distancing and cleaning.
The Pennsylvania Department of Health has launched an online complaint form where customers can report a public health complaint against an existing business not following health and safety protocols. The online complaint form can be accessed by clicking here.

Offices of State Senator Wayne D. Fontana
Brookline District
1039 Brookline Boulevard
Suite 2
Pittsburgh, PA 15226
Phone: 412-344-2551
Weekdays – 9 am – 5 pm
Harrisburg
543 Main Capitol | Box 203042
Harrisburg, PA 17120
Phone: 717-787-5300
Fax: 717-772-5484
Weekdays – 8:30 am – 5 pm
Kennedy Township
Kenmawr Plaza
524 Pine Hollow Road
Kennedy Twp, PA 15136
Phone: 412-331-1208
Weekdays – 10 am – 4 pm

Beechview Satellite
1660 Broadway Avenue
Pittsburgh, PA 15216
By Appointment