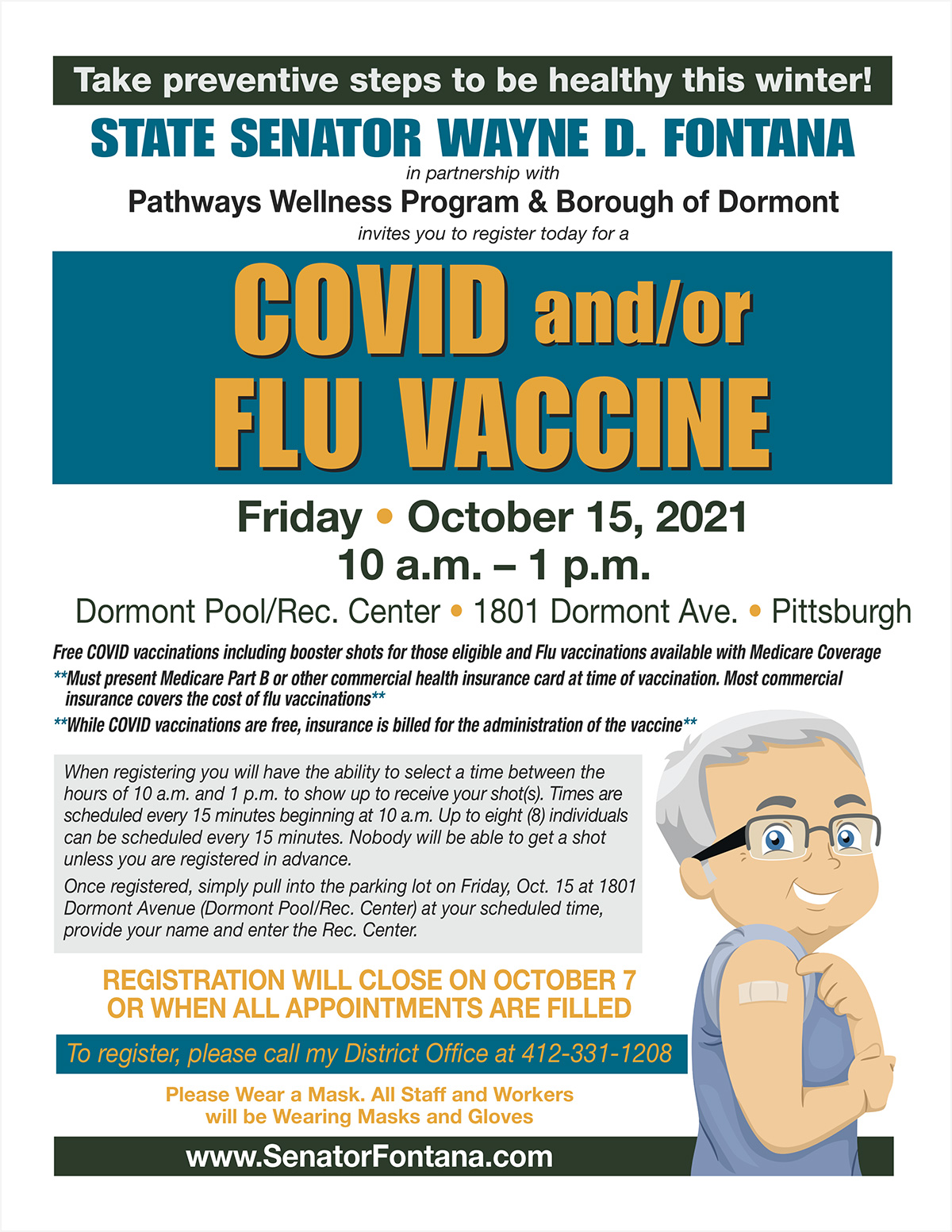 In conjunction with Pathways Wellness Program and the Borough of Dormont, I will be hosting a COVID and Flu Vaccination Clinic on Friday, October 15 from 10 a.m. – 1 p.m. at the Dormont Rec Center, located at 1801 Dormont Avenue. Attendees can receive a COVID vaccine, including a booster shot for those eligible, and/or a flu vaccine.
Anyone interested in receiving a COVID and/or a flu vaccine must pre-register NO LATER THAN Thursday, October 7. Registration can be done by clicking here and completing the online registration form or by calling my Kennedy district office at 412-331-1208 and providing my staff the necessary information.
You will have the option of selecting a first, second or third dose of both the Pfizer and Moderna COVID vaccines and a flu shot, or a high dose flu shot. Please remember if you've had either the Pfizer or Moderna vaccine and you're scheduling a second or third dose, to select the appropriate vaccine.
After selecting which vaccine(s) you want, you will then be directed to a page that lists available times between 10 a.m. and 12:45 p.m. After selecting your time, you will then be asked to provide your information including address, phone, and insurance information. Then you will click on the green tab that reads "Finalize Appointment."
When registering, you will have the ability to select a time between 10 a.m. and 12:45 p.m. to receive your shot(s). Times are scheduled every 15 minutes and up to eight individuals can be scheduled every 15 minutes. Nobody will be able to get a shot unless you are registered in advance.
Parking is available in the parking lot at the Dormont Pool/Rec. Center, located at 1801 Dormont Avenue. Please wear a mask. All staff and workers will be wearing masks.
While COVID vaccinations are free, insurance is billed for the administration of the vaccine. Medicare and most commercial insurance cover the cost of the flu vaccinations.