Increase in the State's Minimum Age to Purchase Tobacco Products
Last week, the Pennsylvania Senate passed Senate Bill 473 (SB 473) which would raise the minimum age for purchasing tobacco products from 18 to 21 years old. More and more studies have revealed that raising the minimum age to buy tobacco products significantly decreases smoking among young adults. Additionally, 73 percent of Americans support this increase and feel that the age should be raised to deter younger teens from getting addicted to these types of products.
Under this legislation, "tobacco product" is defined to include any product containing, made or derived from tobacco, any electronic device that delivers nicotine or other substance by inhaling from the device, but does not include any FDA approved tobacco cessation product provided it is sold and marketed exclusively for that purpose. The bill also creates a new offense for any person who uses tobacco on school grounds or school vehicles but permits the school board to designate certain areas on school property where used by persons other than students is permitted.
With new data revealing that 1 in 4 American kids are using electronic cigarettes, the U.S. surgeon general has declared this an epidemic. As of last week, at least 805 people in 46 states have fallen sick with mysterious vaping-related lung injuries with 12 deaths confirmed in 10 states. Luckily, our state has had no confirmed deaths, but there have been five cases confirmed as vaping-related illness, three cases considered "probable" cases of vaping-related illness and another 50 potential cases according to the Pennsylvania Department of Health.
If SB 473 would become law, Pennsylvania would join 17 other states in requiring people to be 21 years old to buy cigarettes and other tobacco products which includes almost all the commonwealth's neighboring states. While tobacco prevention and control programs have reduced smoking rates in historically low levels, American Lung Association in Pennsylvania research shows that 95 percent of smokers try their first cigarette before age 21, and many tobacco users transition from experimenting to regular tobacco use between 18 and 21.

Voter Registration & Absentee Ballot Deadlines

I want to remind all voters that any registered voter who needs an absentee ballot can now request those ballots online at www.votesPA.com/ApplyAbsentee. When an applicant completes the online form, the information is forwarded directly to the appropriate county elections office for processing. The last day to apply for an absentee ballot is October 29 and voters must still mail or hand-deliver their completed ballot to their county election office by the deadline, which is 5 p.m. on Friday, Nov. 1.
I also want to remind anyone wishing to vote in the Nov. 5 election who is not registered to vote, you must be registered no later than October 7. Anyone not registered can do so online at www.votesPA.com or by clicking here. In addition to registering to vote, users can utilize the site to confirm registration status, update your registration, or locate your polling place. You may also pick up paper applications in my district offices or download a paper application at www.votespa.com.

Shredding Event this Saturday!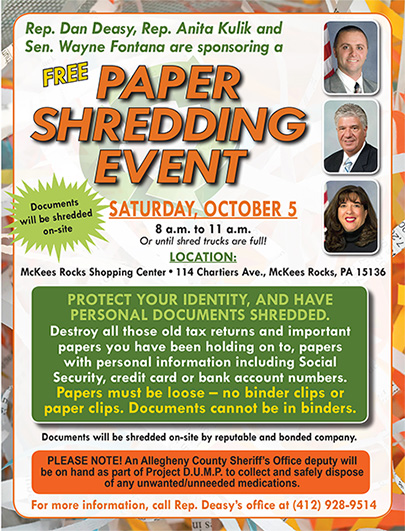 With Rep. Dan Deasy and Rep. Anita Kulik, we will be hosting a shredding event this Saturday, Oct. 5 in McKees Rocks. It will be held from 8 a.m. – 11 a.m. (or until the shred trucks are full) at the McKees Rocks Shopping Center, located at 114 Chartiers Avenue.
Documents will be shredded on-site by a reputable and bonded company. Also, all papers must be loose, no binder clips or paper clips, and documents cannot be in binders.
With consumer fraud and identity theft continuing to be an issue, we host these events to not only raise awareness and promote prevention, but also to provide individuals with the opportunity to have unneeded, confidential documents destroyed free of charge. You may bring documents that contain personal information such as social security numbers, credit card numbers and bank account numbers.
Additionally, at this event, Deputy Sheriff Joe Cirigliano will be on hand to collect any unused, unwanted, or expired medications as part of Allegheny County Sheriff Bill Mullen's Project D.U.M.P. initiative. This program allows residents to bring any unused, unwanted or expired medications so they can be properly disposed.

New Senior Citizen ConnectCards
The Port Authority of Allegheny County is in the process of issuing new Senior Citizen Connect Cards and my office can assist. The new cards will replace the current blue or yellow PA Senior Transit ID cards and will have a photo of the cardholder on the card. These new cards will enable the user to ride Port Authority and other public transit vehicles for free across the Commonwealth of Pennsylvania.
Both my Brookline and Kennedy Township offices are equipped to help seniors get their new cards. Simply visit either office and bring with you ONE valid document that shows proof-of-age. This includes a driver's license or state-issued photo ID card, birth certificate, PACE ID card, or passport to name a few. My staff will enter your information into Port Authority's system and upload your photo and a copy of your proof-of-age document.
Upon receiving the information from my office, the Port Authority will produce a new Senior Citizen ConnectCard and then mail the card to my office where you can return to pick up the card. New cards should take a couple weeks to arrive at my office from the time Port Authority receives the information. When you return to get your new card, please bring with you your current senior bus pass so we can exchange it for your new ConnectCard.
Anyone age 65 or over is eligible to receive this new card and ride Port Authority and other public transit vehicles for free.

Fall, Winter Trout Stocking Gets Underway in October
Even though the summer season has concluded, some great fishing opportunities are only just beginning with the start of fall and winter trout stocking!
Beginning on October 1 and continuing through mid-December, the Pennsylvania Fish & Boat Commission (PFBC) will stock more than 113,000 hatchery raised adult rainbow, brown and brook trout. These stockings will replenish some of the most popular fishing spots across the Commonwealth.
In October alone, PFBC hatchery staff will supply more than 82,000 trout to portions of 91 waterways in 47 counties. A schedule of fall stocking dates and locations is available at www.fishandboat.com by hovering over "Fish" in the upper right tab, then selecting "Stocking Schedules." Visitors can search by individual county or view a comprehensive list by clicking the "Go - Fall Stockings Statewide" button in the middle of the page.
Throughout the months of November and December, an additional 31,000 trout will be supplied to 27 waterways in 21 counties, many of which will enhance the fisheries leading up to the ice fishing season. Those opportunities can also be searched by county by clicking the "Go – Winter Stockings Statewide" button.
Trout that are stocked during fall and winter can be fished for immediately, and anglers ages 16 and older who harvest trout must have a valid Pennsylvania fishing license and trout/salmon permit. During the extended season (September 1 – December 31, 2019 and January 1 - February 28, 2020), the daily creel limit is three trout of combined species with a minimum size of seven inches. 2019 fishing licenses and permits can be purchased online at www.GoneFishingPA.com or by visiting more than 700 retail license issuing agents.
Did You Know…
Did you know Pennsylvania's wide variety of fishing opportunities includes over 85,000 miles of streams and rivers, along with 4,000 inland lakes and ponds covering 160,000 acres, plus 470,000 acres of Lake Erie?

World War II Memorial
As the Chair of the Sports & Exhibition Authority, and as the state Senator who represents the North Shore, I want to thank the I.B.E.W. Local 5 and their business manager Mike Dunleavy, for their generous contribution towards the Southwestern Pennsylvania World War II Memorial. Thanks to their donation, they were able to help defray costs associated to the U.S. and POW-MIA flags that fly above the Memorial.
The Southwestern Pennsylvania World War II Memorial commemorates the efforts of veterans from this region who served in Europe, North Africa, and the Pacific, as well as the men and women who contributed to the war efforts at home. The Memorial is located at the North Shore Riverfront Park and is free for anyone to visit. To learn more about the World War II Memorial, you can visit http://worldwar2pgh.org/.

Adaptive Equipment for Children with Disabilities
Variety - the Children's Charity has launched a local identification campaign to find and impact the next 1,000 eligible kids with disabilities through their free adaptive equipment programs.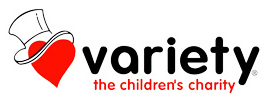 Variety's adaptive equipment programs serve children and youth who have a documented mental, physical, or sensory disability, reside in Variety's 64-county service area, are 3 – 21 years of age, meet the income guidelines, as well as the other eligibility requirements outlined in the application.
Since November 2012, Variety has served nearly 3,000 kids by providing them with adaptive bikes, adaptive strollers, and communication devices but there are many more children in need who could benefit from Variety programs.
Variety's My Bike program currently provides eligible children with disabilities with a Rifton adaptive bicycle and accessories that is individually customized, so they may have the freedom of a bike and the joy of riding alongside friends and family.
Variety's My Stroller program provides a Kid Kar Mighty Lite adaptive stroller to eligible kids with disabilities for mobility and/or safety in the community. Typically, a family must choose between having a wheelchair or adaptive stroller. So, as a wheelchair is more necessary, an adaptive stroller allows for easier on-the-go mobility and participation in daily activities and throughout the community. With an adaptive stroller, kids are no longer isolated, and it has an immediate impact on their lives. For others, a child might need an adaptive stroller to stay safe and secure while out in the community.
Variety's My Voice program provides a communication device to eligible children with a communication disorder to give them a voice at all times. The communication device enables kids to express their thoughts, feelings, wants, and needs.
Applications for these programs can be completed online or downloaded through Variety's website at www.varietypittsburgh.org/applynow. You can also call Variety at 724-933-0460 to request an application be mailed to you. For more information on Variety's programs please visit www.varietypittsburgh.org.

Suicide Prevention Awareness
September was National Suicide Prevention Awareness Month, a time where we can share resources and stories. The National Alliance on Mental Illness (NAMI) has published an article by Dr. Sally Spencer Thomas, How to Ask Someone about Suicide, that provides tips on how to ask and what to do after the question has been answered. You can read the article by clicking here or by visiting www.nami.org.

Fight Addiction Dinner/Dance
The second annual fundraiser to fight addiction is scheduled for this Saturday, Oct. 5 in the Cathedral Room of the St. Nicholas Greek Orthodox Church, located at 419 South Dithridge Street in Oakland. Tickets can be purchased at www.eventbrite.com.
This event is held to honor those who have lost their battle to addiction and those who still suffer from this disease. All proceeds from the event will benefit the Light of Life Rescue Mission and Addiction Recovery Ministry, two organizations dedicated to helping the addicted and their families.
Former news anchor Sally Wiggin will serve as the emcee for the evening and Come Together, a Beatles tribute band will perform. Dinner and entertainment are included in the ticket price. There will be a cash bar, 50/50 raffle, silent auction, gift cards, and theme gift basket raffles.
Anyone wishing to share photos of loved ones for the memorial wall can contact Julie Truver at truverja@yahoo.com or Julie Truver, 135 Grienbrier Drive, Carnegie, PA 15106.

Fontana Fact
It was on this date in 1903 that the Pittsburgh Pirates won the first ever World Series game ever played. The first game of what was an eight-game series was played on Oct. 1, 1903 at the Huffington Avenue Baseball Grounds in Boston and featured the Pirates and Boston Americans. The Pirates won the game 7-3 but lost the series.

Offices of State Senator Wayne D. Fontana
Brookline District
1039 Brookline Boulevard
Suite 2
Pittsburgh, PA 15226
Phone: 412-344-2551
Weekdays – 9 am – 5 pm
Harrisburg
543 Main Capitol | Box 203042
Harrisburg, PA 17120
Phone: 717-787-5300
Fax: 717-772-5484
Weekdays – 8:30 am – 5 pm
Kennedy Township
Kenmawr Plaza
524 Pine Hollow Road
Kennedy Twp, PA 15136
Phone: 412-331-1208
Weekdays – 10 am – 4 pm

Beechview Satellite
1660 Broadway Avenue
Pittsburgh, PA 15216
10 a.m. – 3 p.m. – First Tuesday of each month or by appointment