Senator Fontana spoke at a ribbon cutting ceremony on Friday at Pressley Ridge for their new School for Autism and School for the Deaf. Pressley Ridge has been an indispensable part of our city and our region for more than 180 years, meeting the needs of some of our most vulnerable children and adults.  Each year, they serve 8,000 families from our region in a variety of meaningful ways.

$460,000 in State Grants Awarded for Three Local Projects
Last week, a total of $460,000 in state grants were awarded for three projects in the 42nd Senatorial District. These grant dollars help local communities move forward on projects that improve safety, park access and improve recreational outlets and I was proud to support them. I am pleased that state dollars will help these projects advance.
The three projects include:
Carnegie Borough -- $85,000 in flood mitigation dollars to remove debris from Campbell's Run Stream;


Crafton Borough -- $175,000 in Greenways, Trails and Recreation Program dollars to make improvements to the Crafton Park playground; and


Pittsburgh -- $200,000 in Greenways, Trails and Recreation Program dollars for construction work at the Riverview Park entrance.
The grants were made available through the Commonwealth Financing Authority's Act 13 program funds. The CFA grant program is funded with revenue from the Pennsylvania Gaming Economic Development and Tourism Fund. In addition to statewide property tax relief, a portion of gaming dollars is used to fund public works and economic development projects.
Did You Know…
Did you know that Riverview Park was created in 1894 and predated the City of Allegheny's annexation to the City of Pittsburgh in 1907?
Voter Registration & Absentee Ballot Deadlines
As I wrote in last week's edition of my News & Views, voters in Pennsylvania who need an absentee ballot can now request those ballots online at www.votesPA.com/ApplyAbsentee.  When an applicant completes the online form, the information is forwarded directly to the appropriate county elections office for processing. The last day to apply for an absentee ballot is October 29 and voters must still mail or hand-deliver their completed ballot to their county election office by the deadline, which is 5 p.m. on Friday, Nov. 1.
I also want to remind everyone that anyone wishing to vote in the Nov. 5 election must be registered no later than October 7. Anyone not registered can do so online at www.votesPA.com or by clicking here. In addition to registering to vote, users can utilize the site to confirm registration status, update your registration, or locate your polling place. You may also pick up paper applications in my district offices or download a paper application at www.votespa.com.
Upcoming Shredding Event!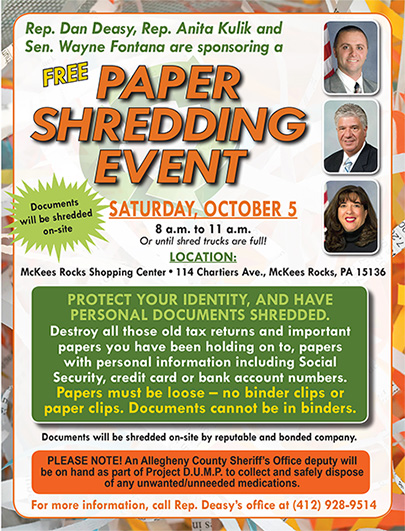 With Rep. Dan Deasy and Rep. Anita Kulik, we will be hosting a shredding event on Saturday, Oct. 5 in McKees Rocks. It will be held from 8 a.m. – 11 a.m. (or until the shred trucks are full) at the McKees Rocks Shopping Center, located at 114 Chartiers Avenue.
Documents will be shredded on-site by a reputable and bonded company.  Also, all papers must be loose, no binder clips or paper clips, and documents cannot be in binders.
With consumer fraud and identity theft continuing to be an issue, we host these events to not only to raise awareness and promote prevention, but also to provide individuals with the opportunity to have unneeded, confidential documents destroyed free of charge.  You may bring documents that contain personal information such as social security numbers, credit card numbers and bank account numbers. 
Additionally, at this event, Deputy Sheriff Joe Cirigliano will be on hand to collect any unused, unwanted, or expired medications as part of Allegheny County Sheriff Bill Mullen's Project D.U.M.P. initiative.  This program allows residents to bring any unused, unwanted or expired medications so they can be properly disposed.
New Senior Citizen ConnectCards
The Port Authority of Allegheny County is in the process of issuing new Senior Citizen Connect Cards and my office can assist. The new cards will replace the current blue or yellow PA Senior Transit ID cards and will have a photo of the cardholder on the card. These new cards will enable the user to ride Port Authority and other public transit vehicles for free across the Commonwealth of Pennsylvania.
Both my Brookline and Kennedy Township offices are equipped to help seniors get their new cards. Simply visit either office and bring with you ONE valid document that shows proof-of-age.  This includes a driver's license or state-issued photo ID card, birth certificate, PACE ID card, or passport to name a few. My staff will enter your information into Port Authority's system and upload your photo and a copy of your proof-of-age document. 
Upon receiving the information from my office, the Port Authority will produce a new Senior Citizen ConnectCard and then mail the card to my office where you can return to pick up the card. New cards should take a couple weeks to arrive at my office from the time Port Authority receives the information. When you return to get your new card, please bring with you your current senior bus pass so we can exchange it for your new ConnectCard.
Anyone age 65 or over is eligible to receive this new card and ride Port Authority and other public transit vehicles for free.
Gaming Revenue Increases
The PA Gaming Control Board announced recently that total revenue from gaming and fantasy contests in Pennsylvania during the month of August increased 6.3 percent compared with August 2018. Total gaming revenue in August came in at more than $293.4 million compared with $275.9 million in August 2018.  Total tax revenue generated from all forms of gaming and fantasy contests was more than $122.3 million in August.
Gross revenue from slot machine play during August was more than $206.2 million, a 2.25 percent increase in revenue compared to August 2018. Tax revenue generated from slot play in August was more than $106.1 million.
Table games revenue for August was more than $76.1 million, an increase of 4 percent compared to August 2018.  Total tax revenue from table games play in August was more than $12.2 million.
The state's gaming industry employs over 16,000 people and generates approximately $1.4 billion annually in tax revenue from both slot machines and table games.  For more information on gaming in Pennsylvania and to read reports from the Gaming Control Board, please visit them online at www.gamingcontrolboard.pa.gov.
RADical Days
RADical Days, the annual event sponsored by the Allegheny Regional Asset District (RAD), started last Thursday and runs through October 13.  This year's RADical Days events cover 25 days to celebrate 25 years of RAD.
RADical Days is an initiative of RAD and its funded assets that thanks the public for the sales tax funds that support our region's parks, libraries, sports and civic facilities, and arts and culture organizations. 
Assets are not offering free admission every day.  You may visit the RADical Days page at www.radworkshere.org to view a full schedule and listing of participating venues.  You may also sign up on the site to receive RADical Days text alerts.  Admissions are first-come, first-served and don't offer rain checks.
City of Pittsburgh Student Police Academy
I want to remind everyone the Pittsburgh Bureau of Police is offering an opportunity for students, free of charge, to become closely acquainted with the roles and responsibilities of the Police Bureau. The Pittsburgh Student Police Academy (SPA) will bring members of the Pittsburgh Police and high school youth together in a setting that offers a sample of police training and operations to each student.
The Fall 2019 session of the SPA will begin on Wednesday, October 9, 2019. Classes will be held at Point Park University, 201 Wood Street, Pittsburgh, PA 15222. Registration closes Oct. 4, 2019. The Academy will be held each Wednesday evening beginning Oct. 10, from 6 – 9 p.m. for 10 weeks.
Class size is limited to 25 participants. Interested students must complete the application/permission slip which can be downloaded by clicking here or visiting https://pittsburghpa.gov/police/community-policing/.  Completed applications can be sent to:
John Tokarski
City of Pittsburgh, Dept. of Public Safety
City-County Building, Suite 451
414 Grant Street
Pittsburgh, PA 15219
Fight Addiction Dinner/Dance
The second annual fundraiser to fight addiction is scheduled for Saturday, Oct. 5 in the Cathedral Room of the St. Nicholas Greek Orthodox Church, located at 419 South Dithridge Street in Oakland.  Tickets can be purchased at www.eventbrite.com.
This event is held to honor those who have lost their battle to addiction and those who still suffer from this disease.  All proceeds from the event will benefit the Light of Life Rescue Mission and Addiction Recovery Ministry, two organizations dedicated to helping the addicted and their families.
Former news anchor Sally Wiggin will serve as the emcee for the evening and Come Together, a Beatles tribute band will perform.  Dinner and entertainment are included in the ticket price.  There will be a cash bar, 50/50 raffle, silent auction, gift cards, and theme gift basket raffles.
Anyone wishing to share photos of loved ones for the memorial wall can contact Julie Truver at truverja@yahoo.com or Julie Truver, 135 Grienbrier Drive, Carnegie, PA 15106.
Fontana Fact
It was on this day in 1789 that President George Washington signed the Judiciary Act of 1789 into law. While Article III of the U.S. Constitution established a Supreme Court, it granted authority to the U.S. Congress to create lower federal courts as needed. The Judiciary Act of 1789 established the structure and jurisdiction of the federal court system and created the position of attorney general. Although amended throughout the years by the U.S. Congress, the basic outline of the federal court system established by the First Congress remains largely intact today.
Offices of State Senator Wayne D. Fontana
Brookline District
1039 Brookline Boulevard
Suite 2
Pittsburgh, PA 15226
Phone: 412-344-2551
Weekdays – 9 am – 5 pm
Harrisburg
543 Main Capitol | Box 203042
Harrisburg, PA 17120
Phone: 717-787-5300
Fax: 717-772-5484
Weekdays – 8:30 am – 5 pm
Kennedy Township
Kenmawr Plaza
524 Pine Hollow Road
Kennedy Twp, PA 15136
Phone: 412-331-1208
Weekdays – 10 am – 4 pm

Beechview Satellite
1660 Broadway Avenue
Pittsburgh, PA 15216
10 a.m. – 3 p.m. – First Tuesday of each month or by appointment