I will be hosting a flu shot clinic on Thursday, Oct. 15 from 10 a.m. – 1 p.m., but in a different format than in previous years. Due to the ongoing pandemic, I will be hosting a drive-thru flu shot clinic in the parking lot at the Dormont Pool/Rec. Center, located at 1801 Dormont Avenue. Attendees can get their flu shot without leaving their vehicle.
Attendees must pre-register NO LATER THAN Thursday, Oct. 1, in order to attend and can do so by either clicking here and completing the online registration form or by calling my Kennedy district office at 412-331-1208 and providing my staff the necessary information.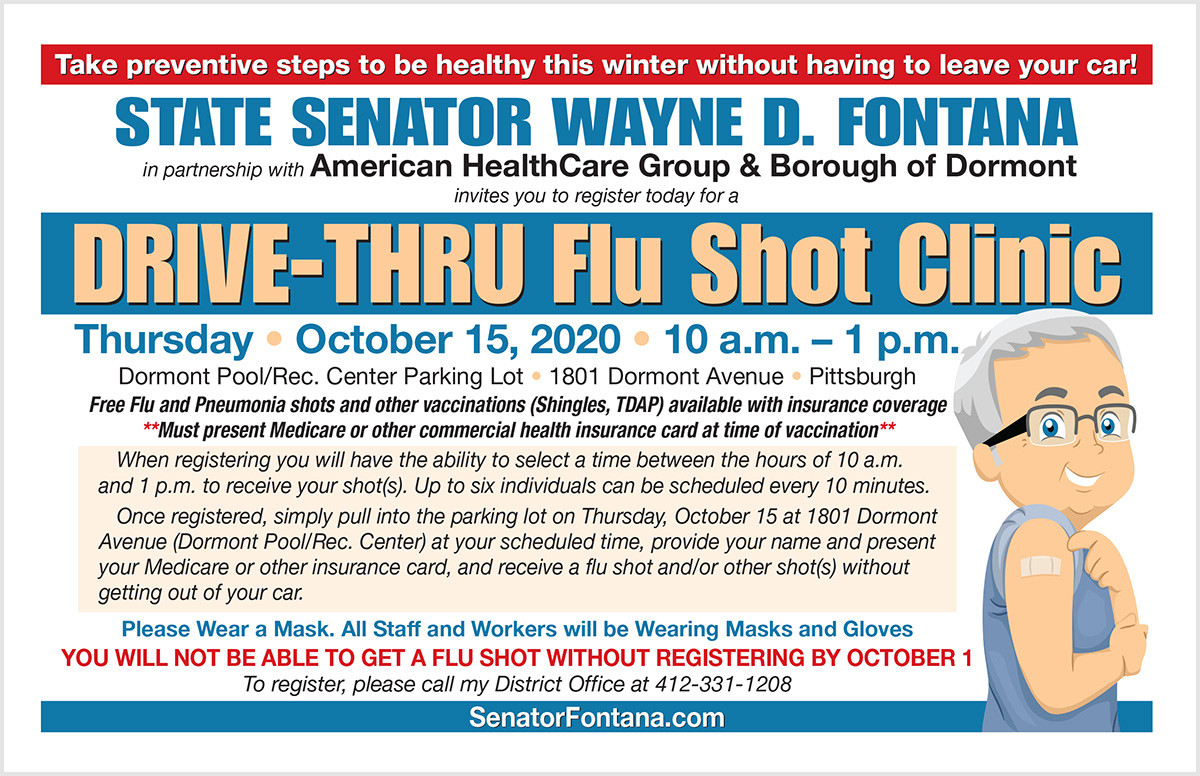 When registering online, you will begin by clicking here. You will see instructions and information about the event on that page. To get started click on the green "Register" tab. You will then be directed to a page that lists available times between 10 a.m. and 12:50 p.m. Select the time you would like to attend on Oct. 15 by highlighting the number 1 in the dropdown box next to that time. Once you have selected your time, scroll down the page under the "Add-ons" section and select the shot(s) you wish to receive.
The quadrivalent flu shot is the standard Flu shot and the seasonal HD Flu shot is the high dose shot. Attendees can also receive a Pneumonia shot. You will see two Pneumonia shots listed for individuals over 65, the Prevnar 13 and Pneumovax 23. The Prevnar 13 is the first of the two Pneumonia shots you would receive so if you've not had a Pneumonia shot, you would select that one. The Pneumovax 23 is only for people who have had the Prevnar 13 within the previous 12-24 months.
Attendees can also select a Shingles vaccination and a TDAP (Tetanus, Diphtheria, Pertussis).
Once you have selected your time and which shot(s) you are requesting, click on the orange "Register" tab at the bottom of the page, enter your name and email address and indicate that you're done and click the orange "Register" tab one more time.
If you need assistance registering, you may also contact my Kennedy office at 412-331-1208 and my staff will assist.
Once registered, just arrive on Oct. 15 in the parking lot at the Dormont Pool/Rec. Center at your scheduled time and provide the attendant with your name. Please make sure you bring your Medicare card or other insurance information. You will be directed to a nurse who will verify your information, have you sign the consent form and administer your shot(s).
All participating staff will be wearing a mask and maintaining social distancing protocols and all attendees are required to wear a mask.
If you're interested in getting a flu shot, or another vaccination listed above, without getting out of your car, please act today and schedule a time as space will be limited.